During October, I drove into Wellington to pick up a few things, and got caught in traffic. There was a queue to turn right towards Asda, where I intended to go. However, the road to the left, and Waitrose, was open. I don't normally shop at Waitrose because it's expensive, but it was just for a couple of things, so I thought: what the Hell? Having got my things, and while waiting for the cashier, I picked up the only reading material available; the Christmas Entertainment, Food to Order Magazine… And an idea was born… Why not try a pre-order Christmas?!
With the exception of the previous year, when it comes to baking, I like to push the boat out for Christmas. To be fair, I did what I could for Christmas 2019, but we'd only moved into the house in September. Worse, the kitchen was still being built at the start of December. But, even in those circumstances, I did my best to emulate a traditional Lewis family Christmas.
So, given that this was going to be a (hopefully) one of a kind COVID Christmas, why not try something new?
And, by the time I got home, I was quite excited by the idea of a pre-order Christmas. Not least because the selection in Waitrose's Christmas Entertaining magazine was amazing. At least, in comparison to the equivalent magazines that I'd seen from other supermarkets in previous years. Historically, for example, I've tended to pre-order the turkey from the Sainsbury's version of this magazine. So I have a fair idea of what the competition offers.
But what Waitrose was offering, was, well… everything!
It seemed like I could pre-order all the Christmas food. I wouldn't have to do anything more complicated than work out the timings for the ovens. Something that, admittedly, has been known to push me to my wits' end! But, this year, and thanks to the new kitchen, I have more than one oven…
Victory would be mine!
Mwa ha ha haaaaa.
Sorry… yes… the magazine…
As the plans stood, in mid-October, it was shaping up to be a busy Christmas:
We'd host my wife's side of the family on Christmas Day, for a total of 12 people.
My lot would be round on Boxing Day, with 10 people to cater for.
No firm plans for New Year's Eve, at that stage, but it was likely to be a few.
With that in mind, I scoured the magazine, and confirmed that I could cater for all of this… Except for a couple of very strange omissions:
I couldn't buy gravy
And I couldn't get a Christmas Pudding.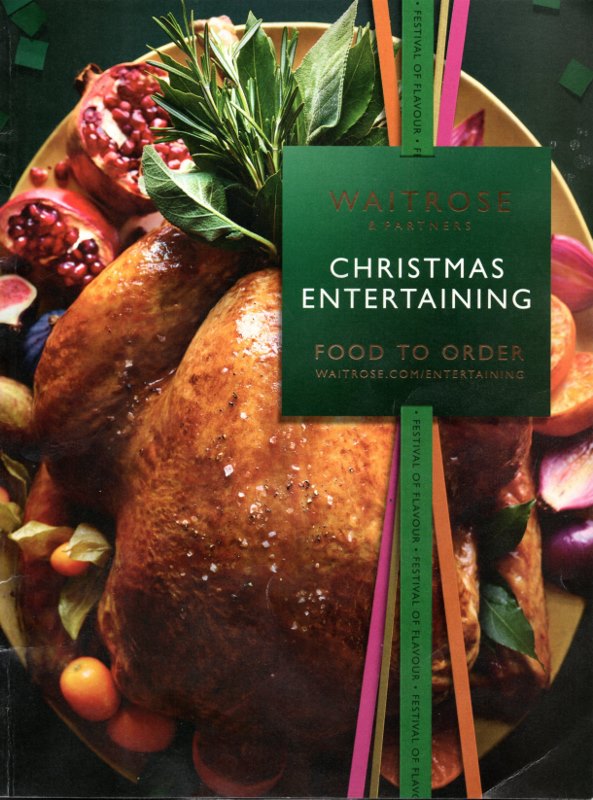 I confess to being quite disappointed by these absences. This is because one of the little foibles of my mind meant that; if I was going to do a pre-order Christmas, then I intended to pre-order everything…
I discussed this with Julie, who was good enough to pretend she didn't want to roll her eyes. Instead, she pointed out that Waitrose really is expensive, and wouldn't it make sense to do this through one of the other supermarkets?(!)* Particularly if I couldn't even pre-order all the Christmas food from Waitrose.
* We've been married so long that she didn't have to vocalise the exclamation point. But I knew it was there. We both knew it was there…!
And because we have been married so long, I simply agreed with Julie, that I'd check the options. Despite the fact that I had no desire to go anywhere else. It was Waitrose that had got me excited about this idea, so it was from Waitrose that I wanted to order.
I was already working on my excuses as to why none of the other supermarkets would work, when I caught a break. None of the other supermarkets would work. None of them had anything like the selection that Waitrose was offering. To match the Waitrose selection, I'd have to pre-order from at least two, and probably three, of the other supermarkets.
In hindsight, I probably should have paid more attention to this discrepancy…
So, given the circumstances, Julie agreed that Waitrose was the way to go.
Julie was also fully on board with the general idea of a pre-order Christmas. This is because, in the run-up to normal Christmases, I spend half my time baking. And, if I'm baking, I'm not helping out with the myriad of other things that need to be done in preparation for Christmas.
Besides, Julie says that I always bake more than we need… Which is completely true.
But a truth that made the idea of a pre-order Christmas all the more tempting. This way I could agree with Julie, up front, what food, and how much of it, we'd need. Which, at least, meant I could share the blame when it inevitably turned out to be too much.
I placed the order on 1st November, which was as early as the circumstances allowed. Even so, a number of the things that I'd been eyeing up had already sold out. Thankfully, none of these items were strictly necessary, they were just incredibly tempting.
As such, I was able to order the turkey and all the trimmings for the Christmas meal. Except the gravy, of course… I got round that by buying some festive turkey gravy granules from Sainsbury's…
Yeah, I know: I have no shame.
I was also able to order the central points for Boxing Day and New Year's Eve, which I was happy with. When it came to desserts, though, my luck ran out. There was a Fig and Port Cheesecake, that I was fascinated by, and an Espresso Torte that looked awesome. Sadly both were already gone. I was, however, able to order some delicious looking alternatives. And my first choice of Christmas Cake was still present and correct.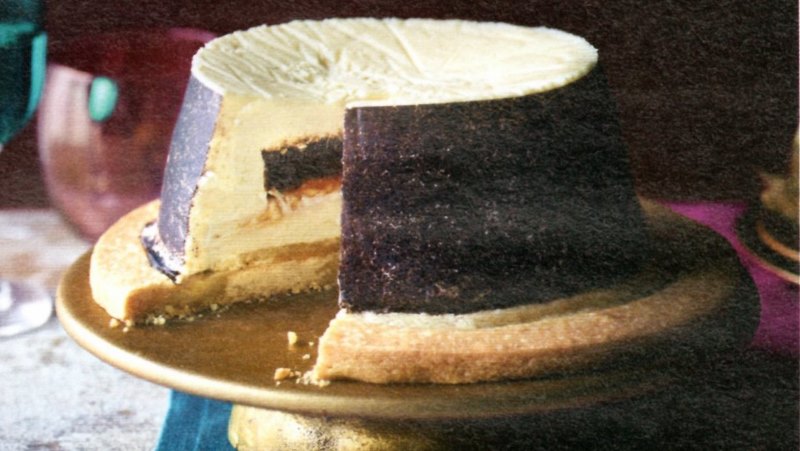 The Christmas Pudding, once again, I would get from Sainsbury's.
And that was that: I'd sorted out all the Christmas catering by the first day of November. It was a really nice feeling. I wondered whether things would feel less Christmassy, closer to the time, because I wasn't doing any baking. But I wasn't too worried; if that turned out to be the case, I'd just bake something!
And then things started going wrong.
The Coronavirus numbers started spiking, so the social restrictions began to tighten in response. In my part of the world, the rules reverted back to: gatherings indoors were restricted to six people. Tricky, but not insurmountable. The Christmas and Boxing Day gatherings would just have to be spread over two days each. Also, some of us would have to skip one of the gatherings, to keep it to six people. But we could make it work.
Then, on 16th December, 7 days before I was due to collect my pre-order Christmas food, I got an email:
Due to an unexpected production issue with our supplier, we are sorry to advise that we are unable to supply some items in your Waitrose Entertaining order.
The items in question were primarily related to the New Year's Eve gathering. Not ideal, but I felt sure I could work around it. I'd just have to get creative with the leftovers, and maybe do some baking after all…
But the Government had other ideas!
The Christmas restrictions grew tighter and tighter until it became clear that it was going to be a very restrictive Christmas. When the dust settled, we would only be hosting my parents on Christmas Day. Julie's parents, who had swapped to come round on Boxing Day, were no longer allowed to visit. Because, after Christmas Day, the whole country was to go back in lockdown.
To complicate matters further, when I went to collect my pre-order Christmas food from Waitrose, on the 23rd, there was a nasty surprise waiting for me…
More of the order was missing… including the Christmas Cake!
The other couple of no-shows were things that I could cope without, but replacing the Christmas Cake had the potential to be problematic. Needless to say, the store was completely sold out of its Christmas Cakes, so there was no option to get a replacement. I decided I'd visit one of the bigger supermarkets the following day.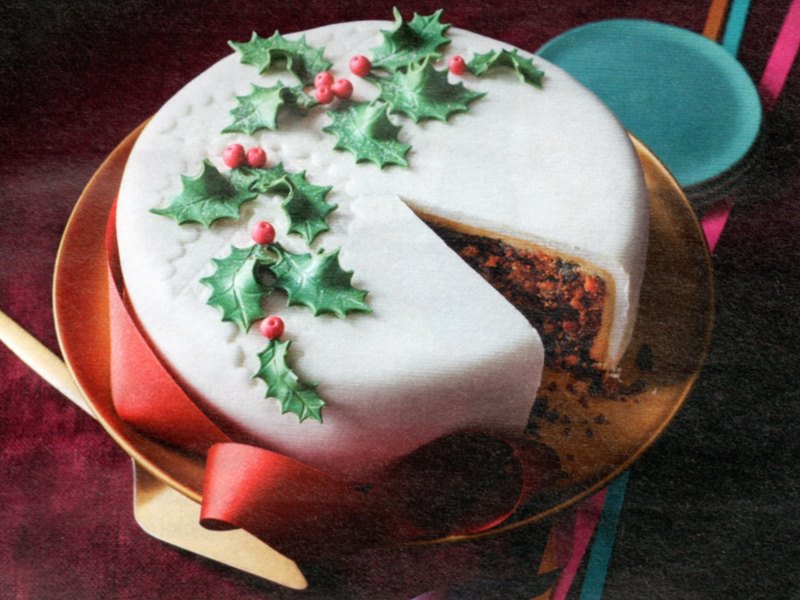 The thing about this that did annoy me, was that I never received any form of warning from Waitrose. The staff I spoke to, on the day, seemed surprised that I hadn't received an email. That said, I'm not convinced they were… I'd picked quite a late collection time, so I doubt that I was the first customer to say there'd been no contact. After all, they all seemed fully aware that the shop was empty of alternatives…
Still, it wasn't their fault, so there was no point expressing my disappointment. It did make me think, though, that if I was going to do another pre-order Christmas, it wouldn't be with Waitrose.
I went home and checked on what I did have, and it would be plenty.
Besides, everything was there for the meal on Christmas Day. And the turkey looked amazing!
So I sat down with all the cooking instructions, and planned the timings for the Christmas lunch. It took a while, but the resulting Gantt chart was a thing of beauty. On thing was for certain, I'd have a lot more time to relax during Christmas morning, which sounded like a great plan.
I went to Sainsbury's the following day, to get the Christmas Cake and a few last minute items. In a surprising turn of events, on Christmas Eve, Sainsbury's didn't have any Christmas Cakes left. No, seriously… I genuinely thought that there would be Christmas Cakes on the shelves. I assumed that the store would have over-ordered, like they always did with mince pies.
Yeah…, no!
Fortunately I managed to get my hands on a couple of Sainsbury's Genoa Cakes, some marzipan and fondant icing, and even some festive decorations. From these things, I was able to cobble together something that looked like a Christmas Cake… if you squinted!
From a distance…
Anyway, it would do.
Then, shortly afterwards, we achieved another Christmas Eve win. Julie's parents turned up.
Wait… did I say, 'win'…!?
In order to be able to meet up with her parents over Christmas, they'd agreed to move Boxing Day to Christmas Eve. A stroke of genius, really. So, Christmas Eve afternoon, Julie's parents arrived to get the Christmas celebrations rolling early.
The rules allowed it, providing we met outdoors and kept socially distanced. So, we chose an area around the barns that was fairly sheltered. By which I mean: the wind didn't howl through the group all the time! I cut plenty of wood and stacked it round the chiminea. There were loads of blankets, plenty of food and a lot of laughs. Good times.
Despite the setbacks, Christmas was off to a good start.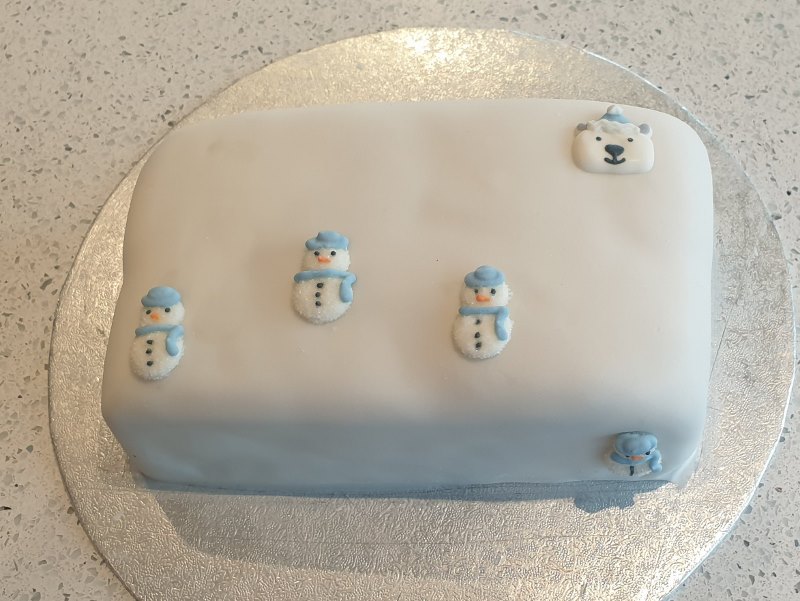 And Christmas Day went swimmingly.
Say what you like about Waitrose's ability to provide the food you've ordered; the food they do supply tastes amazing. The turkey, in particular, was excellent. It was a cook in the bag turkey crown, which was a cooking method I'd not tried before. And it produced the best Christmas turkey I can ever remember tasting.
In fact, the whole meal was a taste sensation.
And, better still, it only took me about an hour in the kitchen. I mean, sure, I'd had to put the turkey in the oven, earlier in the morning. But for the three hours after that, I didn't need to set foot in the kitchen once. Instead I was able to relax and enjoy time with my family.
And even when it came time to start cooking, I just had to follow my chart. Everything went so well, I was actually able to serve the meal 10 minutes early. Normally, Christmas lunch ends up hitting the table about half an hour late, and then only after it's been all hands on deck. This time, however, was a completely stress-free experience. I didn't burn myself on anything… I don't think I even swore!
It was a unique experience.
And one that led to the best Christmas Day I can remember for many a long year.
That said, I did end up feeling that there was something missing from the experience. I think I need to feel that I've contributed on a more creative level. In essence, I feel better when I've done some of the baking. Which is a really easy fix. Next year, I'll go back to baking the Christmas Cake…
And, maybe, one or two other things. Who can know for sure.?!
But, over all, I really liked my pre-order Christmas experience. And I fully intend to incorporate this into all my Christmas', going forward. But mainly in terms of the Christmas Day meal. And almost certainly involving a cook in the bag turkey.
Which I'll probably end up getting from Waitrose, despite my experiences this year.
I'll just make sure to book a collection date around the 20th. That way, if the turkey doesn't arrive, there's still time to buy, and defrost, a frozen turkey from another supermarket.
Thus ensuring another Merry Christmas in the Lewis household.