In 2018, we'd intended to book our family summer holiday nice and early, to take advantage of the better prices. That plan was somewhat ruined by the recurrence of the metastases in my lung and liver, as identified in February. With surgeries in March and May, this meant we ended up having to book late. As it turned out, this wasn't such a bad thing, because we found what looked like the perfect Lewis holiday in Boca Chica, in The Dominican Republic.
The holiday was through a company called Loveholidays. It was attractive because, although the hotel was listed as a 3 star, the flight was from Bristol; our local airport. This saved several hours, each way, compared to having to drive to one of the London airports. There was a 4 star hotel in another resort, but that was from London, and, besides, both hotels were all inclusive; and what's in a star, anyway?!
Loveholidays is ABTA Member and ATOL Protected, otherwise we wouldn't have risked it. Even if Loveholidays is, "the fastest growing online travel agency in the UK," and has a mission to, "create the ultimate online travel experience, just for you."
The flight, with Tui, was 8 hours long, flying into Punta Cana International Airport. Due to the five hours time difference, we landed only three hours after we took off, making for a very long day.
What was also very long, was the queue to passport control. Fortunately, the terminal building was airy and, despite the heat outside, the wait wasn't too sweaty.
Having got through passport control, we collected our luggage, which had already been removed from the baggage carousel and put to one side. Then all minds turned to finding our transfer company and getting to the hotel at a reasonable time.
This, sadly, turned out to be wildly optimistic. Immediately after luggage collection was the equally long queue to customs. Getting through customs involved everyone having to put all their hold and hand luggage through an X-Ray machine. I genuinely have no idea what the purpose of this is; all hand luggage would have been X-Ray'd at the departure airport. Maybe the Dominican Republic has problems with rogue super-heroes delivering contraband to passengers, mid-flight…
Luggage back with us, and slightly confused, we moved towards the exit. In the next hall was the location of all the companies involved with onward travel and transfers; of which there were dozens. Thankfully we were pointed in the right direction by a helpful porter and found that they were expecting us. Which, having never travelled with Loveholidays before, was something of a relief.
During the booking process, we were given the option of transfer by coach or by private transport. As the price was the same, we opted for the latter. This meant that we had a nice, air-conditioned minibus to ourselves for the hour and forty minute transfer.
The transfer involved going onto the roads. The roads were an experience. The people travelling on said roads were even more of an experience. I say, 'travelling' on the roads, instead of 'driving' on them because, regardless of the road, there are pedestrians and cyclists alongside the bikes, cars, lorries, buses, etc.
We mainly travelled on Route DR-3, which was an amazing road. Pan flat and with perfectly painted road markings. A beautiful dual carriageway, that puts most of its British counterparts to shame. I think it was also a toll road in places but, boy; was it worth it. The reason I'm being so enthusiastic about this road, is that I thought that all roads in The Dominican Republic were going to be the same. I couldn't have been more wrong.
As for the drivers… Wow!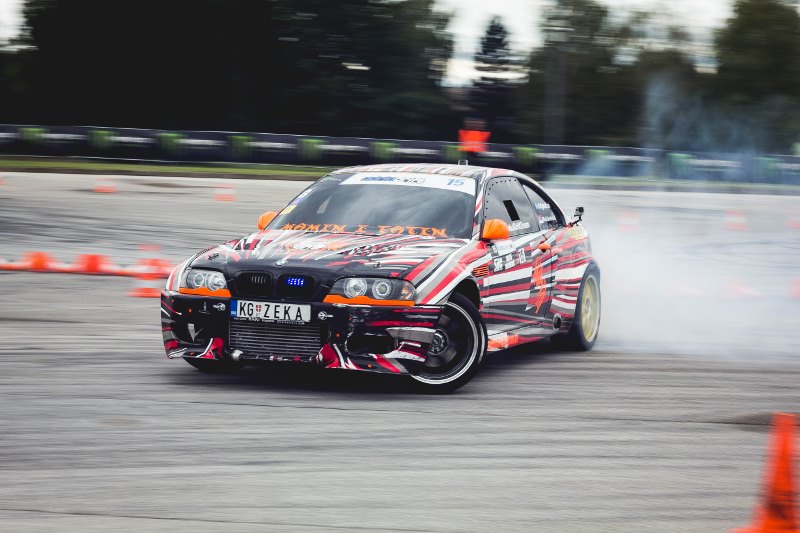 I'm sure that there are speed limits in place. In fact, I know there are; I've seen them. In practice though, the speed limit seems to be: however fast you can make you vehicle go. Additionally, regardless of how clearly marked the lanes are, these seem to be treated merely as suggestions. All vehicles drift in and out of lanes, seemingly at random. This is countered by the extensive use of horns. If a driver thinks a vehicle is drifting too close, they beep their horn and the offending vehicle drifts back the other way.
As an, already tired, passenger, this was terrifying to behold. It didn't surprise me to see the immense presence of police vehicles on the road. It did surprise me that the motorists simply ignored those police vehicles and simply drifted and beeped their way onward, as fast as they could; undertaking, overtaking and straddling lanes to do so.
Again, it came as no surprise that we passed an accident. What I simply couldn't believe was the number of people standing around the inside lane of this main road, looking at the flames and debris of a motorbike crashed under a bridge. Including, what looked like the rider lying face down, with his arm on fire, and no one doing anything about it. Unfortunately, Emma saw this, too. The driver even took the time to point it out to me.
Welcome to driving in the Dominican Republic!
Any half formed thoughts I'd had about hiring a car and seeing if I could drive to Haiti, evaporated at that point.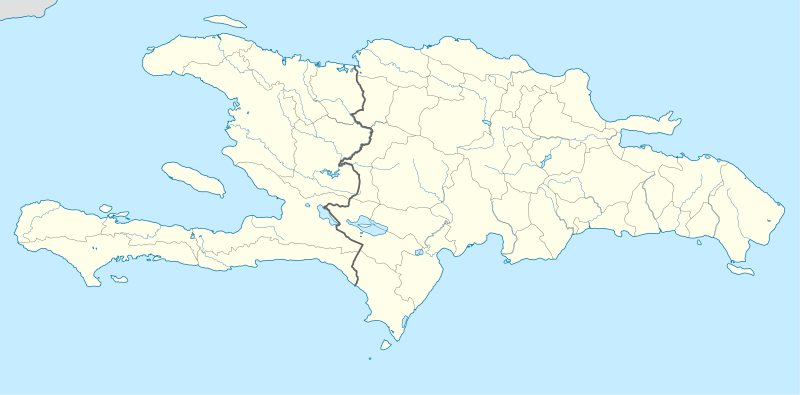 The rest of the trip on the DR-3 passed in a state of shocked disbelief. Turning off the duel carriageway into Boca Chica literally shook me back into the present. It very quickly turned out that the smaller roads weren't of the same standard as the main roads. They are littered with pot holes and storm gullies. This means that all vehicles are constantly seeking the least damaging route to drive. If that means coming on your side of the road, so be it. If that means dropping from 50kph to a standstill, with no warning, so be it. Cars and mopeds go where they want and stop where they want. Lots of jumping in and out of vehicles. Lots of leaning on horns.
The funny thing is, though: it works!
Most of the time.
Certainly, most drivers are conscious of what to expect and anticipate and allow it to happen. And, so, for the most part, the traffic keeps moving. Sure, vehicles and pedestrians are virtually brushing past each other. And, sure, it looks and feels like you're going to die at any second, but it works.
Not for me, though. Me driving wouldn't form part of a Lewis family holiday in Dominican Republic any time soon.
But, we made it to the hotel, where we very quickly learned two things:
English isn't much spoken in Boca Chica, and;
We didn't have a reservation.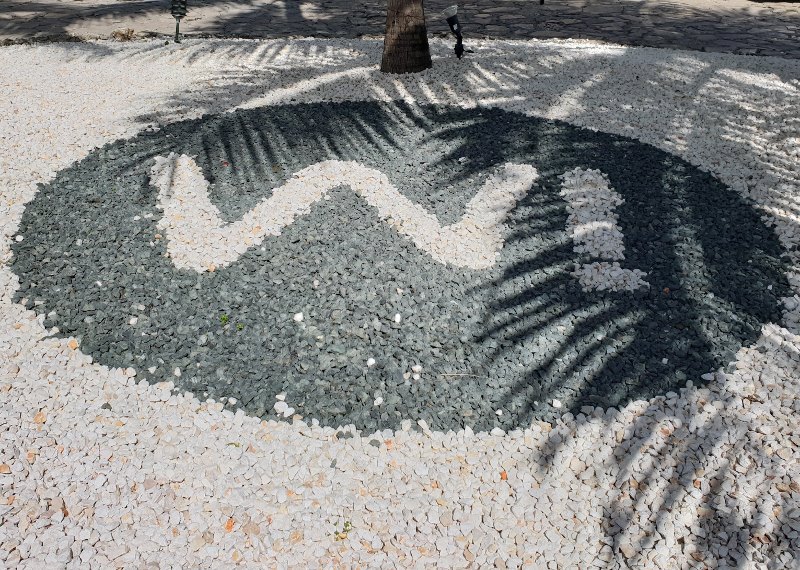 We were staying in the Whala!BocaChica. The hotel is one of a chain of three and this one is situated right on the Boca Chica beach, which is a favourite destination of Dominican families. And quite popular, as it turned out, with Russian tourists. British tourists? Not so much…
Thankfully, there was one receptionist who's English was good enough to tell us that we didn't appear to have a reservation. We showed him all the paperwork and he tried to call the Loveholidays office but, due to the times difference, this was now shut. Julie and I shared a couple of nervous glances, as the receptionist went back to his computer for one last look for the booking. The girls were flaked out on some seats under a ceiling fan, more or less oblivious in the manner than only teenagers can achieve. He came back: Nope! Definitely no reservation…
But there was a solution.
We could pay in cash for two rooms for that night and he'd sort out the reservation issue by the morning. At which point the money would be refunded. The receptionist didn't seem at all phased by the situation, which allowed us to go with it; he'd just get it sorted. Which he did. And, the following day, we got cash back with no complications. We never learned why the reservation wasn't in place but, by then, we didn't really care; we were in our rooms.
And 'rooms' it was. The Lewis holiday in Dominican Republic would be the first major holiday where we were in two separate rooms. The receptionist found us two rooms on the same floor of an apartment block. One was larger, with a balcony, the other was smaller with an inside window overlooking the circulation area of the empty square area of the building. Julie and I took the balcony room…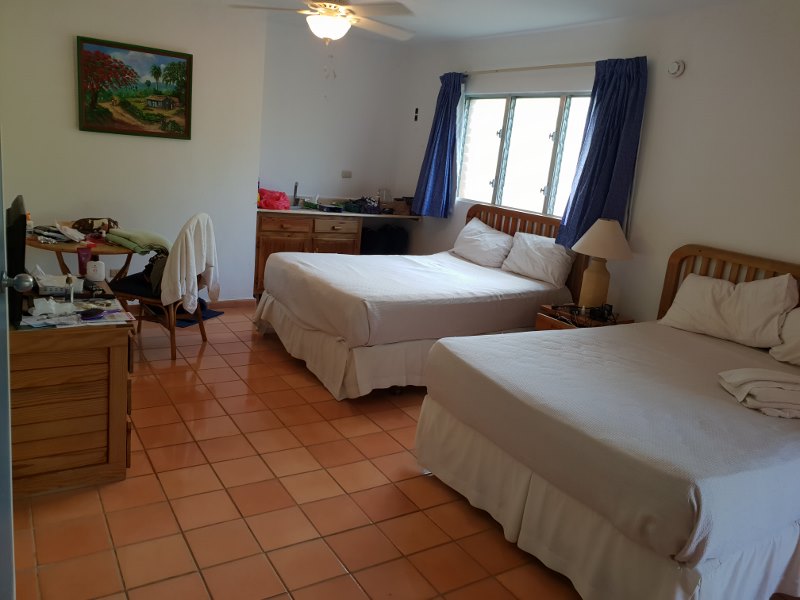 By the time we got settled in, it was 8 pm, local time. Our body clocks, however, were shouting that it was 1 am and three of us should be asleep. Despite this, we found our way to the restaurant to have a meal, because it had been a long time since we'd eaten and it was a long time until breakfast. I've no idea what we ate, we were too tired to care. At least we'd begin the holiday with an early night.
Which, naturally, led to an early start to the next day. Unheard of for me and the girls. We decided to make the most of being some of the first people up, by having an explore after breakfast. Not knowing what to expect, we ventured down to the beach and started heading West, away from the marina. The beach looked long and sandy, which was promising, although there were hotels and restaurants all the way along. Within a few minutes, we were stopped by a guy with an Iguana. He offered to take photos of us with his Iguana for $1 (US). Naturally, after taking photos of all four of us, in a couple of poses, this became $8. We settled on $5. Which seemed easier than it might of been but, in hindsight, I think this was because the next guy was ready to take over.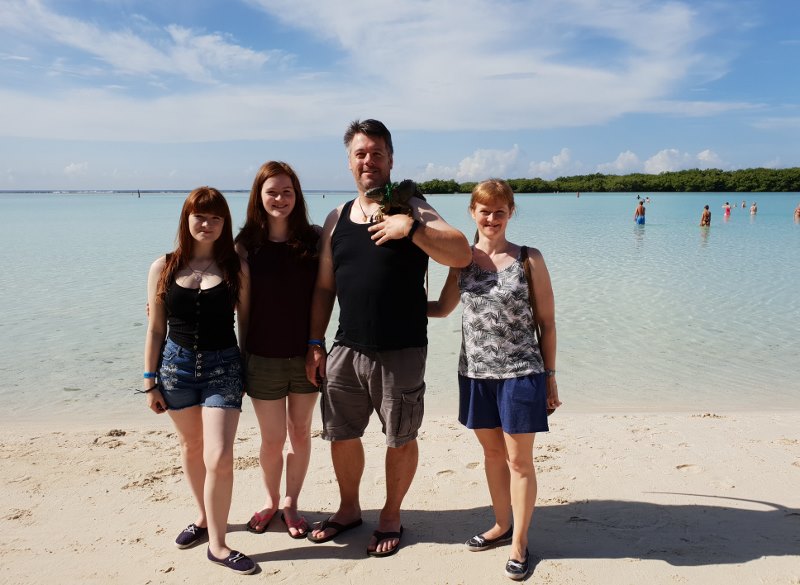 The next guy was called Luis, and Luis sold excursions. We'd already decided that we wanted to take some excursions, to introduce some action into the holiday. Some people can lie in the Sun solidly for two weeks, we're not them. Most of us are ginger and liable to catch fire if the Sun gets too hot. To which end, we agreed to follow Luis back to his 'shop' just at the front of the hotel.
Luis had enough English to explain that there weren't many English here any more and that it was now, mainly, Russian tourists who visited. He said that he preferred the English to the Russians mainly, I think, because of an expectation that because I was British, I wouldn't like the Russians. Which isn't the case. When we were in St Petersburg, I found the Russians to be as nice as anyone else. Which was just as well because the first thing I saw, displayed prominently on his shop window, was an image of the Russian flag.
Anyway, Luis took us up into his den and talked us through the trips on offer. I'd already explained to Luis that we wouldn't be booking anything that day because we had yet to see what the hotel had to offer. He was fine with this and we agreed that I wouldn't book anything with anyone else, without talking to him first. From experience, we know that the trips he offered would be virtually identical to the ones offered by the hotel, just around $10 cheaper. The trips included: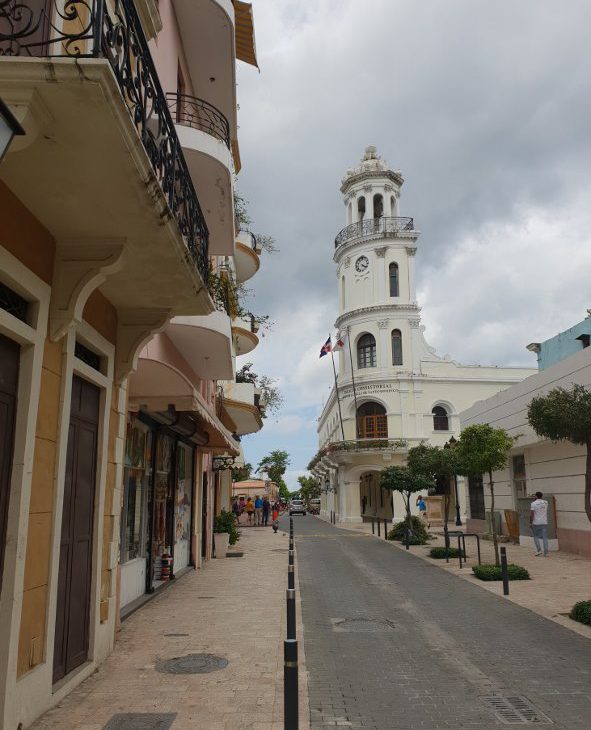 To start with, a couple of these trips sounded interesting. It'd be nice to go to the capital. The Three Eyes caves sounded good. And I loved the idea of seeing all the various plantations, seeing how it all grows, but I really didn't want to end up being taken to a 'local village'. In my experience, these places are designed to separate tourists from the maximum amount of money in the shortest amount of time and bear virtually no resemblance to the reality of local life.
We checked back at the hotel but, because we were with Loveholidays, we didn't have a Rep. The lady selling the holidays in the hotel lobby made a half-hearted attempt to sell us some of the same sort of trips but didn't really have any leaflets for us. They were more expensive than the ones Luis had on offer though. And the ones Luis was selling were very expensive. Even the cheapest on offer, which was a half day in the Capital, unguided, would have cost more than $100 (£76). This seemed an awful lot of money for a half hour coach trip each way…
So we went to the help desk to ask about local buses where we were asked, 'What about Uber?' Now we live in deepest, darkest Somerset in the wilds of South West England, where no Uber dare show its headlights. As such, we'd never Ubered. We would certainly never have thought of that. As it turned out, a trip from the hotel to the Colonial City cost in the region of 800 Dominican Pesos. Which was the equivalent of £12 ($16). So the return trip would be £25 ($33) for the four of us; about a third of the price of the organised trip. So I downloaded the Uber app…
We realised that we couldn't arrange an Uber for a tour of the various plantations, so I told Luis that we were thinking of taking that one, when next I saw him. We changed our minds on that after we ventured into Boca Chica for the first time, but more on that in a bit. After about a week I saw Luis again, and explained that we wouldn't be talking any trips with him. He became quite annoyed at this and he didn't speak to me again. Which was fair enough.
We were also regularly approached by a member of staff within the hotel grounds, who seemed keen to sell us excursions. Unlike Luis, this chap was employed by the hotel and, also unlike Luis, was allowed to try and sell things within the hotel grounds. Luis had to stay on the beach. But I stayed true to my word to Luis, we didn't take any trips with anyone. We did our own thing with Uber. Again, more on this in a bit.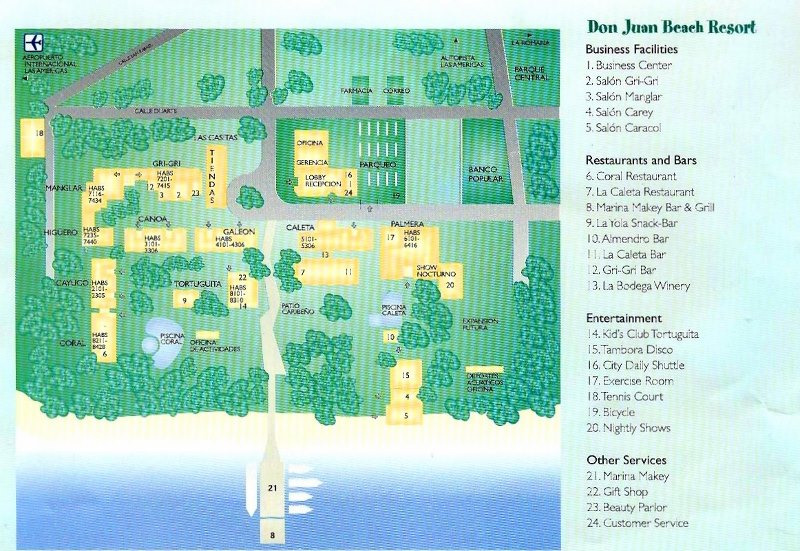 The hotel itself was more or less split down the middle by a pedestrian access to the beach and marina. This path originated from outside the reception lobby and was often travelled, very slowly, by people trying to sell you things. Such people were often being ushered on by a visible and permanent staff of guards. Or, at least, big guys in uniform. We were in the Palmera apartments, which was to the East of the path. Just outside the apartment block was the 'adult only' swimming pool. Beyond that was a bar, which stayed open until about 6 pm. The bar also served hot snacks at around 4 pm, in case anyone fancied a burger or a hot dog.
Also on our side of the path was an 'a la carte' restaurant, which opened twice a week, and another bar, which didn't open at all. The restaurant had to be booked in advance, in reception, to get a table. We did go once and it was a bit of fun but the food being served was essentially the same as in the main restaurant, just with more fancy presentation. This building did, however, also have a pool table. This we used quite a lot. It was very often empty because, it seemed, the Dominicans and the Russians don't have much experience with pool. Don't get me wrong, we're all terrible, but we have the advantage of knowing how to rack the balls.
Immediately across the path, into the West side of the hotel grounds, was the Gift Shop. This shop also sold snacks and drinks and the like, but nothing had prices. The one time we went in was to buy a couple of bottles of water and we were charged $7. Which seemed a lot. Too much, in fact, so we never went back. Deeper into the West Side was the main pool and another bar. This bar stayed open well into the night and also served snacks around 4 pm. The other side of the pool was the main restaurant.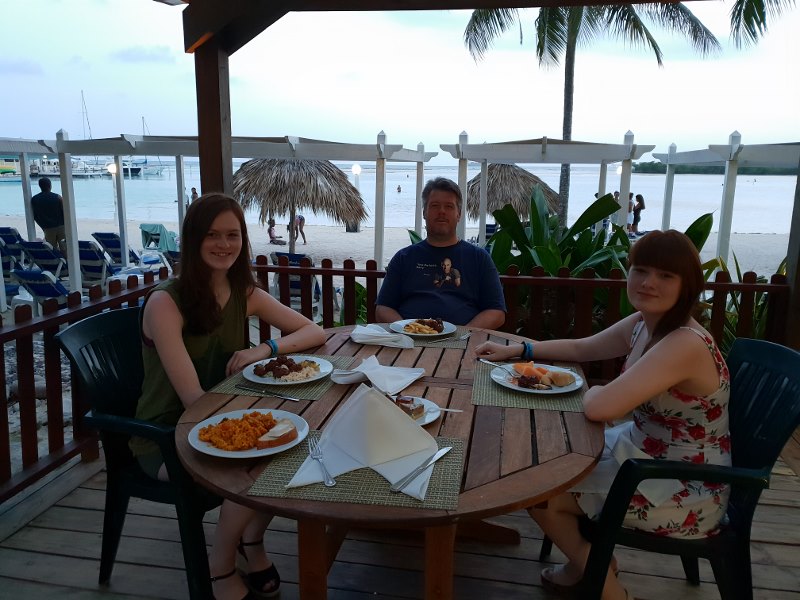 It was the classic 'buffet' style that you tend to get in this sort of hotel, and it served all three meals. The other side of the pool, from the restaurant, was where the entertainment team was based. The entertainment seemed mainly aimed at younger children but seemed like fun; we watched from a distance. In the area outside the restaurant, there were occasional stalls, of an evening, selling touristy trinkets, some of which looked nice.
The hotel also had some salons and a room with a couple of pieces of gym equipment. It was also affiliated with the restaurant at the end of the marina quay, such that hotel guests were offered a 25% discount. But that still seemed fairly pricey, so we gave it a miss.
One plus was that the hotel had a plentiful supply of lizards. Because we live in a part of the World where lizards are incredibly rare, we always find it a joy to see them. There were also a number of cats around, which may not be unrelated to the lizard situation, and we all love cats.
On the down side, the bars were largely understaffed, meaning it was never quick to get a drink. Said drinks, when they arrived, were always served in tiny, disposable plastic cups. This is not only terrible for the environment, but not much good at quenching your thirst. Fortunately, the apartment block had a water cooler by the front door, which was usually full. Which meant, each day, we could refill the bottles of water we'd bought.
All in all, we thought that the hotel was fine. The location was certainly excellent, when it came to getting to the sea.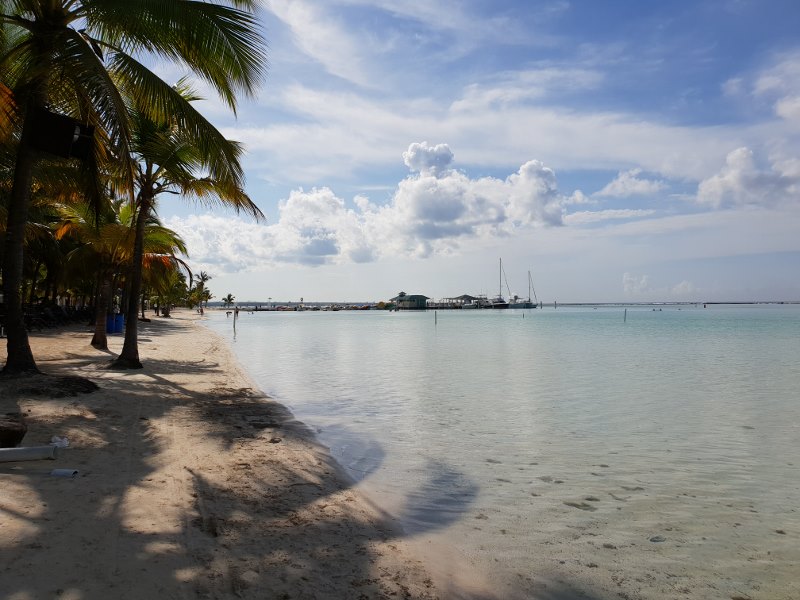 There was only a narrow strip of beach between the hotel grounds and the sea. And when I say, 'sea', I actually mean lagoon. The whole beach was enclosed by a coral reef. Or, at least, what had once been a coral reef; there wasn't much left living by this stage. Anyway, maybe because of the lagoon effect, or maybe for some other reason, but the tide always seemed to be in… or, at least, the sea never went far. Even so, it's amazing how many people trying to sell you stuff can be packed into such a tight area. Our technique was to loiter by the edge of the hotel grounds, and wait for a gap in the sellers, and then make a break for the water. Once your feet were wet, it seemed you were safe.
It's not that I'm necessarily against people trying to sell me stuff, it's just that I'm heading into the sea with my snorkeling stuff; how much money do you think I'm carrying?! And the reason I was carrying my snorkeling stuff was that a few hundred meters down the beach, to the West, and about 100 meters off shore (although still in the lagoon), was a set of three mangrove islands. In the channels between the islands, there were fishes. Lots of interesting fishes. Of course, to get there, you had to cross The Channel of Death…
The area near the shore was marked off by a series of buoys. Inside these buoys, motorised boats were not supposed to come. They did, of course, because a lot of banana boat rides simply originated from the beach. But, at least, they travelled slowly on the beach side of the buoys. On the other side of the buoys was a much deeper channel, after which the ground shelved up again to meet the coral reef break. Along this channel, motor boats and jet skis would fly up and down. But the only way to get to the islands was to cross The Channel of Death. And this meant getting to the edge of the channel, waiting until the coast looked clear, and then swimming like a mad bastard until it got shallow again.
That got my heart rate up, I can tell you.
Once you got to the islands, it quickly became clear that the first channel was for swimmers and the second channel was for speed boats, It seemed that the banana boats would be dragged up the second channel and then dumped off by a sharp turn of the speed boat. This, of course, was insanely dangerous if, for example, you don't know this and you're snorkeling, looking for fish. Still, one area for snorkeling is better than none.
In that first channel, someone had built up a wall under the roots of the trees, such that the fish had a quiet place to rest, safe from both water bound and air bound predators. But not safe from my camera, oh no…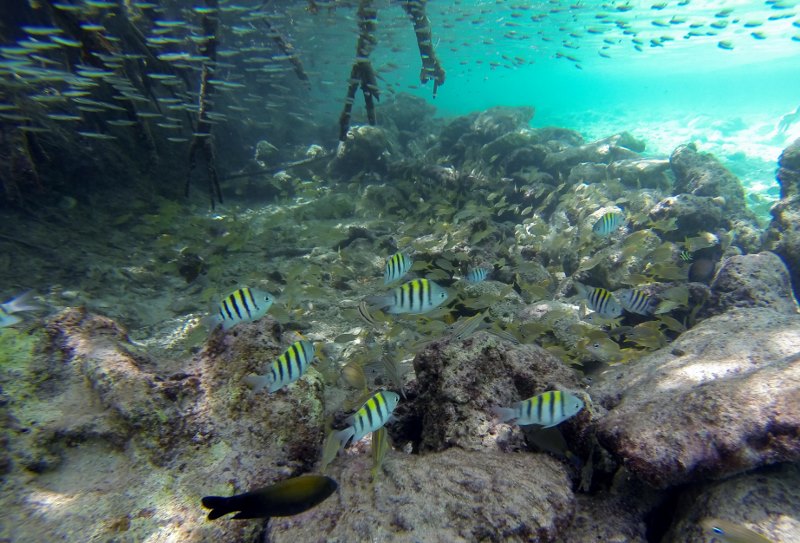 During the Lewis holiday in Dominican Republic, I visited this spot quite a few times. One of the main reasons we chose this hotel was the promise of good snorkeling. Looking back, I can't help but feel sad at how little marine diversity was actually there. The reef had been picked clean. While I was there, I saw people walking along the sea break, presumably looking for things like sea urchin shells. And I understand that people have to make a living, but walking along coral doesn't do it any good. And killing the coral is destroying a massive tourist draw that will cost the whole region, over time.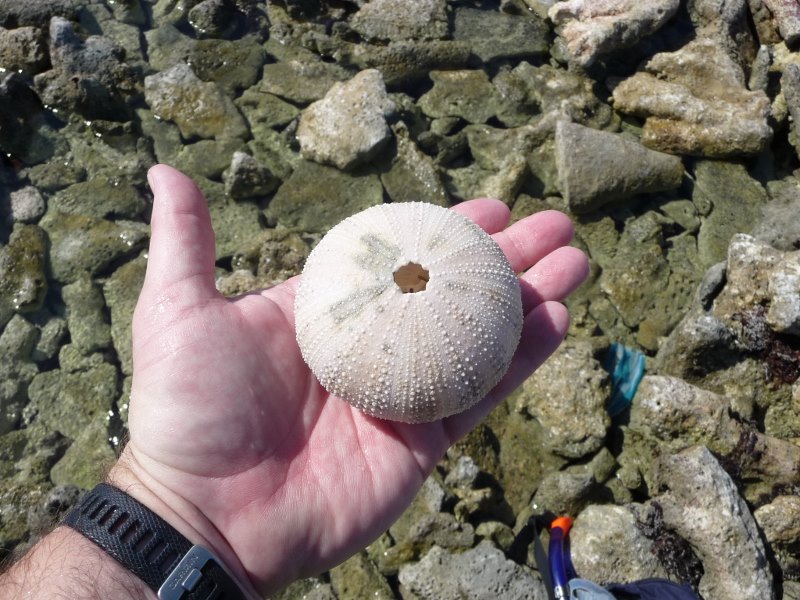 The last time I swam there, I did see signs of regeneration. But only in the really shallow waters that are difficult to swim. And, only then, in isolated areas. It'll take a concerted effort, over many years, for that reef to restore itself to its former glory.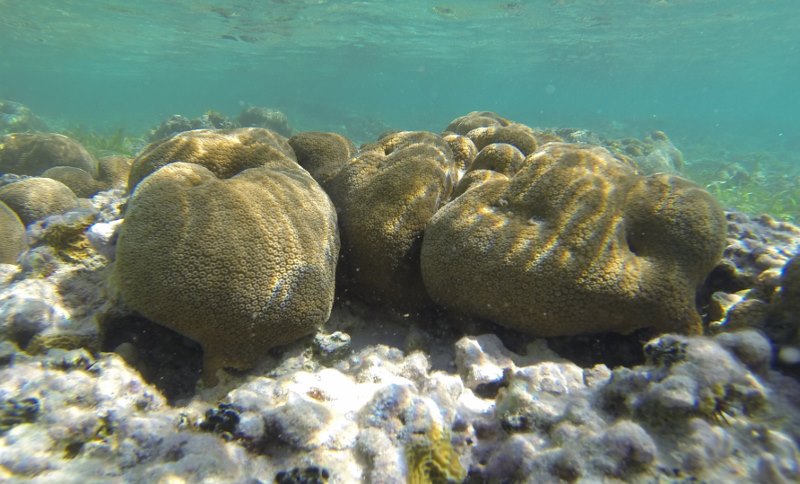 On the other side of the hotel from the sea, is the town of Boca Chica. The very entrance to the hotel is bracketed by tourist shops, with excursion sellers just over the road. However, if you get past these and turn right, there is a pharmacy, just there. And a bit further along, just past the Central Park, is a supermarket. We know this because Ceri said that we had to go there to get some biscuits for the cats. Like they weren't already full of lizard! The pharmacy would come in handy later, when Emma developed a mild ear infection; they were able to dispense antibiotic ear drops without having to see a doctor first, which was ideal. The amazing lady at the hotel help desk was even good enough to write down the medicine we should ask for. She really was great.
So that's when we decided to do a bit of light exploring of the local town. The first and last time we did so. Which is a shame, because the supermarket has some fascinating local products, including solid blocks of, what looked like, raw cacao: the building block of chocolate…
But we didn't go out again because of the wolf whistling and catcalling that Julie and the girls were subjected to. When I was younger, wolf whistling still happened in the UK on a fairly regular basis, but I'd never heard anything like this. And the girls had never heard anything at all. And, bear in mind, that they were only 15 and 16 at the time. We looped off the main road to a parallel road, which ran back to the hotel reception. The whistling and shouting was so persistent that tears were flowing before we made it back to the hotel grounds. Neither Julie or the girls were willing to subject themselves to that again. They were left feeling scared, which is not a feeling you want on a Lewis holiday in Dominican Republic. Sexual harassment remains alive and well in Boca Chica!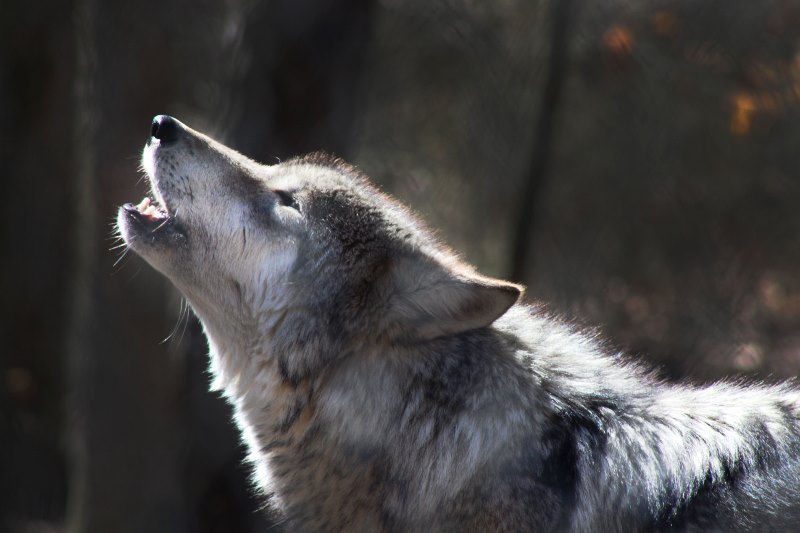 And this experience really soured the holiday for a couple of days. There was a definite sense of being trapped in the hotel. Normally, even when we're all inclusive, we like to go out and eat at a local restaurant, or even fast food joint, just to get a feel of the place and eat something different. But, not on this holiday.
And, talking of the food, it was hot and it was plentiful and there was a good range and variety across the week. But it was always buffet food. Because, of course it was: it was a buffet. That said, one night they did have a huge grill, sizzling things to one side of the restaurant. And it looked gooood! Sadly, we didn't see any announcements for it and didn't notice it until we were leaving… Heart break!
Actually, the biggest difficulty in the restaurant was getting drinks. The drinks were included in the price but they all originated from one small serving area, and there was only a limited number of wait staff. Which meant you often didn't approached until you were finishing your dessert. There were water coolers, if you could get your hands on a glass, which you could about half the time. The same went for fruit juices, which were available for self service from the serving area… if you could get a glass.
Again, all in all, we thought the food was fine. But we would have liked to have the opportunity to go out and have pizza one night.
The inability to leave the hotel meant that we spent a larger than expected amount of time in the rooms, which did have TVs, although very few English channels. We spent most of this time in our room, as there were two double beds, which allowed us all to sprawl in comfort. This did, however, bring the facilities of the room into closer focus.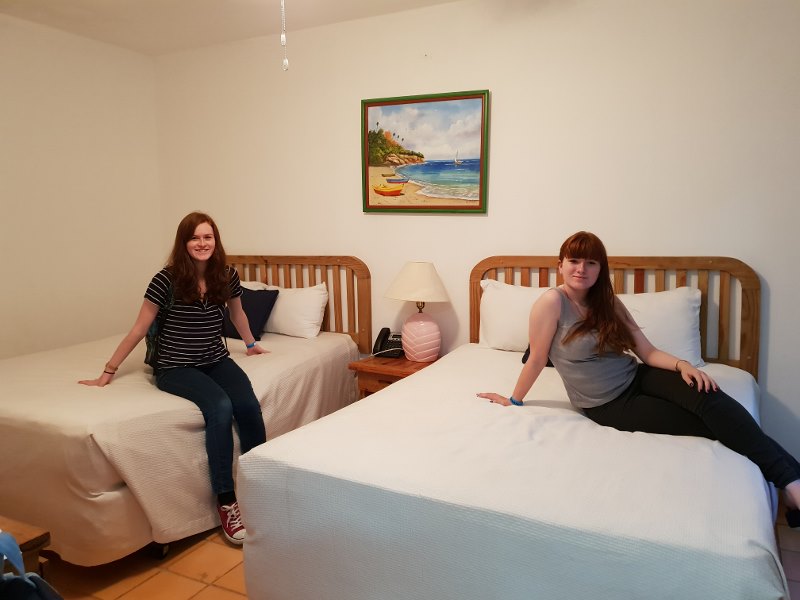 The rooms were cleaned each day, with the towels and bedding replaced. This process, however, could take place at any time up until late afternoon. If you'd finished swimming for the day, before this time, and wanted to shower up, this sometimes meant that the towels hadn't been replaced. The problem, it seemed, was there simply wasn't enough linen and towels to go around. Essentially, sometimes the chamber staff were having to wait for the towels and bedding to finish being laundered before the rooms could be changed. This was mainly a problem for me, as I like to properly shower after swimming; I like to get the salt or chlorine off me as soon as I can. I'm odd like that.
The most notable problem in our room was the air conditioning. When we arrived, control unit was broken, meaning it was either completely on, or it was off. And when it was on, it was very on. And, also, incredibly noisy. Given that I tend to sleep with the window open, even in winter, back home; it's fair to say that I like it cold when I'm going to sleep. I'm odd like that, too. But the noise of the air con unit was too loud for Julie to get to sleep, so we'd chill the room down as much as possible and then try to get to sleep before it heated up again. Occasionally tricky.
We asked for the control unit to be fixed, which gave us more options. It allowed the unit to be turned down, which reduced the racket accordingly. It even allowed the unit to be left on overnight. Doing so, however, led to another problem: flooding. After a couple of nights of the unit running all night, dripping started from a vent near the door. Initially we thought it might be a flood from the floor above. But, as the nights passed and the dripping got worse, we realised it was stemming from our room. The air con unit, to be exact.
A few nights before we were due to leave, the dripping turned into a flood. Fortunately this floodwater mainly flowed out of the room. We mopped it up, as best we could, with the used towels from the day before and pointed it out to the chamber staff, thinking they'd report it to maintenance. But nothing happened, which is when we realised that this was just the normal state of affairs for this room. So, when it flooded again a couple of times, over the remaining nights, we just didn't worry about it.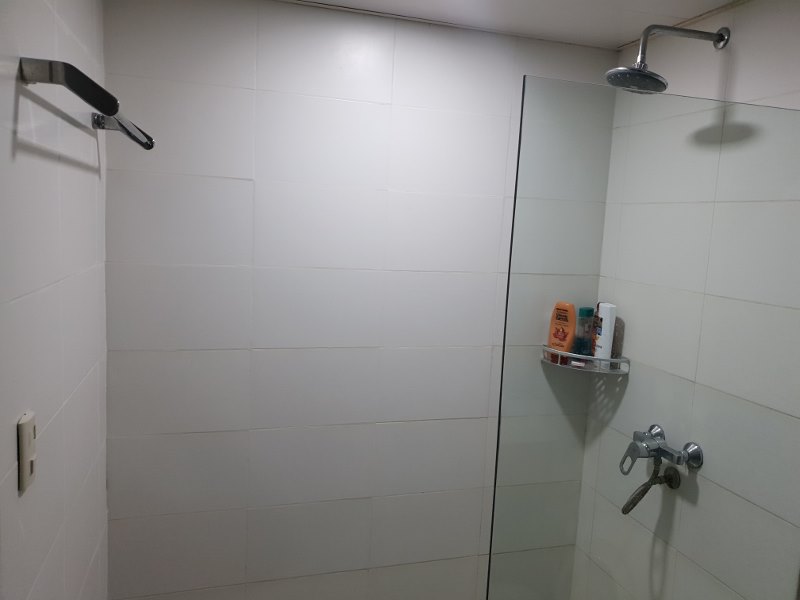 The other main source of contention in our room was the en-suite shower room. This tended to be more of a wet room, than anything and the floors tended to flood. particularly in the girls' room. In light of all this flooding, the fact that the light switch was virtually inside the shower cubical was simply a little unnerving. One other thing to remember when holidaying in Dominican Republic is that toilet paper can't be flushed, there is a bin by the toilet for used paper.
Our balcony, on the other hand, was a great place to chill, at any time of the day and night. Although you had to watch for mosquitoes after dark. The rails of the balcony was were we hung our beach towels and swimming costumes to dry overnight. This worked very well, unless there was a torrential downpour; which happened a lot! Most days there was some form of rain and most of the time this rain came in a short, sharp burst.
The rain occasionally came with some heavy gusts of wind that meant it was better to keep swimwear on the plastic furniture on the balcony, than risk it being blown away. The rain was amazing to watch, though, and not even too bad to be caught in. It was so much warmer than we get back home. So much heavier too. And you know how much the British like their weather, so; happy times.
In general, though, we felt that the room could have done with some improvements. A bit more spent on maintenance and consumables. Or whatever the correct name for towels and bedding is called. And I understand that it's only a three star hotel, but if the air con is flooding the room and there are not even any towels to mop up the water, this falls below expectations.
As for the facilities of the rest of the hotel, these, too, could do with a bit of investment. The hotel operated a towel swap service for the hotel pools. This was secured through a refundable deposit, paid on arrival. Again, there were not always enough towels to go around. As I've mentioned before, the bars were understaffed and the drinks served in very small containers. This made it feel awkward to get enough drinks, and I'm only talking soft drinks here, to quench your thirst. If you're offering all inclusive drinks, at least make them accessible. One other minor thing is that the pool, which was marked as adult only, was often full of young children. It's not a huge deal that these noisy kids weren't asked to leave, but then I got told off for bombing in the main pool…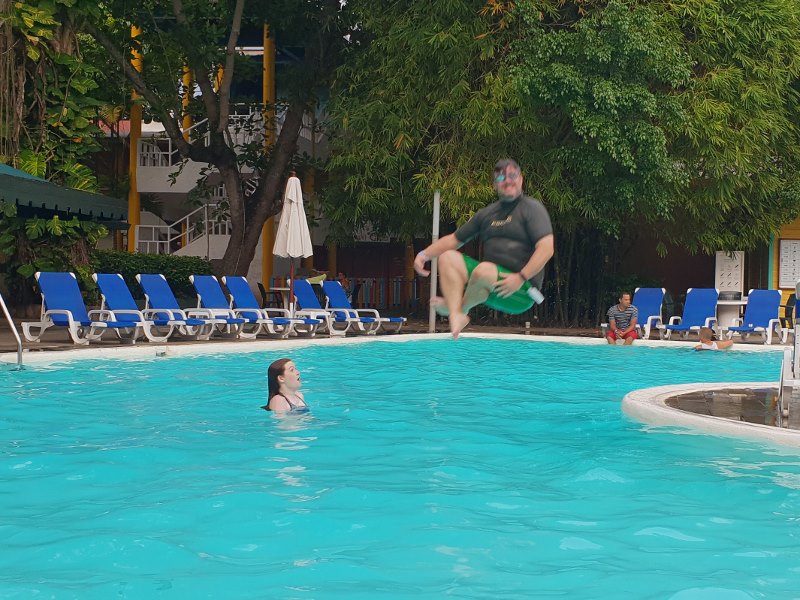 One thing that was good about the hotel bars, was that they had a sugar-free option in the soft drinks. A Diet Coke. This actually turned out to be unusual throughout Dominican Republic, with only large Supermarkets offering a small option of diet or sugar-free alternatives. Spot the sugar-free drink, if you can: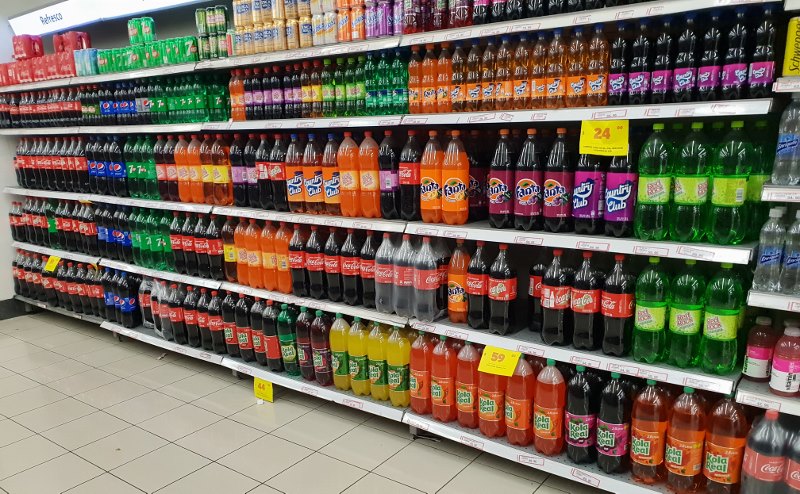 This photo was taken during the last of our three excursions, all powered by Uber. Being new to Uber, it was something of a learning curve. Overall, we had a good experience of the service, except for the very last trip. The WiFi at the hotel was spotty, so when I checked the app, after we'd been dropped off, I thought it was lagging. So I agreed the payment and gave the five star rating. It was only later that I realised that there wasn't a lag, the Uber driver had driven half way back to capital before ending the trip. This meant the trip cost £18 instead of £12. A little annoying but still a whole lot cheaper than any of the organised trips would have been.
The first trip we made was to the Colonial City zone of Santo Domingo. This zone is a leftover of the Spanish settlement of the island. Indeed, the first permanent European settlement of the entire Americas. Logically, then, it also has the first Cathedral in the Americas, which is where we started our trip: Catedral Primada de América, also known as Basilica Cathedral of Santa María la Menor. You have to pay to get in, but the price is 25 Dominican Pesos for adults and 12.50 for students, which means it only cost the equivalent of £1 for us all to get in. And well worth it, it was too.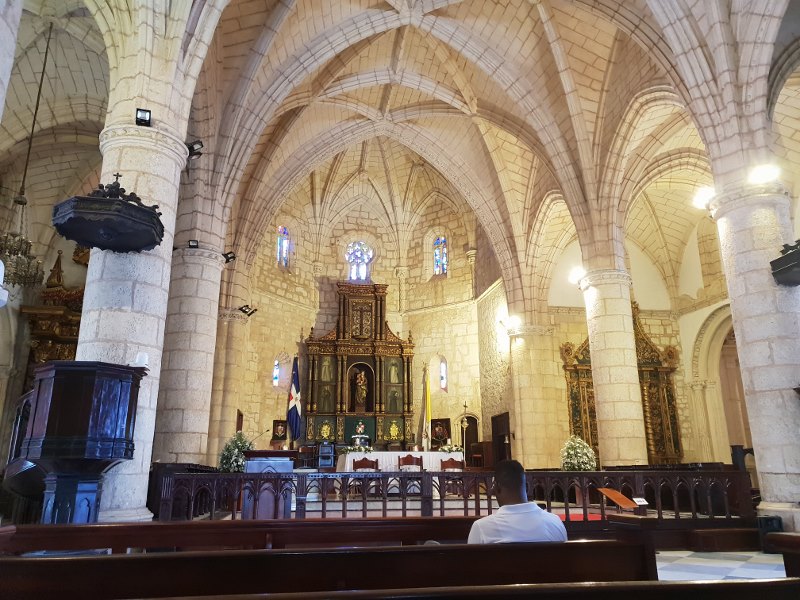 It should be noted that there is a dress code in play, which means that people are not allowed to show their shoulders or legs. Fortunately, wraps are provided to enable you to cover up. That said, I was fine in my shorts, whereas Julie and the girls were not. To be fair, my shorts were considerably longer. Ceri also had to put on Julie's cardigan, to cover her shoulders
After the Cathedral, we had a look around the local shops and 'museums'. These 'museums' seem to be a recent development; they're basically shops that have put aside some space to make an exhibit of some of their products. Or items related to their products. This allows them to register on sites like Trip Adviser as a museum and get listed as an attraction. A clever way to get you in the door. Thankfully, these places don't seem to go for the hard sell and are happy to let you look around their exhibits without buying anything. Basically, no one wants a bad review on Trip Adviser. Besides, the few we went in were very interesting.
Our second favourite one was the Museum dedicated to Larimar, which it the local gemstone. Larimar is a pretty blue stone that is unique to Dominican Republic and is heavily used in jewelry and tourist trinkets as a result.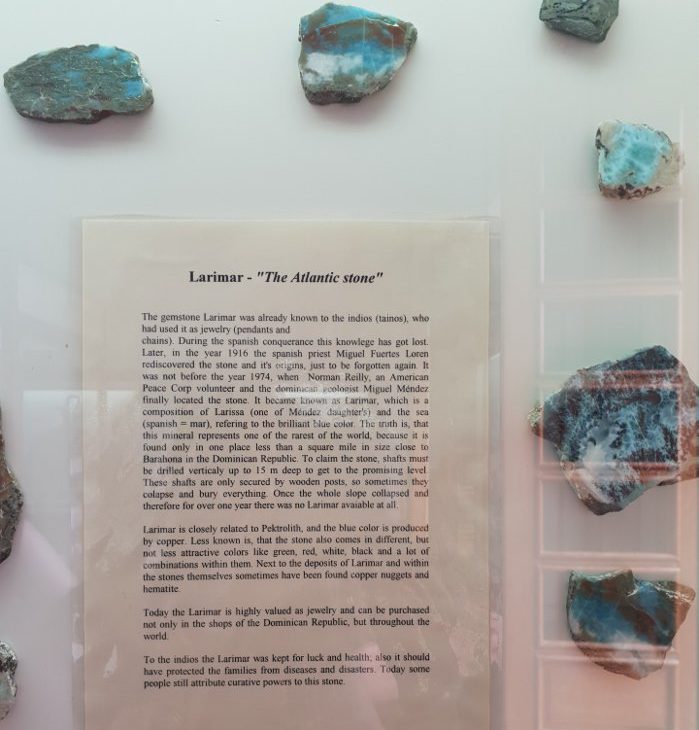 Perhaps inspired by the visit to the museum, a short time later, Julie bought a Larimar pendant from one of the tourist shops. Beforehand, though, was the trip to our favourite 'museum'; the Chocolate Museum. This, too, was simply a shop with an area set aside with information boards but, you know: chocolate! It wasn't cheap, by any means, but it was grown on the island and it was rather tasty.
After all that exhausting work in the museums, we went for a wander up what looked like the main shopping street, Calle el Conde. This joined the Cathedral to Puerta del Conde, The Count's Gate, set in the Independence Park, which seemed like a good place to visit next. By the time we got there, however, a combination of the heat and the walking convinced us that we were just about done. However, finding a sensible place to ask for an Uber pick up was impossible, so we decided to head back to the Cathedral by an adjacent road, to see what else we could see.
Walking back took us down the Calle Arzobispo Nouel, which, unlike the Calle el Conde, wasn't pedestrianised. This meant that we were being passed by traffic. And a worrying number of the occupants of these vehicles were happy to harass Julie and the girls as they passed. This resulted in a sour note to an otherwise enjoyable day. Sexual harrassment, it turned out, was alive and well throughout the whole of Dominican Republic.
As for the Colonial City, it was nice. I can see that it'd be easy to spend a good couple of wandering around enjoying the sights. Providing you're either male, or immune to unwanted attention.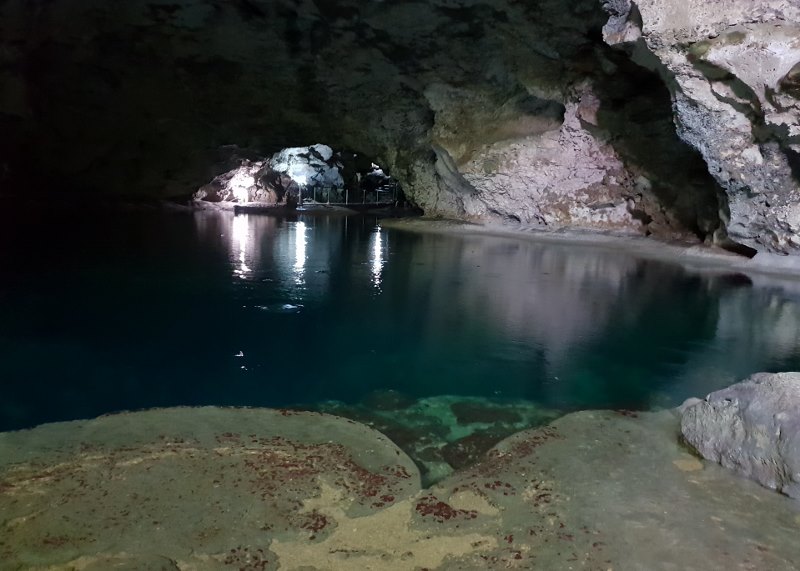 Our second excursion was a couple of days later, on August 16th, when we paid a visit to Los Tres Ojos (the Three Eyes) limestone caves. We actually made an early start on this day, to avoid the renowned heat and humidity that comes with the midday Sun. The caves capture and amplify this, which would've finished us. It turned out to be just as well that we went early, because August 16th is Restoration Day in Dominican Republic. An important national holiday. And the caves were heaving by the time we left. As, for that matter, was the hotel and the whole resort for the whole weekend. Who knew there were so many people on the island… or that they could all squeeze onto one beach?!
But, back to the caves. They were great. The 'Three Eyes' refer to the three limestone caves in the system. There's actually a fourth area but it's more a lake than a cave; there certainly isn't a roof. To get to this fourth area requires an additional fee to the guys that operate the raft to get you across the lake in the third 'Eye'. This fee, however, is minimal, just a couple of dollars for the four of us. And it's definitely worth the trip on the raft because it's a very pretty scene, looking across the lake.
The fee to get into the caves is more expensive for tourists than locals and more expensive again, if you don't have local currency. The guys on the ticket booth do a quick translation to US dollars that is impressively greedy. Even so, it only cost $20 for us all to get in. Once in, we were immediately approached by a local who offered to act as our guide for an additional $20. We thanked him and declined because we wanted to explore for ourselves. And, while I'm sure we missed out on some of the nuances of the place, we enjoyed our journey.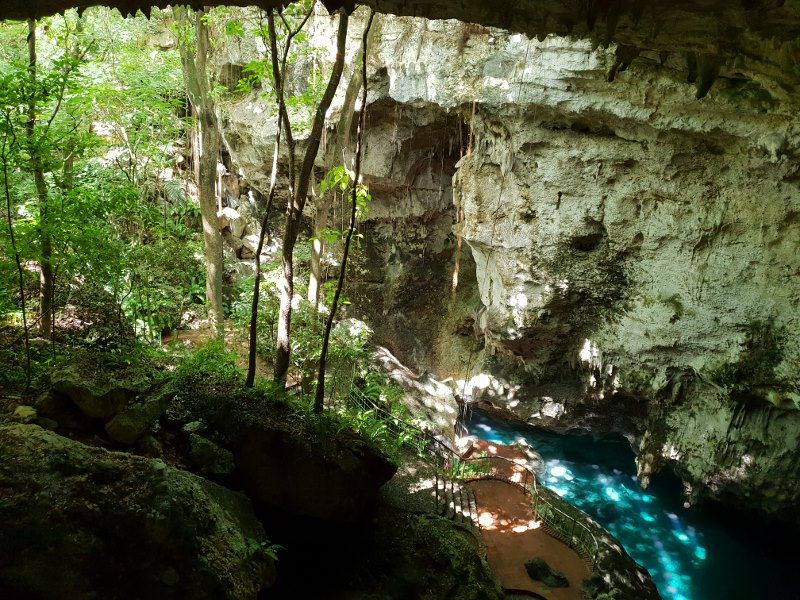 After climbing up and down every step in the place, of which there are plenty, we returned to ground level. Still within the grounds were a series of paths that looped around the outside of the cave, so we decided to follow them. There were a couple of shops selling drinks and ice creams, so we stopped there for a while. There were also places to get lunch, but it was still too early for that. So we just looped around the caves and lake, scuttling from shady bit to shady bit to avoid the need for sun screen. And much fun we had in the process.
I'd highly recommend a trip to see the Three Eyes. It probably wouldn't keep you occupied for a full day, but for a half-day trip it's perfect.
Our final trip was a couple of days after the weekend, and it was back to Santo Domingo. This time, to the Mall… The Agora Mall, to be precise. Now this is far from my idea of fun, but I took one for the team. The top floor is given over to a food court, a couple of play type areas and a cinema. There really was an impressive array of fast food places, many of them American chains. More importantly, as far as I was concerned, there was ample seating; I was going to spend some quality time with my Kindle.
We started at the top and fortified ourselves with a junk food lunch. Then we set off to explore. I went at my pace and Julie and the girls at theirs. The only thing that was of any real interest to me was the Jumbo Hypermarket on the ground and first floors. Any supermarket so big that it stretches to two floors is always going to be of interest to me. And it was here that I finally found the elusive diet Pepsi. After that, though I was done, and got on with some reading.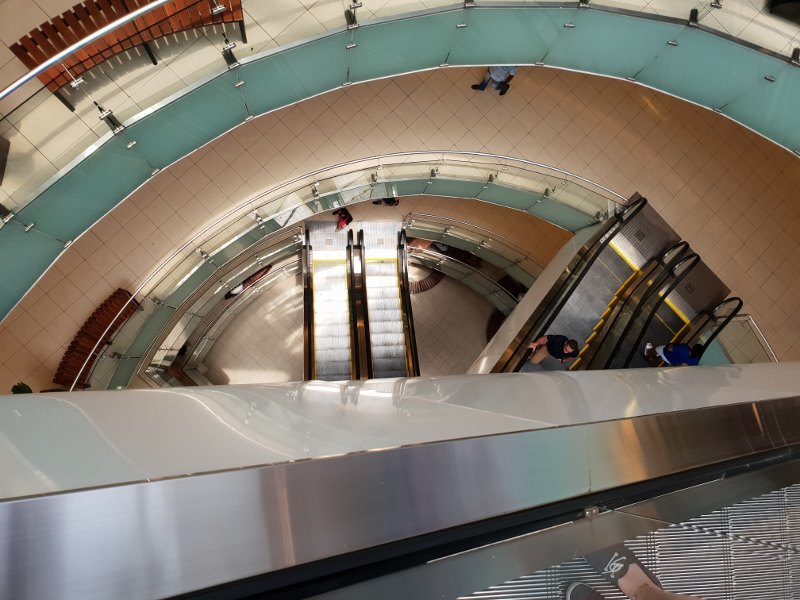 Julie and the girls, on the other hand, had a pleasant shopping experience. There were plenty of shops for them to look in and around. Purchases were even made… The one thing they found disconcerting was that when they went into a shop, Julie was stopped and her backpack was taken and put to one side. This didn't happen to me. I went into a few shops, with my considerably larger backpack, and no one said a thing. Julie, though, was stopped every time. She said it was like all the shop staff just assumed that they were going to be stealing stuff. Despite this, they had fun and they eventually rejoined me in the food court, from where I booked the Uber.
In terms of excursions, this one was the most pointless for me. Looking around cloths shops is something you can do at home, so I don't see the point of doing it on holiday. That said, if you like shops and malls, the Agora Mall is a perfectly good example. And if you don't like shopping, there are plenty of places to sit and read, with ample choice in snacks while you do so. Oh, one other thing that was a bit odd, to us; there was an armed and uniformed soldier at the entrance to the Mall. I don't know if this was a one off, or a normal situation but I'd really recommend against shop lifting…!
And that was pretty well it for the holiday, although there are a few other things to mention, asides from the obvious things like: it's hot, so wear sun cream.
Julie and I went for a wander along the beach one evening. Mainly just to have a look at the marina and its quay. As we got close, a guy on the beach, who ran one of the banana boats, warned us not to talk up the beach past the marina. He said that there were some bad people up there and that we would be putting ourselves in harm's way by going there. That was quite troubling. It was also in line with where we'd turned back towards the hotel, when we'd taken our walk around Boca Chica, and the girls had been harassed. Which is to say; not far at all.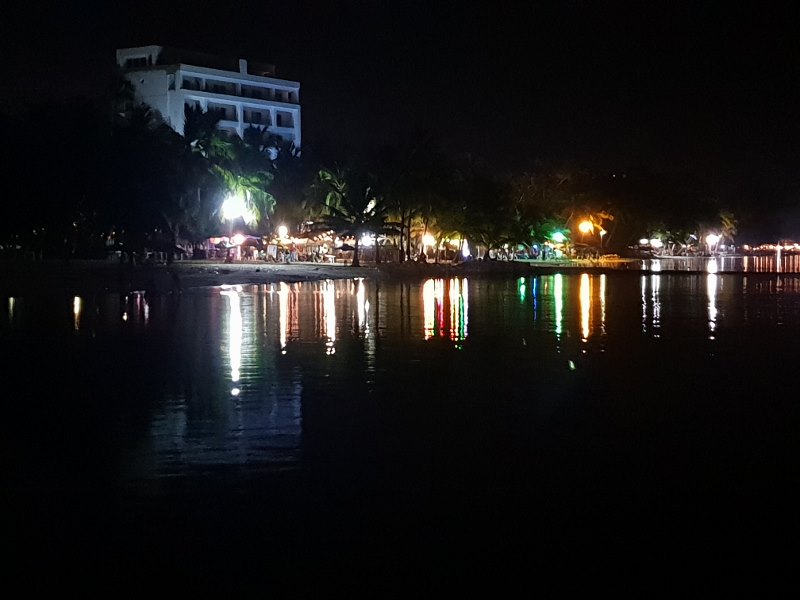 The hotel had sun loungers on the beach. They were in roped off areas but this didn't stop sellers from coming in. There was one lady, in particular, who was very persistent in her desire to sell massages. We didn't want massages and explained this every day. But every day she'd ask like she'd never seen us before. This is one of the reason we stayed on the sun loungers around the pool. And there really was an endless stream of people wanting to sell things, drifting up and down the beach. To be fair, these people are usually fun, and often have stuff worth looking at. On this holiday, though, engaging with them felt too much like attracting attention, so they were avoided.
One thing I hadn't been expecting was the level of poverty in Dominican Republic. Julie booked the Lewis holiday in Dominican Republic and I hadn't done any research. My brother, Simon, went to Dom Rep for his honeymoon and said he loved the place. As such, I was expecting something like an undeveloped Mediterranean feel, like you could find in the 80s. Something that a brochure might describe as 'unspoiled and rustic', or something equally condescending. But, what I saw, in a lot of places, was poverty, the like of which I haven't seen since our trip to Kenya. Not everywhere, or course, but certainly in places.
Another thing I hadn't been expecting was mountains. The highest point is Pico Duarte, which is more than 3,000 meters tall, and the highest point in the whole Caribbean. It's also more than twice the height of anything the UK has to offer. It's actually cold up there!
And much as I'd have enjoyed a trip to see the mountains, that wasn't really on the cards. In fact we'd run out of time, so it was back to the airport.
At the airport, there was one last surprise: a departure tax. There was a $10 arrival tax, in the form of a tourist card. This we'd known about. But in the queue to check in for the return flight, rumours started circulating about a departure tax. And, sure enough, a look around revealed a little desk with a woman industriously separating tourists from their money. There were also several people clutching reams of forms like this: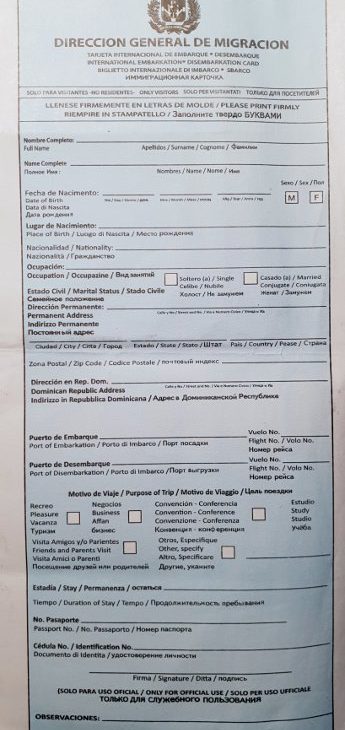 For those people in the queue who were part of a package holiday, this was not news; their Rep had warned them. For people like us, it was something of a shock. Fortunately, I actually had the $80 in cash that I needed. Mainly because of the return of the deposits for the towels and safe, as we were leaving the hotel. Other people, however, were having to exchange money, at the crappy rates in the airport, to pay a surprise tax. These people were not happy bunnies…
Actually, we weren't happy bunnies, either. But then, maybe it was something we should have spotted in the booking process. That said, it was certainly not prominently mentioned during the booking process. Presumably because, otherwise, people might not come.
At least the ceiling fans, in the departure area, were of a suitable size: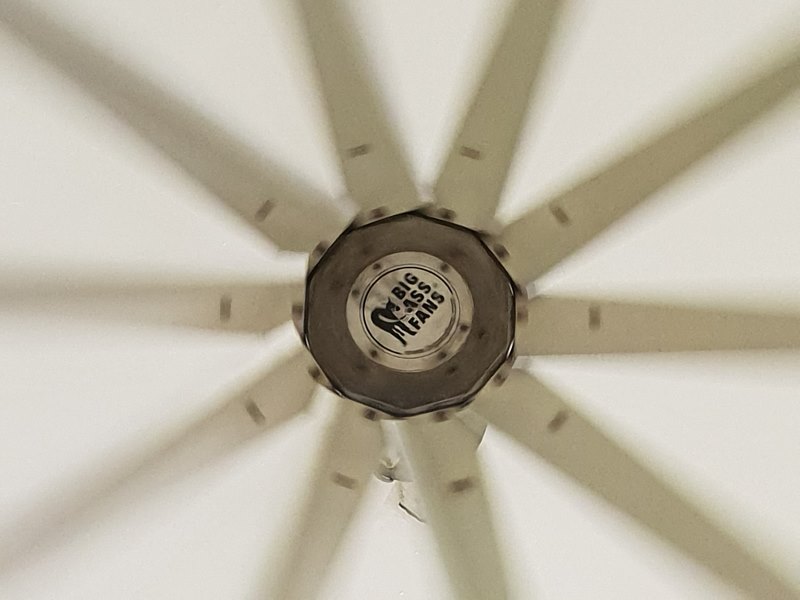 The departure lounge was pretty good. There were plenty of American fast food chains, which allowed us to try out a Taco Bell for the first time. Meh!
On balance, our Lewis holiday in Dominican Republic will be our only one. Julie spoke to another English tourist on the flight home, who had been staying at a resort around Punta Cana. Apparently Punta Cana is where most of the English tourists go, and there was far less in the way of sexual harassment. There was, however, far more in the way of seaweed blooms on the beaches, which made the seas unswimmable for several days. I'd happily trade in the presence of other English tourists for the amazing beaches we got.
Personally, I'd happily revisit Dom Rep, as one of a group of men. A trip with my dad and brothers, maybe. I'd love to see more of the coast and have a look up and around the mountains. I'd enjoy visiting the plantations. We'd have a great time. But, for a family trip; never again. Not that we would anyway; it's a huge wide World and there's still so much to see.