Having accepted that cruise holidays really do work for a family with teenage kids, we decided that our second cruise would be around the Baltic. A two week cruise around the various ports and capital cities of the Baltic States would be a new and exciting experience for all of us. Not least because it included eight port days, in seven countries. The first port, at which our cruise ship would dock, was Bruges, in Belgium.
Bruges or, more accurately, Brugge, is the capital and largest city in the Provence of West Flanders. West Flanders, for it's part, is the fifth largest of the 10 Belgian provinces and the only one with a coast line. As such, if you want to cruise to Belgium, Bruges is your best and only bet.
Except, of course, your cruise ship doesn't actually go to Bruges at all…
Your ship will actually dock in Zeebrugge, or Brugge aan zee, which, while being the sea port for Bruges, is still a 20km (12 mile) journey away. This means that you're going to need transport to get from the cruise ship to Bruges (and back again).
The port of Zeebrugge is a container port, which means that passengers can't just wander around, for fear of being squashed flat. The good news is that, because of this, a free shuttle bus is provided to take you to and from the gate, a journey of less than five minutes.
Of course, if you're taking one of the cruise line's excursions, you won't need to worry about that, as your coach will collect you from the ship, and return you likewise. The ships excursions are many and varied, allowing you to visit such places as, Brussels, Ghent, Flanders, Ypres, the Flemish countryside and, of course, Bruges.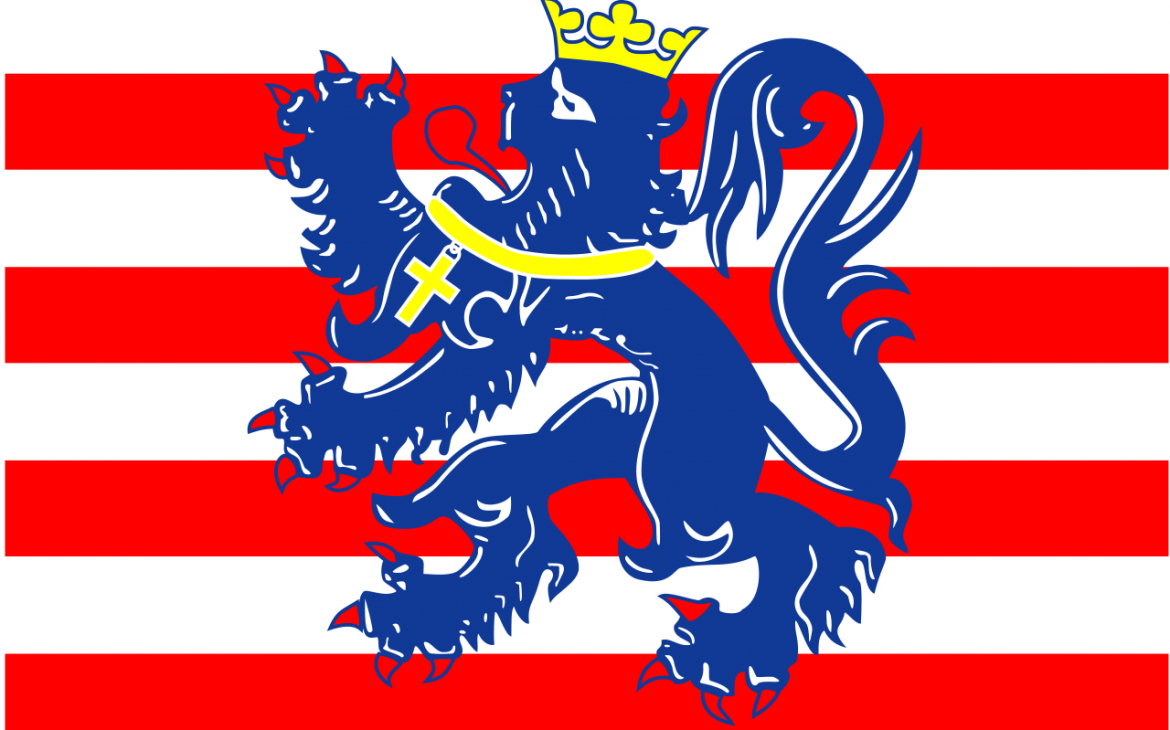 The excursions to Bruges, typically focused on one of the following activities:
There was, however, the option of, 'Bruges on Your Own'. This was effectively a coach to and from Bruges, and was priced at $65.95 per adult and $39.95 per child. For our party, this would have come to $211.80 (€185.77, £164.25). This, incidentally, was the lowest priced excursion on offer.
At the other end of the excursion scale was the, 'Best of Bruges & Ghent with Canal Cruise'. This trip was priced as $209.95 per adult and $109.95 per child. So, for us, this would have come to $639.80 (€568.32, £510.96). This seemed like ever such a lot of money, given how much we'd already spent just to be on the cruise, so we quickly ruled that out.
There were nine other excursion options, with prices ranging between the two extremes. Of these, the, 'Bruges and Chocolate-Making Demonstration' sounded most interesting. There was, after all, an opportunity to sample the chocolate… And a snip at just $319.80 (€284.07, £255.33) for the four of us.
Or, we could just buy some chocolate in town…
We decided to make our own way into Bruges and experience 'Bruges on Your Own', on our own. At the gate we were told of our options. Right outside the gate was a rank of taxis, any of which would drive to Bruges for €50 ($56, £45). The return fare being the same amount.
Alternatively, if you turned right at the port entrance, there was a bus stop a short walk away. The return bus journey to Bruges was €20 ($22.50, £18) per person.
A slightly longer walk, past the bus stop, would see you at a tram stop. From there, for €5 ($5.60, £4.50) per person, you could catch a tram to Blankenberge. At Blankenberge, you could then catch the train to Bruges for a further €8 ($9, £7.20) each. I think these prices were both for returns but, because we were told it was such a time consuming process (maybe because it was a Sunday, which might have meant a reduced timetable), I'd stopped listening. The tram/train option was ruled out.
The buses ran fairly regularly, every half hour or so, meaning you could expect to wait, on average, 15 minutes at each end. The taxis were, of course, immediate. Which led to the obvious question: bus or taxi?
On the one hand, the bus was cheaper. The cost for the four of us on the bus would be €80, a saving of €20 compared to the taxis. The taxi, though, offered a shorter journey time and didn't involve waiting at bus stops, at either end. The buses, however, may well have been cheaper still, as the girls were only 14 and 15. To be honest, though, we didn't investigate… we were too busy catching a taxi.
Incidentally, the cost of the trip is €50, regardless of how many people ride in the taxi. It is worth getting together with other people to fill the taxi, and then split the cost. The taxi we came back in had six passenger seats, so three couples could have shared. This would have reduced the journey cost per couple to under €17. And there were plenty of big taxis around.
If you do go by taxi, ask to be dropped off at Markt. This is the square at the centre of town and has its own taxi rank, so you know where to find your taxi for the journey back. Once at the Markt, go into the Historium Brugge, which is just to the left of the City hall, and has a Tourist Information Centre. Here you can pick a free map of Brugge/Bruges, which will be far superior to the one offered by the cruise line. At which point, you can start to plan your day.

If you opt to travel by bus, this will also drop you off at Markt.
Should you go by train, the station is outside the city centre but there's a free bus into Markt. There is also a Tourist Information Centre at the station, so you could get your map there. At the station there is also bicycle hire and moped hire, is you want to explore the city by one of these means.
The other important thing you'll find at the train station, and at remarkably few other places in the city, is a cash point machine (ATM). There are, maybe, half a dozen in the whole city centre. Fortunately they're marked on the tourist maps and, even more fortunately, there are a couple at Markt. The closest, and easiest to find, is the one on Vlamingstraat, which is the road next to the Tourist Information Office.
Whatever method you chose to get to Bruges from your cruise ship, you'll find it to be a very tourist friendly place. Particularly in terms of: transport; places to visit, and; things to buy. Not cheap, though. Oh, no. Not cheap in the slightest!
The cheapest mode of transport, as ever, is on foot and Bruges is certainly amenable to this. In terms of size; you'll comfortably be able to walk your way around the main sites, if you're reasonably fit. One consequence of this is that, in many places, the pavements (side walks) are packed. This forces people into the roads, much to the annoyance of the many, many local cyclists. While there are a few pedestrianised areas, these can also be frequented by cyclists… basically; if you're on foot, watch out for cyclists.
On the roads, there are plenty of horse and carts offering trips around central Brugge. There are also open top buses offering the same, if somewhat less romantic, service. A variation on this theme is to take a trip along the canals and waterways, where you can see the city by boat.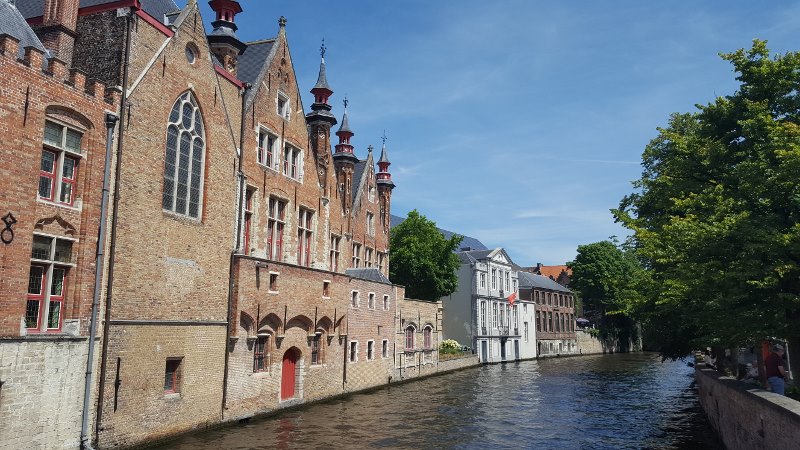 We spurned all of these options, mainly because we like to get some exercise during our shore days. Also, we prefer the freedom that walking offers; you see something interesting and you're able to investigate. That's less easy to do from a horse and cart, or a bus, or a boat. Besides, none of these alternative modes of transport are cheap. I strongly advise that anyone visiting Bruges by cruise ship researches the prices of such transport in advance, to avoid unpleasant surprises.
In terms of places to visit, the whole city boasts enjoyable architecture. Just walking around the shops will offer innumerable photo opportunities of buildings with interesting shapes and colours.
More specifically, the city of Brugge has historically been hugely wealthy, due to all the goods coming through Zeebrugge. And where you have a lot of wealthy people, you get a lot of wealthy places of worship. As a result, if churches and cathedrals ring your bell… you're going to be extremely happy.
For our part, we consulted the map…
The map included a number of buildings that were deemed so impressive, they'd been given their own little pictures. There are also 10 red, numbered stars, each signifying one of the top ten 'must sees' in Bruges. Together, some of these formed a convenient circle around our position in Markt, and a plan formed. We'd work our way around this circle of sights, stopping in at any shop that took our fancy along the way. As plans go, it was simple and effective. It's, pretty well, the template for all or city visits and port stops.
So, off we went. And very pleasant it was, too.
I'm not going to lie; we spent a lot of time in chocolate shops, of which there are a seemingly endless number. With so many shops offering the same product, there are bound to be some, well, dubious attempts to find a niche: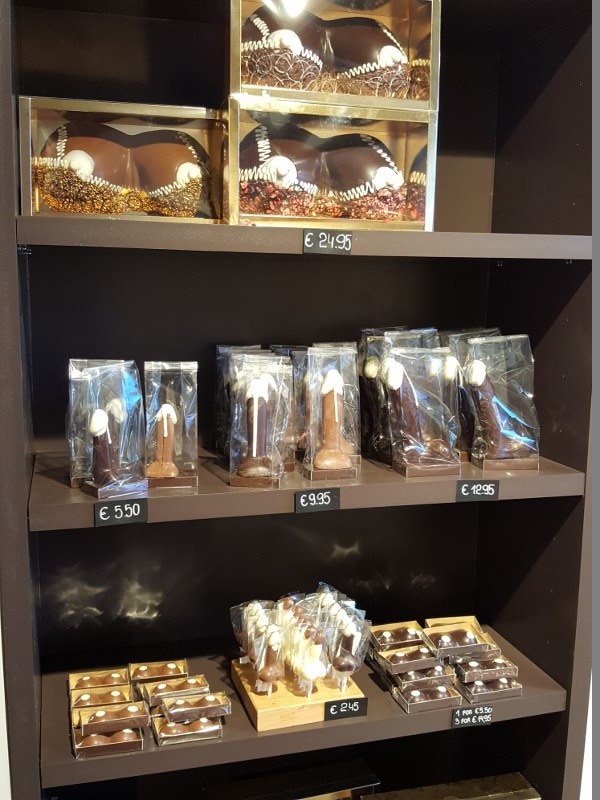 Despite all the shops selling chocolate (or waffles, or beer, or tourist trinkets), there is a real lack of convenience stores. So, if you want snacks and soft drinks for the trip, you'll find a Carrefour Express just off Markt, on Vlamingstraat. It's, more or less, directly opposite the cash point, meaning you can get all this sort of thing dealt with at the start exploring.
What there is plenty of, is places to eat. There are the usual array of fast food chains, which exist in just about every city on Earth. There are also a great number of restaurants offering tourist versions of the local cuisine. As such, expect to find a lot of places offering burger and chips (fries) with waffles for dessert. And I have absolutely no problem admitting that this exactly what we ate when we circled back to Markt for lunch.
In terms of the route we took, that led us back to said restaurant, we started by heading North to number 4 of the red stars on the map. This turned out to be Voormalige Hanzekwartier, the former Hansa Quarter. An area of magnificent buildings dating back to the 13th through 15th century, when Bruges was the greatest trading crossroads of North-West Europe.
From there, we hopped from place to place, in a clockwise circular direction, until we ended up at Burg. Burg is another large, impressive square, just next to Markt. I'm not going to go into detail about the exact route we followed and all the buildings we saw. There's no need; wherever you choose to go, you'll be glad you did. I will, however, say that Bruges is an architecturally stunning place and some of the churches are genuinely magnificent.
One place we particularly enjoyed, away from all the shops and architecture, was the park behind Heilige Magdalenakerk (St Magdalene's Church), called Koningin Astridpark. The park has a very nice lake and fountain, plenty of shade and is a nice place for a sit down.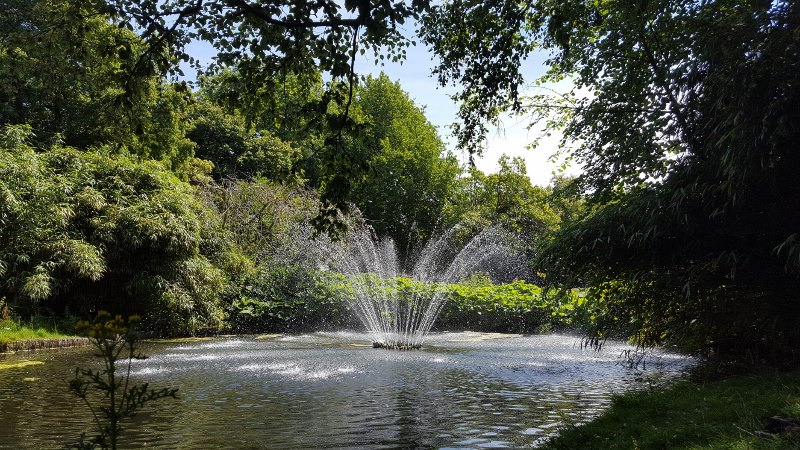 So, there you have it. Belgium is famous for its beer, chocolate and waffles. Bruges is famous for being the home of Praline (although not as famous as it should be, because Praline is awesome!). During your visit to Bruges by cruise ship, expect to sample at least one, if not all four, of the following:
Chocolate
Pralines
Waffles
Beer
There's no point trying to fight it; just accept it and tuck in…
Our eating experience, while in Bruges, can be summed up in one word: yummy!
All in all, we really enjoyed Bruges. And seeing as you can virtually catch a train to Bruges from where we live in Somerset, England, we're very likely to return there for a weekend visit.
Bruges was the perfect start to the port days of our Baltic Cruise. We were actually disappointed when we had to head back to the ship. At least we didn't have to go far to find a taxi, the taxi rank was right next to the restaurant we had our waffles.
So, with happy memories of our time in Bruges, thoughts turned to Copenhagen; our next port of call.