The Greatest English Football Club Of All Time… For 2016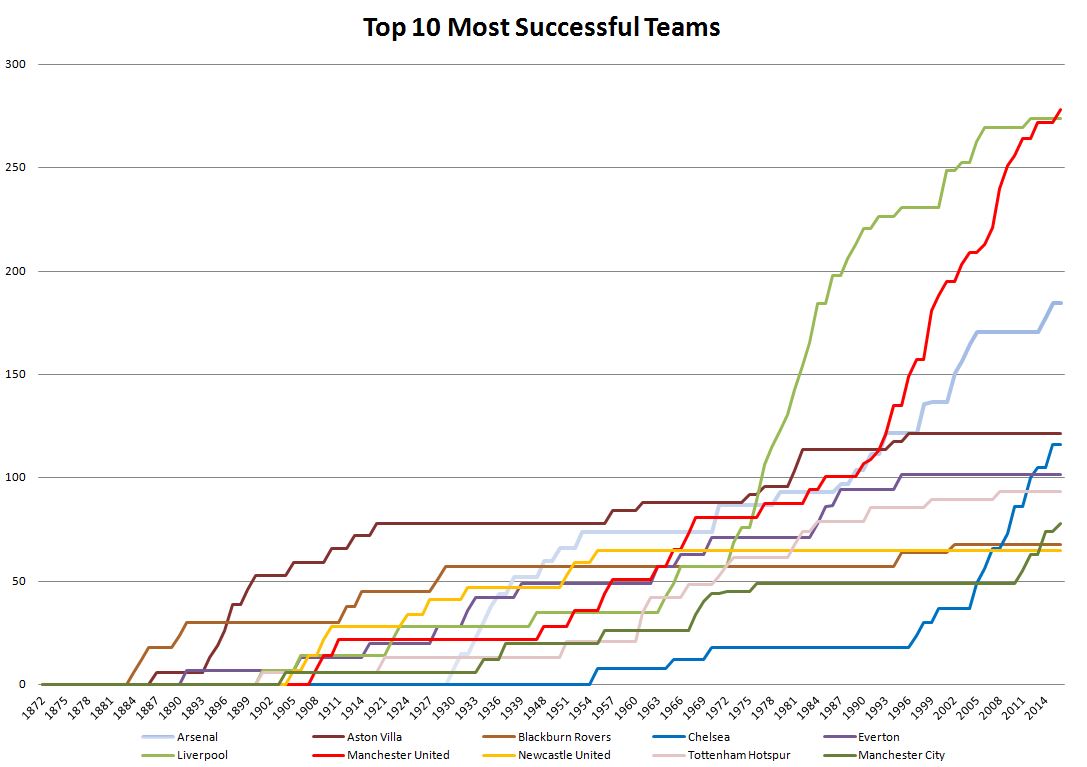 As you can see from the table, above, while a great many fans claim theirs is the greatest English football club, most of them do so more out of hope than expectation. As someone who is waiting for mighty, mighty Bristol City to assume their rightful position at the top of the pile, I have no particular axe to grind about which club keeps the place warm for them. As such, you won't find the data or scoring system, below, twisted to suit a particular team's needs.
There's Been A Change At The Top
For the first time since 1977, there has been a change in the team that can rightfully describe itself as, The Greatest English Football Club.
It was Liverpool.
It is now Manchester United.
Man U now sit atop the pile with 278 points, an increase of 6, allowing them to leapfrog Liverpool, who remain on 273.5 points and, accordingly, drop into second place. Arsenal remain in third place with the same number of points as last year, 184.5.
In fact, of the rest of the top 10, and as can be seen from last year's post, only Manchester City have added to their points tally, gaining 4 points by winning the League Cup and finishing with 78 points. Incredibly, still more than 100 points away from a place in the top 3.
[the reason for half points is that in times gone past, what is now called the
Community Shield
accepted draws as a result. When this happened, I allocated each team a half share of the one point on offer]
Perhaps surprisingly, until this year, only three teams have been able to individually claim the title of the Greatest English Football Club, although Wolves jointly claim the position with Blackburn for the six seasons to 1896. Arsenal was only a point away from sharing the title with Villa for four seasons in the early '70s but never quite got there. And, this year, Man U became the fourth. Since 1872 the Greatest English Football Clubs have been:
This means that while Man U is undoubtedly the current 'Greatest', Villa has spent more years being 'Greatest' than anyone. Does this mean that Villa is the greatest 'Greatest, with Liverpool in second place? Will Liverpool fans now argue that, although they're not the present 'Greatest', they have been so for longer than Man U? If they do, how will this fit in with Villa's status?
Okay, so the contentious bit; the scoring. There are eight possible competitions in which English Clubs can participate. I have ordered these in priority and scored them from eight down to one. No points are awarded for being in certain leagues. No additional points are awarded for doubles and trebles. These extras are open for manipulation to get a favoured team to the top. My system is simple and, I think, the better for being so:
In terms of trophies won, Man U also tops this list with 60. Followed by Liverpool with 56.5 and Arsenal with 40.5.
In the past, I have argued that, although Man U had the most trophies, it did not make them the Greatest English Football Club of all time. This remains true but is now irrelevant as they top the points table. Being on top of this list, too, is just a bonus.
And there you have it; after decades of playing Catch Up, Man U have finally overtaken Liverpool to become the Greatest English Football Club Of All Time. But with such a fragile lead. Less than 5 points! The question now becomes, How will Liverpool respond…?