A great many fans claim theirs is the Greatest Ever English Football Club, but most of them do so more out of hope than expectation. As someone who is waiting for mighty, mighty Bristol City to assume their rightful position at the top of the pile, I have no particular axe to grind about which club keeps the place warm for them. As such, you won't find the data or scoring system, below, twisted to suit a particular club's needs.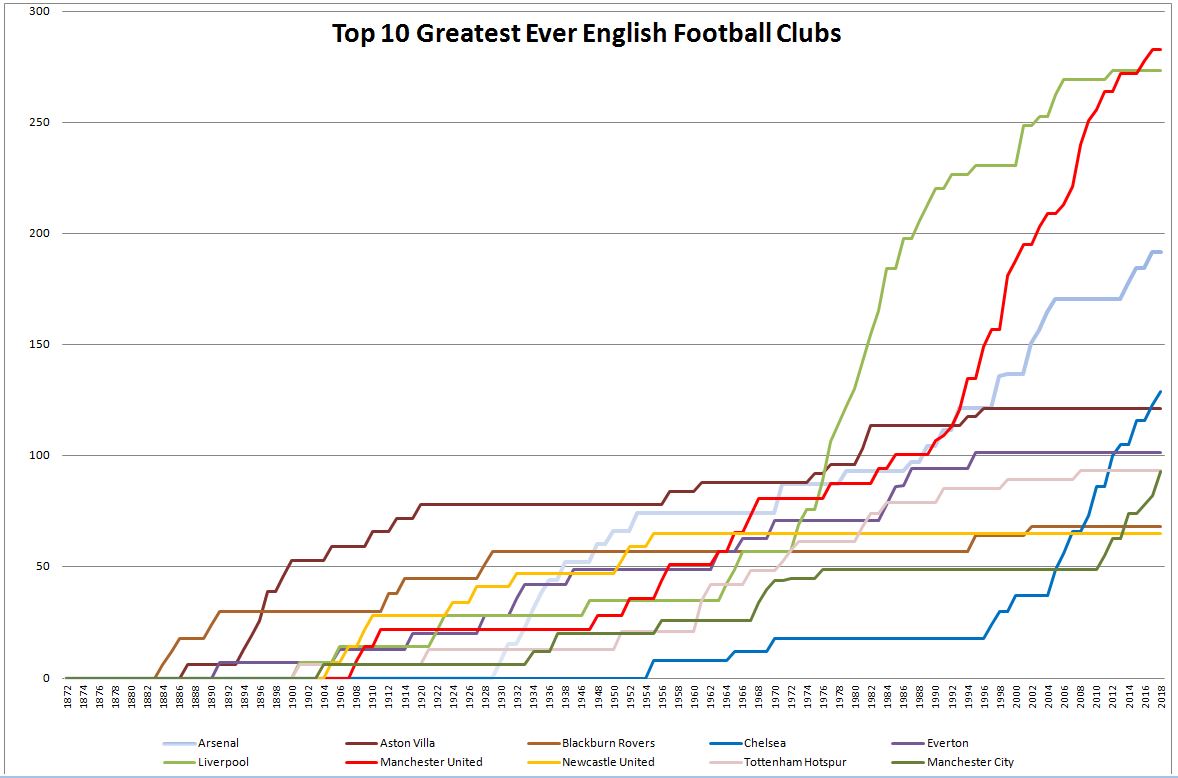 Since last year's post, there has been no change at the top, and Man U remains the 'Greatest Ever English Football Club', with 283 points. That said, it was something of an unusual season, in that neither of the top two clubs scored any points.
And while, historically, once a club has lost its position as the Greatest Ever, it's never managed to regain it; it is equally true that Liverpool doesn't sit still for long. Given that Man U is not the club it once was and, despite the having The Special One at the helm, Man U need to score some more points soon if they want to remain the Greatest Ever English Football Club.
Liverpool, then, having relinquished the lead three years ago, remain in second place with just under 10 points separating them from the leaders, at 273.5* points. Rounding out the top three, it's still Arsenal, who sit on 191.5* points.
And, while there were no more points collected by the top top sides, the same is not true of Chelsea and Man City. Both of whom are collecting points at an impressive rate. Chelsea collected another 6 points to move up to 129, consolidating their hold on 4th place. Man City, meanwhile, helped themselves to 11 points and now sit a hair's breadth from 7th place, with 93 points to Tottenham Hotspur's 93.5*. Spurs will do well to hold Man City off through the coming season.
[*the reason for half points is that in times gone past, what is now called the
Community Shield
accepted draws as a result. When this happened, I allocated each club a half share of the one point on offer]
While Man U currently hold the title of the Greatest Ever English Football Club, this was not always the case. In fact, of all the clubs who have ever been able to call themselves the Greatest Ever English Football Club, Man U has held the honour for the shortest period of time.
Perhaps surprisingly, in the more than 140 years since the leagues began, only four clubs have been able to individually claim the title of the Greatest Ever English Football Club. Blackburn Rovers came closest to making it five clubs, but were only able to share the position with Wolves for the six seasons to 1896. Arsenal was only a point away from sharing the title with Aston Villa, for four seasons in the early '70s, but never quite got there.
Since 1872 the Greatest Football Clubs have been: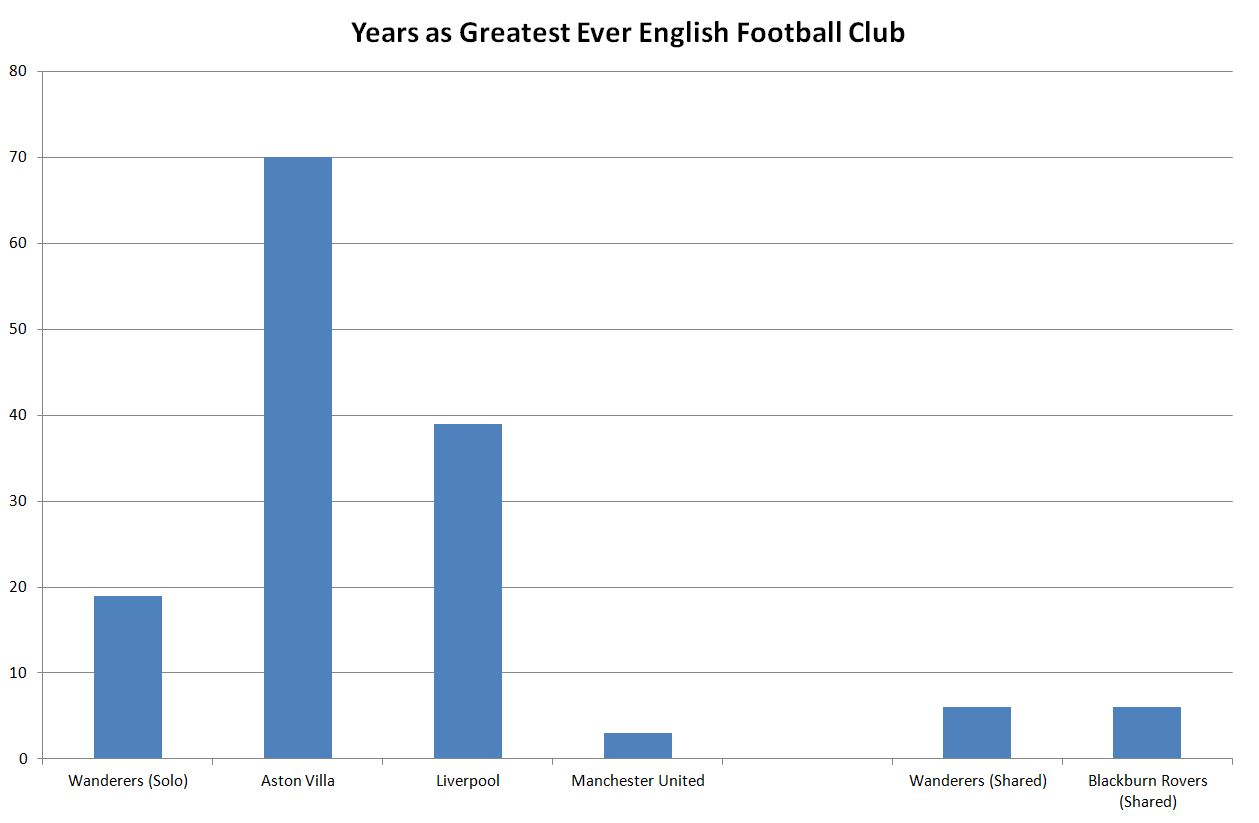 This means that while Man U is undoubtedly the current 'Greatest Ever English Football Club', Villa has spent more years at the top than anyone. Does this mean that Villa is the greatest 'Greatest', with Liverpool in second place? Will Liverpool fans now argue that, although they're not the present 'Greatest', they have been so for longer than Man U? If they do, how will this fit in with Villa's status?
Scoring System
Okay, so the contentious bit; the scoring. There are eight possible competitions in which English Clubs can participate. I have ordered these in priority and scored them from eight down to one. No points are awarded for being in certain leagues. No additional points are awarded for doubles and trebles. These extras are open for manipulation to get a favoured club to the top. My system is simple and, I think, the better for being so:
In terms of trophies won, Man U also tops this list with 61. Followed by Liverpool with 56.5 and Arsenal with 42.5.
To be fair, Man U has topped this table for some time. This led to some fans arguing that trophies were more important than points. Fans then claimed Man U to be the Greatest Ever English Football Club before their time. Given the situation at the top, I would reiterate that this is not the case. Trophies, like bank notes, have different values. Five £50 notes, for example, are worth more than twenty £10 notes… Points decide the Greatest Ever English Football Club, not trophies.
Next season it's all to play for at the top. If Liverpool get two unanswered trophies, they can reclaim the title. Although, to do so would mean slowing the rampage of Man City, who could comfortably move into 6th place with another good season. Chelsea, too, will be looking to continue hunting down Arsenal, and moving into 3rd spot. Or, maybe, Spurs or Everton will spring back to life and shake everything up…