Organising a family day out in the Summer Holidays used to be easy. I'd think of somewhere to go, tell the girls the type of clothes they'd need and give them a time to leave. Obviously, that didn't mean that the girls would arrive wearing the proper clothes, or at the agreed time but they were usually at least thinking about being ready.
All it would take to get to being completely ready was an hour long, rolling argument about why they had to change their clothes. And why heels weren't appropriate footwear to walk around a waterfall. And why a waterproof was a useful item to have next to a waterfall, so; yes, you really need a backpack. Then, a mere hour and a half after the agreed departure time, we set off.
Invariably, of course, I'd have to swing round the second roundabout and go back home to get, whatever it was, that, whoever it was, had forgotten this time.
But that was it. Simples!
But organising a family day out these days is soooo much more complicated. The girls are now 15 and 16, which means that they want input in where we're going. When four people have an input in a decision making process, you have a committee. An, Organising A Family Day Out committee. When you have a committee, you take forever to fail to make a decision. I hate committees!
Fortunately, I can shout quite loudly when I'm angry, or tired, or frustrated: basically, when I'm in a committee meeting. While this isn't the ideal way to reach a decision, it is effective for organising a family day out. Which is how we decided to go body boarding.
In reality, the decision to go body boarding was fairly easily reached because both of the girls and I have being trying to go for ages. And I mean, years! Unfortunately, I've spent a long time being too ill to do so. And when we went last year, there were no waves. I mean none… It was good for skipping stones, though.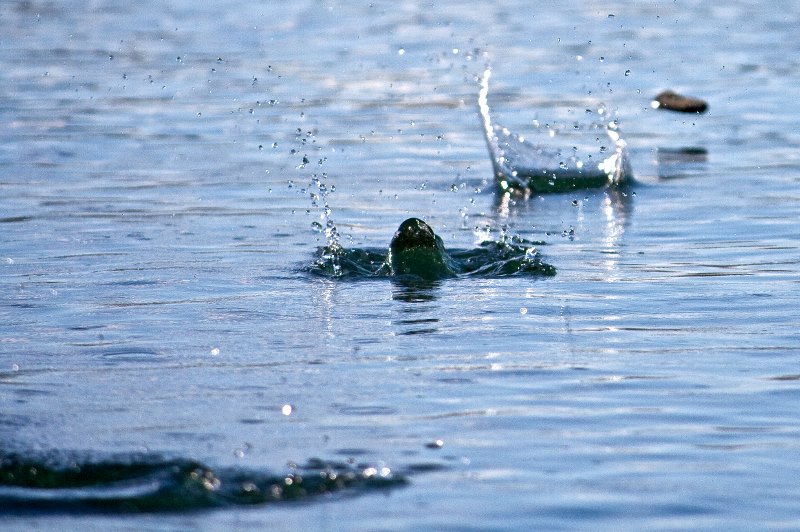 But this year would be different. Well, it would now that the high pressure weather system of the last month had moved on for a bit. We'd be taking one of Emma's friends along, because she'd taken Emma a couple of times in the past years, and it was our turn. Even Julie decided to take the day off work and come along.
So, now there were five involved in the, When Are We Actually Going To Go sub-committee. My joy at this development cannot be over-stated.
Due to the ongoing nightmare of the Musical Room Saga, where the girls are swapping bedrooms for reasons I will explain at another time, the number of available days after we finished our hill walking was limited. Additionally, our two weeks away is fast approaching, which, at least, forced a deadline. This meant that, all we had to do to finish organising a family day out, was work out:
Which days Julie could take off work;
The days Emma's friend wasn't working or on holiday;
Which days the girls hadn't arranged to meet up with their friends;
The timings for the low tides;
The predicted wave heights;
When the best weather would be, and;
Whether I had enough time to learn another language and escape to another country.
Taking all of that into account, we narrowed it down to Wednesday this week. This, regrettably, left me short on my language skills, by a couple of years or so, meaning I couldn't escape in time.
So, Wednesday, it was. The weather was overcast but warm. Low tide was around 3pm, and the waves would be three to five feet. Given the time that the girls get out of bed, this was perfect.
So, we agreed the time to leave as 1pm, agreed what we'd each need to take and headed to bed.
Needless to say, 1pm came and went while I did some frantic online research to see if language implants are a reality yet. Sadly, they're not…
I sometimes wonder how much of my life I've spent waiting for one, some, or all of the other member of my family. It probably runs into weeks, if you add it all together. Time that I can never get back! I've heard that Spanish is fairly easy to learn…
And then we were off. At the second roundabout, Emma realised that she hadn't brought a warm top to stave off the chill, for after we'd been in the sea. I decided that shivering was character building and refused to turn round. After all, it was the height of summer and we'd had a month long heatwave; how cold was the sea likely to be?!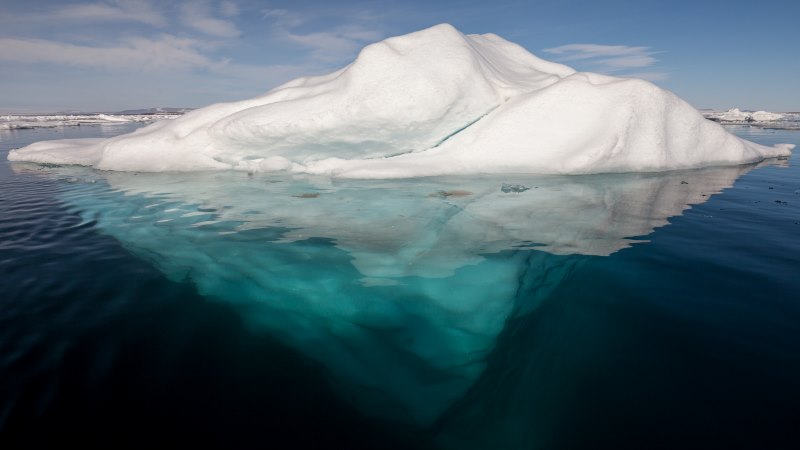 Spoiler Alert:
The sea, of course was freezing. Which is why we were all in wet suits. Despite this, and the fact that it's three days later, my testicles are still hiding in my abdomen.
Anyway, we set off within half an hour of our agreed time, which I'd factored in, when suggesting the agreed time, so things were looking good. Sometimes, organising a family day out means being sneaky with the timings. We were going to Saunton Sands, which was 70 minutes away, which left enough time for me to buy a new board in Braunton, on the way. Emma had grown into my old board, which was fine, because I'd grown out of it. Weight-wise.
Look, we only had three boards, between the four of us; so I got another board. Emma's friend had one, so now there were five of us and five boards. What does it matter that the new one looked big enough to support Jack and Rose; we all know Rose wouldn't have let him on anyway…
But we arrived at slack water and parked up. Pausing only long enough for me to remonstrate with the idiot who decided to walk behind my reversing car, from the blind spot.
We found a good spot and put up the wind break. It was a camping wind break and completely unsuited to the beach. So the wind blew it over in seconds, much to the amusement of the surrounding groups, and our embarrassment. We then, somewhat sheepishly, put away the wind break and put up the beach tent, which actually worked. They always do when you're putting them up.
Putting them away, on the other hand is another matter; sometimes it takes three of us to wrestle the damn thing into submission. And, sometimes, neighbouring groups on the beach laugh themselves stupid, watching our struggles, and applaud when we finally succeed. Too often, really!
But we had the tent up, which means we had somewhere to keep all our stuff relatively safe. There was an element of extra safety because, after watching our windbreak debacle, all the neighbouring groups new exactly who we were, meaning they might question anyone else trying to get stuff out of the tent.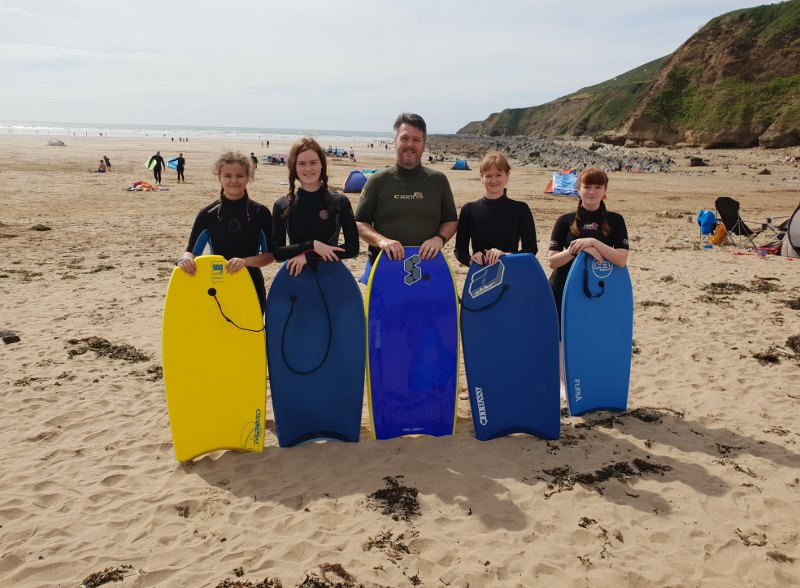 So, we fought our way into our wet suits. paused for the obligatory photos, and set off for the quarter of a mile hike to the water. Amazingly, on the way down, the girls seemed to get lost. This, despite the fact we were literally walking towards the sun and the sea ran perpendicular to our direction of travel.
I say they were 'lost' because they kept sweeping across in front of Julie and me, first from one side and then the other, forcing us to stop and watch them go past. But I think they were so deep into Yammer mode, they lost track of the sea. If Julie and I hadn't been there, there was a fair chance that they'd have just walked in circles until the tide came in far enough to find them.
But we finally approached the waves and I was checking that zips were done all the way up. It was at this point that I noticed that someone (mentioning no names) had her wet suit on inside out… You see, this is the sort of thing I'm talking about!
As the wet suit was put on inside in, I listened intently for a foreign family, in the hope they'd adopt me, but all I could hear were gulls. So I had to soldier on.
The water, as expected, was less than balmy but the waves looked the part, so we waded out to where the waves were breaking and set about trying to catch them. With varying degrees of success. The waves, while looking good, lacked power. This meant that the lighter you were, the more opportunity there was. If, on the other hand, you weighed more than the average wave, you weren't going anywhere.
To be fair, some of the waves had some power behind them. Maybe even, every seventh wave, as folklore dictates. But the waves weren't that clearly defined, which made counting them difficult. But there definitely were stronger ones. One such, grabbed my board and smacked it into my nose while I was talking to someone…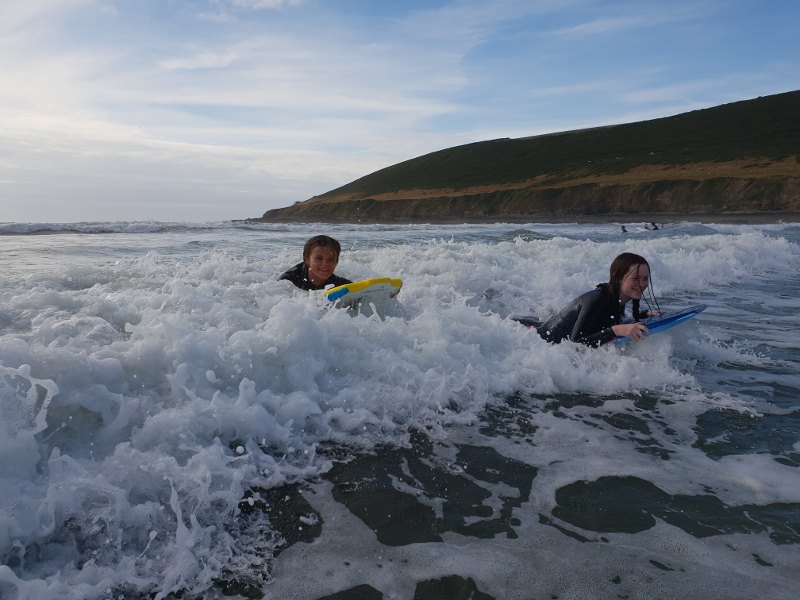 Julie and the girls, though, were able to catch enough waves to keep them all entertained. I just did a lot of bobbing around. Which was fine, because even the little I was doing; half-catching waves, was a bit sore. It'd only been three weeks since my lung resection surgery, so I couldn't put too much stress on my ribs anyway.
After about an hour, I decided to bin the body boarding and come back with my phone to get some action shots of the girls. The new upgrade, a Samsung S9, is supposed to be waterproof for up to 30 minutes in a meter or so of water. Thankfully, however, I managed not to test this claim, although the phone was on the receiving end of quite a lot of splashing. It stills works, though, and I got some nice shots…
And then I left them to it. I headed over to the rocks and looked at the pools, as I worked my way back to the tent. Before I got there, I had a call from Emma, asking where I was.
And that was it. They were all out, and not going back in. All that planning, preparation. All those committee meetings, organising a family day out. For less than two hours of body boarding. I hadn't even had a chance to settle down in the tent for a spot of light reading, before we were packing up to head home. Teenagers!
So we cleaned up and headed back into Braunton for a meal. After that, and before we were through Barnstaple, they were all asleep. Just me and my music and the open road. Except for when I got to the motorway, when I was joined by the usual assortment of middle-lane driving muppets.
And that was that: a boot full of sand and a garden full of wet suits and body boards. The girls kindly allowed me to rinse out the wet suits and wash down the boards. By which I mean, they didn't give their wet suits or boards another thought after we arrived home. They were probably tired from all the sleeping they'd done on the way back, bless them.
The funny thing is, we all enjoyed it so much that I'm already organising a family day out, body boarding, for the week before they go back to school/college.
Unless, of course, I can learn Spanish in the next three weeks.