Sightseeing in Venice with Julie is part two of a two-part post that started with A Short Break in Venice with Julie, last week. To read about getting to, and travelling around, Venice or, otherwise, just to get the full picture, it's worth starting there. If you're just interested in sightseeing in Venice; well, you've come to the right place…
[Well, I say 'two-part' post, but since writing that paragraph, it's become clear that I had no idea what I was talking about… it's going to be a three-parter!]
For us, sightseeing in Venice meant getting to all six of the Sestieri (sixths) of the historic city; the City of Bridges. We also wanted to get to the Island(s) of Murano, to have a look at all the glass works. To be fair, every souvenir shop in Venice, worth its name, had at least some glassware from Murano, but we were going to the source.
To fit all this in needed careful planning. Particularly as the road network of Venice seems to be based on the classic 'Labyrinth' concept. I had a 1:5500 map, which was so large as to be unwieldy, yet even this didn't show all the alleys; some of them were barely wide enough to walk down.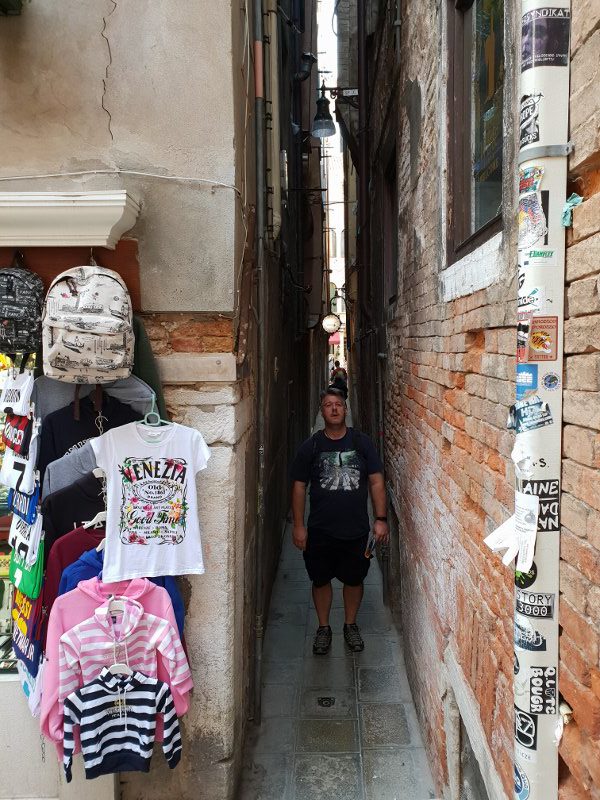 'Why didn't you just use just use Google Maps on your phone?' I hear you cry. Yeah, try it and see how you get on! Or, more helpfully; the connection wasn't great and the phone never really seemed to know which direction it was facing in relation to the choice of roads, alleys and paths that were facing us. Also, the road signage was sometimes a bit hit and miss and, other times, abbreviated. Both of which made reconciling the tiny map on my phone, to what I was seeing on the ground, an exercise in frustration.
In some ways, however, the city planners have got around this. Tourists, it seems, are a fairly predictable bunch; we all want to see the same things. As such, in a lot of squares and at the end of a great many streets, signs pointed you in the direction of the nearest significant attractions.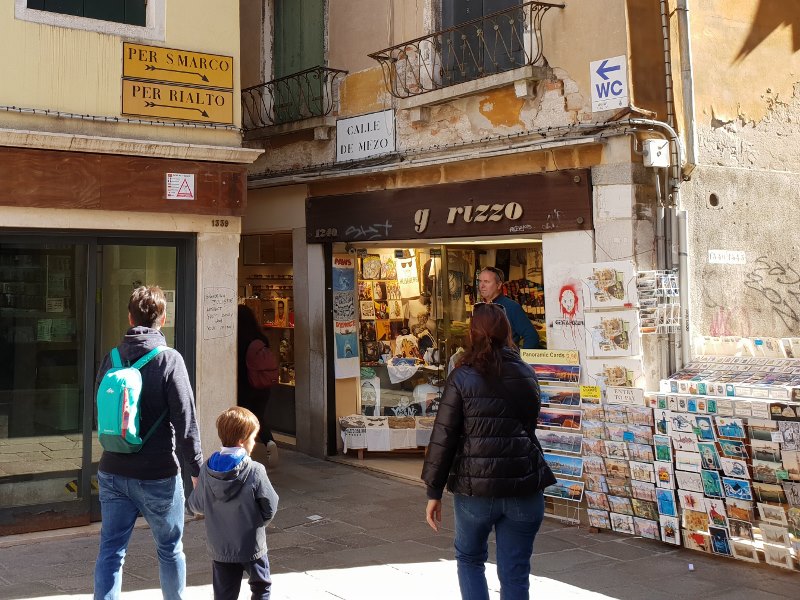 These signs were fantastically helpful and, once you got used to looking for that particular colour of signage, they were everywhere. In essence, these signs mean that you don't need any form of map if, for you, sightseeing in Venice means going to one of these sights. You can literally wander where your heart desires and then find a sign to take you to one of the sights.
Not that we knew that when we set off. It did become useful, though, over the course of the two days, even with the map.
The Day 1 Itinerary was:
Bus Station
Through San Polo Sestieri to Ponte di Rialto – the Rialto Bridge
Through San Marco Sestieri, taking in Piazza San Marco – St Mark's Square
On to Castello Sestieri, and the Ponte dei sospiri – Bridge of Sighs
Over to Dorsoduro Sestieri, via water bus, and a look at Santa Maria della Salute – Church of Saint Mary of Health.
Then hop on a water bus, all the way up the Grand Canal, back to the bus station.
We'd get between each sight to see by hopping between the interesting-looking churches and squares that were, roughly, between the two items on the itinerary.
For reasons that are going to very quickly become obvious, I'm only going to list these hopping off points for the first stage of day 1. To get from the bus station to Rialto Bridge, we went via the following places:
All that was in a journey of about a mile!
This mentions nothing of the canals we crossed, the shops and restaurants we passed or the amazing buildings that were everywhere.
Venice is simply littered with churches, museums, palaces, canals, bridges, shops of every variety, cafes and restaurants and amazing architecture. It doesn't matter where you go, there's going to be a feast for the eyes. Nor does it matter if you lose your way in the process, there are signs pointing you to the major sights. There's no point trying to exactly recount the route I took, because I don't know. I kept losing my way. Which is fine, because it doesn't matter which route you take, when you're sightseeing in Venice, you're going to like it. Here's a photo Julie took of the Rialto Bridge, to ease your mind: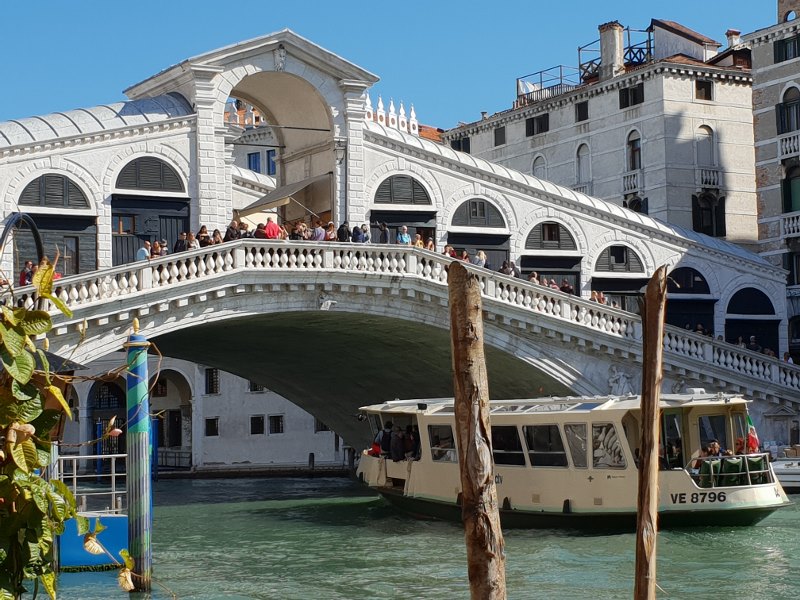 From the Bridge, we made our way towards St Mark's Square, by the least busy route we could find. Pausing only briefly for some Gelato along the way. Well, you've got to really, otherwise can you really say that you've been sightseeing in Venice?!
St Mark's Square actually wasn't as crowded as I'd expected. We were there, midweek in early October, so we didn't have to contend with the peak crowds. Don't get me wrong, the queue to get into the Basilica di San Marco snaked all the way to the canal. But we had no intention of trying to get in, so that was no problem for us. If you are intending to go in, you'd be better off booking your tickets in advance. On that note, we only went into a couple of the churches we passed, because only a couple of them didn't charge for entry. And, to be fair, the first one we went in, Chiesa di San Rocco, back at Campo San Rocco, was so impressive that we felt it would be hard to top.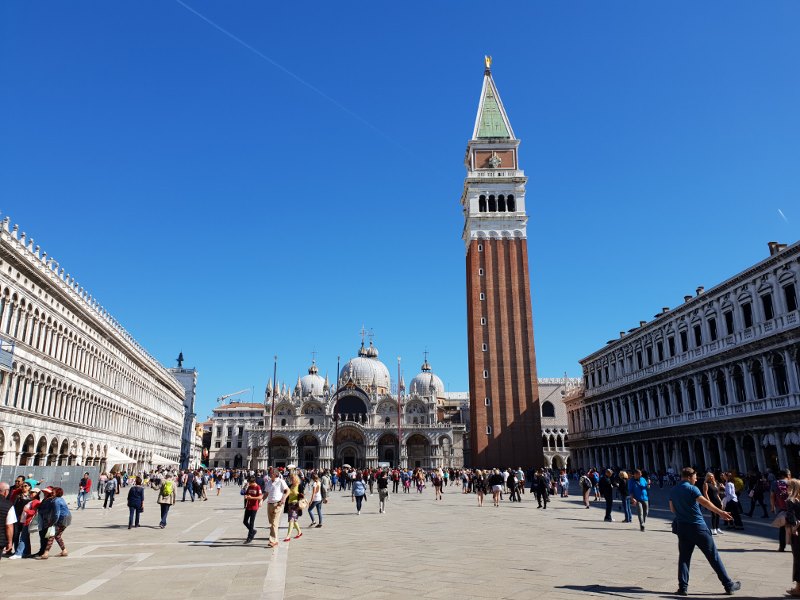 Sightseeing in Venice is pretty energetic stuff and, by now, we were ready for lunch. We dropped down to the Riva degli Schiavoni waterfront to look for somewhere to eat. Along here were a great many water bus stops and wharfs for assorted boat tours. To cater for this, there were also an enormous number of vastly overpriced eateries. Not knowing this until after we'd flopped by a table, we were charged so much for a couple of sandwiches and drinks, that even the taxi driver from the airport would have blushed. Still, lesson learned: don't eat between two of the biggest draws in Venice.
Speaking of the Bridge of Sighs, we spotted that as we headed into the Castello Sestieri, where we ended up at the Arsenale. Oddly enough, we weren't allowed in these shipyards, so we headed back to the waterfront to catch a water taxi to the Church of Saint Mary of Health, right at the mouth of the Grand Canal.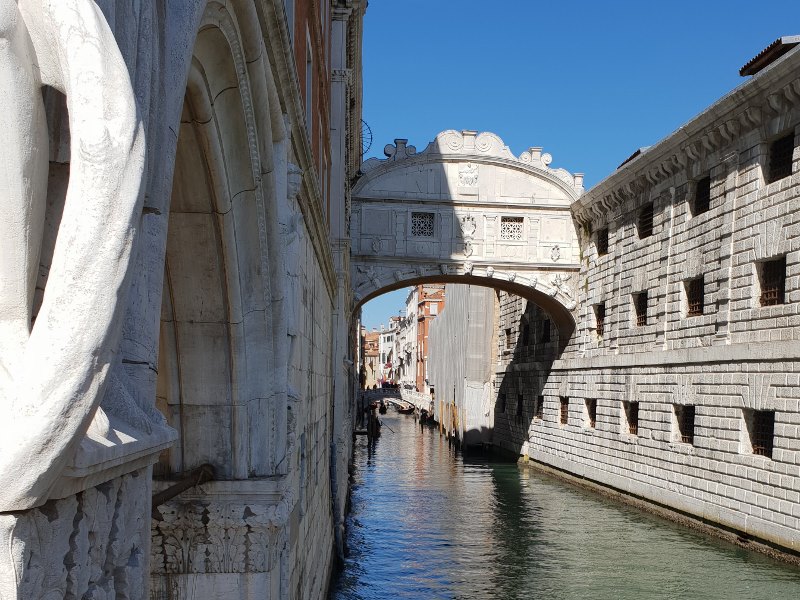 Okay, so water taxis. This was going to be the first time we were going to catch one, so I'll show you what we were faced with to aid with the process: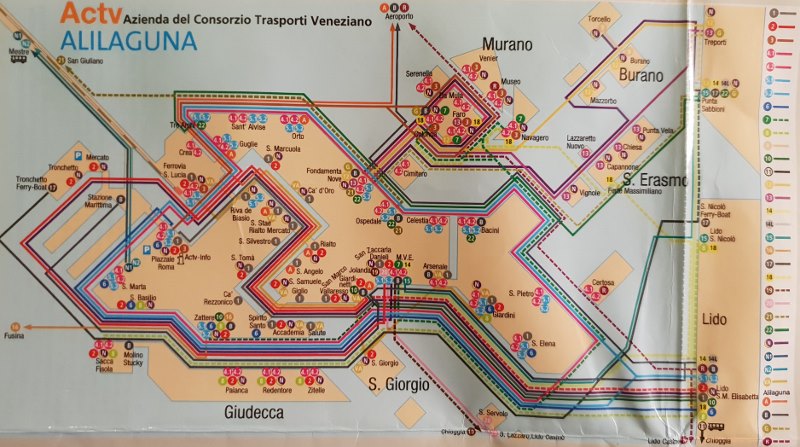 To be honest, that wasn't as helpful as I'd been hoping, so I tried the actual map: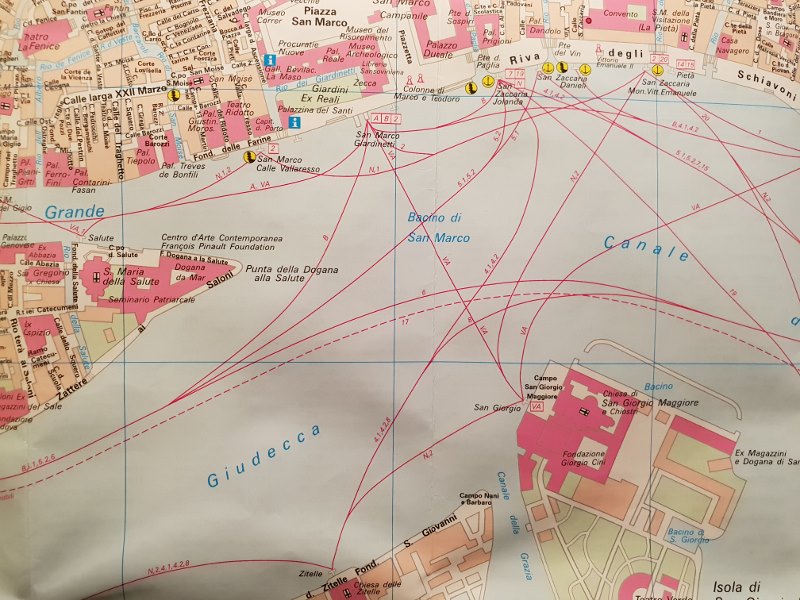 Anyway, we caught the wrong water bus…
In hindsight, I needed a VA or a 1. Neither of which actually stopped at San Zaccaria Jolanda. They stopped at the stops at either side of San Zaccaria Jolanda, one of which we'd actually walked past to get there. What we ended up catching was a 4.1, because I thought 4.1 meant it was a 4 and a 1. It really wasn't. I worked this out when we completely ignored the Grande Canal and, instead, started cutting across the Canale della Giudecca.
Still, at least our sightseeing in Venice trip would now include a visit to the island of La Giudecca. Or so I pleaded, when we were dropped off at Zitelle.
In reality, we were completely unphased by this development. It's not like we were in a rush. It was a nice day, and not too late. So we pottered along the edge of La Giudecca island, and down two water bus stops, until we got to Palanca. From there, we simply caught the N water bus over to Zattere Ponte Lungo.
Having ended up on this detour, we'd hoped to at least get some good photos of Venice, from La Giudecca. But even though the canal was only 300 meters wide, because everything was so flat, you just couldn't get the angle for a meaningful shot. Well, unless you include this…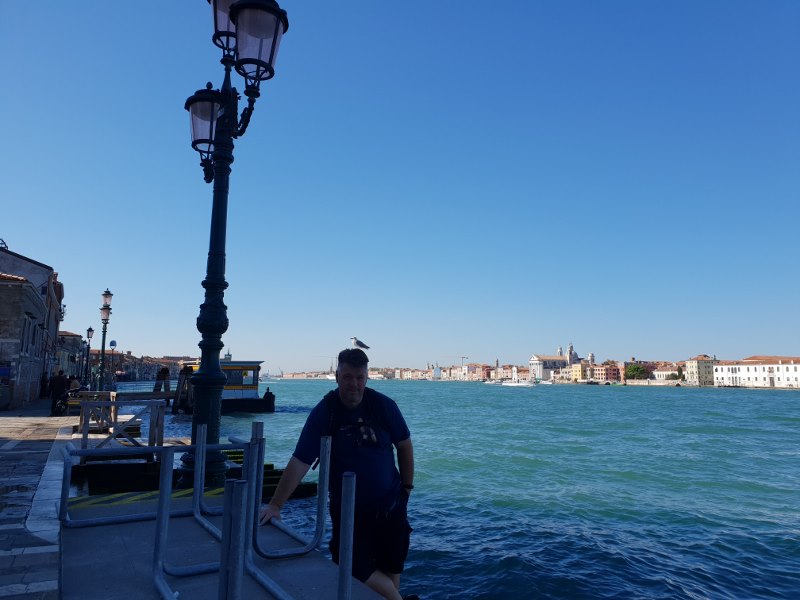 See: no good shots!
Having landed back on Venice, in the Dorsoduro Sestieri, we headed inland and started weaving our way towards the Church. One point of interest was when a gondolier, having failed to entice a customer, made a throwaway comment in Italian. Unexpectedly, the British teenager, who was walking with the Australian friend of her mum, actually knew Italian. This led to a brief, but spirited and highly entertaining, conversation between the three of them.
I'll discuss gondolas in more detail in the next, of what is now going to have to be a three-part, installment of our trip to Venice. I apologise for my inability to stick to my plans but, in my defense; I've got no idea what I'm doing, when it comes to travel writing.
But I was getting the hang of water buses. After doing a lap around the church, which was pretty impressive even by Venetian standards, we found the Salute water bus stop.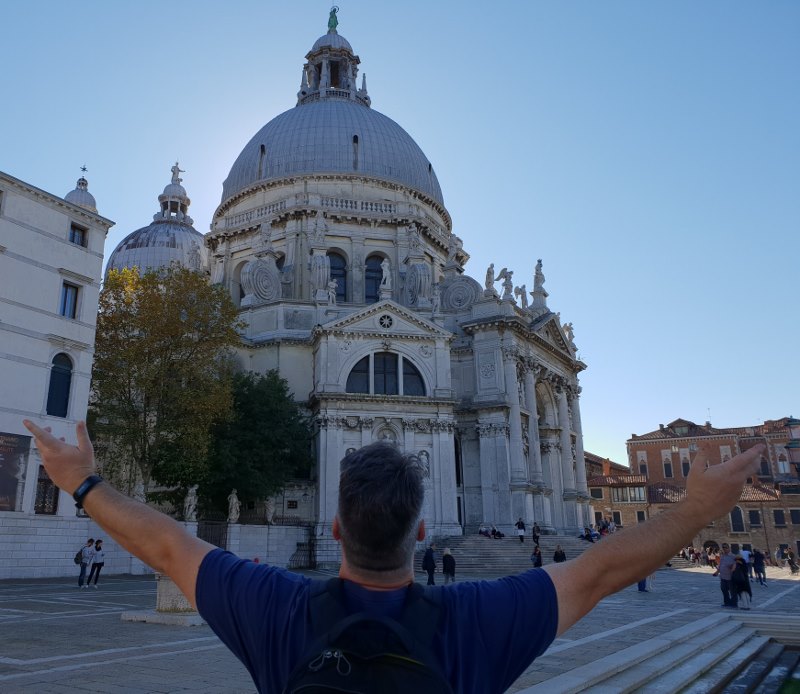 The water bus stop was bidirectional, meaning catching the wrong one would take you in exactly the wrong direction. But we figured that one out in time, and waited for a water bus that was pointing the way we wanted to go. We squeezed our way on, and a squeeze it was too. I'll explain about the water buses in detail in the next post, as there's a lot going on.
We eventually got seats but far too late to get any photos of the Rialto Bridge, which was a shame. You've got a far better chance of getting a photo of the Rialto Bridge from the canal than from the shore. If you've paid for a travel pass, you can use these water buses as often as you want, meaning you can pass back and forth under the Bridge as many times as you like, or until you've got the shot you need. We didn't do that. We got out at the train station instead.
We'd decided that we wanted to have our evening meal in Venice because, romance. But we were all sightsee'd out by about 5 pm. This was too early for a meal. But not too early for a cocktail… Everyone's a winner!
We spotted a decent sized hotel on the other side of the canal and, having learned that hotels mean facilities, we made our way there, crossing at the Ponte degli Scalzi. It turned out to be the Hotel Carlton, which would be happy to sell us cocktails. Better still, it had a Sky Lounge on its fourth floor, so that's where we went. Julie had some orange based drink, while I went for something appropriately manly: a Peach Bellini…
While I can't say what a stay would be like in the Carlton, I can say that it's in an amazing location and certainly looked very impressive. I can also tell you that the staff we spoke to were very friendly and helpful. It was a very pleasant way to spend an hour. The view, incidentally, mainly overlooks the railway station, but after a day at sea level, any elevation is good elevation.
Suitably fortified, we set off towards a likely looking cluster of restaurants. We'd found this by perusing Google Maps, while sipping our cocktails. The restaurants were clustered around the state park (Giardino di Palazzo Soranzo Cappello), which was, more or less, tucked behind the Carlton. When we got there, however, none of the restaurants really looked up to much. This is the problem when there are so many options, and so much information; decisions can sort of get lost in the noise. So we formed a cunning plan; we'd just head back to the bus station and eat at somewhere we passed on the way.
The place in question turned out to be a little bistro, right next to Chiesa di San Nicolò da Tolentino, the first church we'd passed at the start of the day.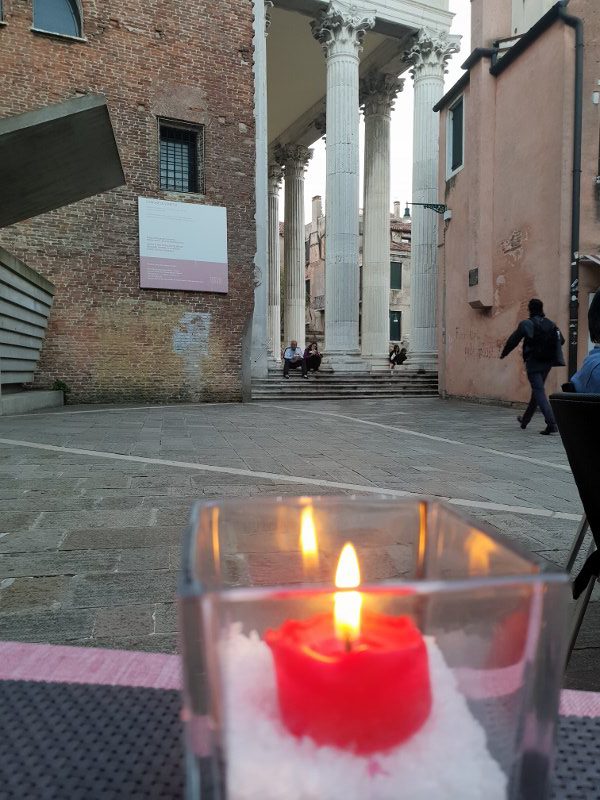 Sadly, I can't find it online but it was in the Campazzo dei Tolentini. This is a photo of the restaurant, as seen on Google Maps. To be honest, though, while there was nothing wrong with the food, it was nothing special either. I had a Spaghetti Carbonara , which is my go-to meal when I'm visiting somewhere new. This version ranked somewhere in the middle of all those I've tried.
After the meal, it was but a short walk back to the bus station and our day of sightseeing in Venice was done. After a brief wait, we hopped on a number 5 bus and 10 minutes later we were dropped off by the hotel. Lidl was still open, so we nipped in there to get some room snacks and then went to our hotel.
A very good day of sightseeing in Venice, with the same again to come in the morning. Which is where the story picks up, in the next post; Venice and Murano with Julie.