This year, for our annual half term skiing trip, we thought we'd try somewhere new, Zell am See in Austria.
Most years we've been to France, to take advantage of their ski schools. But, the French don't allow parents and children to share the same lessons so, after the girls caught up with our ability, we went to Bulgaria for a couple of years. In Bulgaria, they're perfectly happy for families to learn together.
Last year, we decided that we'd go without lessons and just do our own thing, so we went back to France and stayed at La Plange. It was nice enough but didn't make us want to go back, so, this year, we thought we'd try something completely new. Which is how we ended up skiing in Austria during half term.
When it comes to ski trips, we've found that package holidays are the way to go. Last year, the La Plange trip was mainly put together by Julie. And, while it worked fine, there was always a slight sense of nerves, which comes from not having a rep to turn to. Particularly in regards to the pick up from the hotel to get us back to the airport. The driver eventually found us, and we got to the airport in time, but still…
Anyway, it's a package holiday this year.
We booked through Crystal, which meant we flew with Tui, the airline formally known as Thompson. While not a budget airline, it's certainly not known for its frills. But it's reliable and gets the job done. Besides, it was only a short flight to Salzburg. Crystal holidays, too, are always reliable; we've certainly never had any problems with them.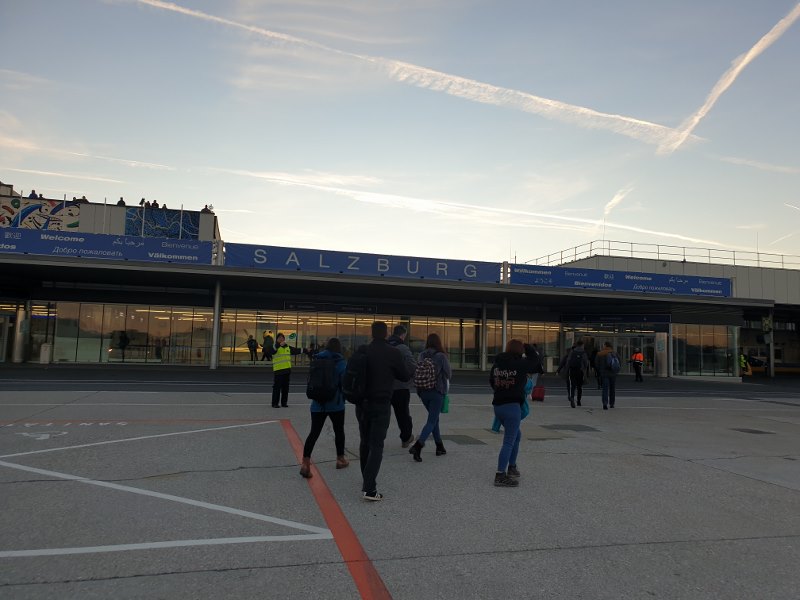 As ever with our holidays, we look for flights from Bristol. A lot of people have been recommending Austria, recently, so we decided to look there first. And Bristol had direct flights to Salzburg, making skiing in Austria during half term a viable option. With that in hand, Zell am See stood out as the place to go. And because, for the first time in a long time, I'm not waiting on treatment, we were able to book relatively early. Which meant we actually managed to find somewhere nice to stay… Yaaay!
The flight out of Bristol departed at 2:30pm. And, because both the outbound and inbound flights were at sensible times, we took Dad Taxis to the airport. This meant we didn't have to battle our way to the departure teminals from long-stay parking and, instead, had a nice, relaxing start to the trip.
The relaxation continued after an easy bag drop-off and then, best of all, a call through the priority boarding lane. Not that we'd booked priority boarding, nor have we ever booked priority boarding, it just turned out that no one else had either. So the staff in the priority boarding section had better nothing to do and they called us through. They actually smiled at us, as our bags went through X-Ray. It was kind of unnerving, really!
Nice, though.
We made ourselves a nest in a corner of the departure lounge and read until we were called to our gate. The plane was ready to go, so there was no waiting at the gate, just straight on to the plane. The plane took off on time and we actually landed early. What an amazing journey.
Of course, things slowed down a bit from there. There were two other planes ahead of us on the luggage carousel. This meant that all the time that had been made up earlier, was lost here. Which was just the way it had to be, because the buses were booked for a specific time and just because the plane arrived early, didn't mean the buses did. Indeed, there was quite a period of time of passengers asking reps what bus they were on, and the reps having no clue because the buses weren't there yet.
We eventually found the right bus and off we went. It was an hour and a half to Zell am See and already fully dark by the time we set off. The rep on the bus came around and handed out the lift passes and the equipment vouchers for the skis, etc. The rep explained that the bus couldn't visit each hotel individually, so we'd all be dropped off at a central location and taken to our respective hotels by taxi.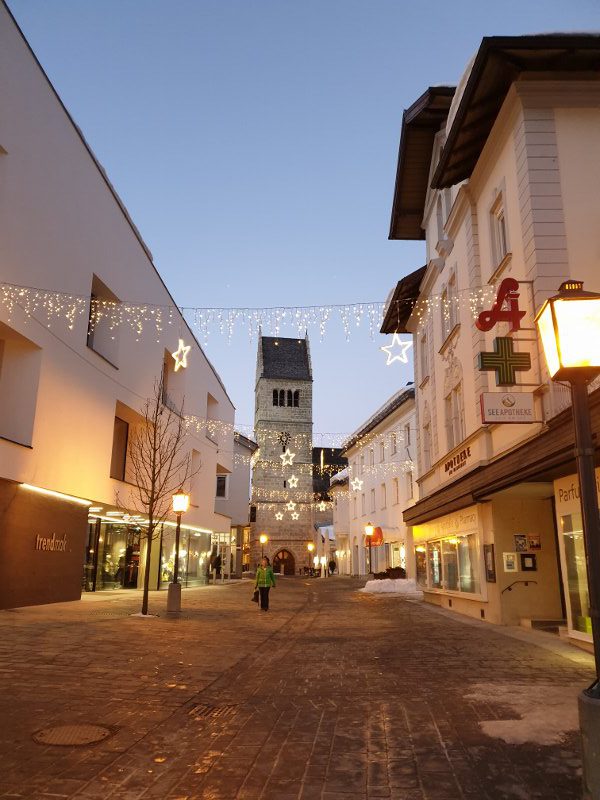 When we arrived at said 'central location', which was the Hallenbad Leisure Centre, someone from Ski Club Great Britain got on the bus and did a bit of a presentation about some of the upcoming trips. The trips were listed in the information provided by the rep, and a couple of them looked interesting, these were the ones the Ski Club GB rep was talking about. After she finished her presentation, she told us where to stand to get the taxi to our guest house, and let us off the bus.
The taxi ride was pleasantly short, which was good because the trips that were being offered all picked up from the Hallenbad. This meant we'd have to walk back here with all our kit, if we wanted to go on a trip. Spoiler alert, carrying all the kit even that short distance was still hard work…
We were staying at the Villa Klothilde, which was a hotel, apartments and guest house, and very yellow. There was a lady waiting at the reception desk to welcome us in. She was very pleasant and her English was good.
Because it was getting on a bit, our first priority was getting a meal. I asked her about this and she explained that our best bet was the restaurant next door, because a lot of kitchens had closed already. So we ditched the bags in the rooms and headed straight back out.
To be fair, we were pretty hungry by this stage.
The restaurant in question was called the Kupferkessel and was literally just over the road. It was also very full. Fortunately, there was an additional room, off the back, which was just being opened. This, too, was full by the time our meals arrived. Very popular place, the Kupferkessel. At least, on a Saturday night; we didn't go back again.
Not because the food was bad, because it wasn't, it was good. It was just too noisy for us. Like I say, it was heaving. But, also, people in neighbouring tables were randomly breaking out in song. For a lot of people, this would be an ideal destination, being full of atmosphere. It was just a little too atmospheric for us. Plus, there was the question of the images they were using: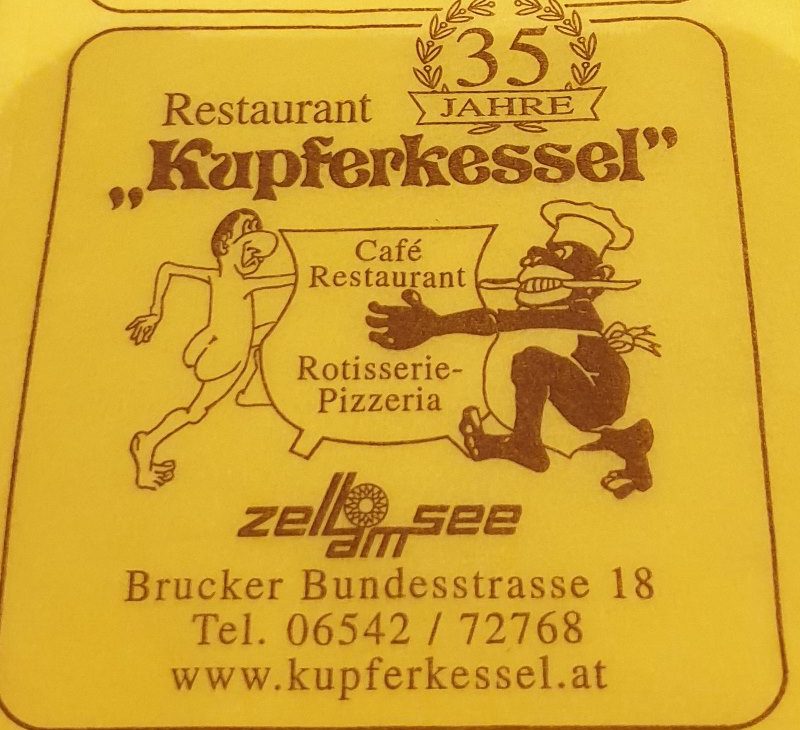 After the meal, we went back to the hotel and explored the rooms. And very fine rooms they were, too; daughters in one and parents in the other. The 'parents room' was the larger and was plenty big enough for the four of us to sprawl around of an evening time. The rooms were beautifully appointed. Once again, Julie had discovered a gem.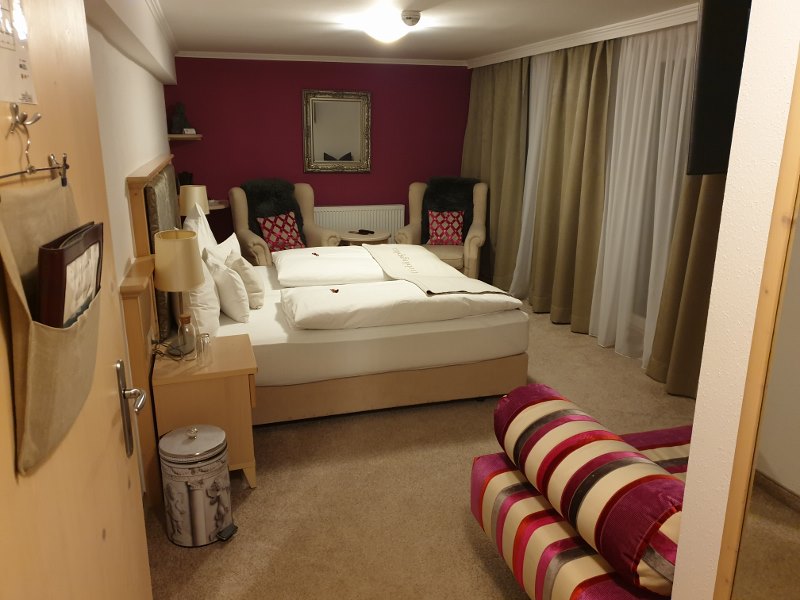 And, after taking the requisite number of photos of pillows and the like, we made our plans for the morning.
We wanted to catch the guided ski trip with the Ski Club GB rep, and that left at 10am at the base of the CityXpress Lift. The InterSport, at which we were to collect our skis, was also at the base of this lift, which tied in nicely. We figured that if we got to the InterSport at 9am, that would give us ample time to collect our equipment and for me to run the shoes back to the Klothilde. Because I have my own boots, I could then wear those back. The others, needing to hire boots, would have to wear normal shoes to collect their boots and we needed to get this footwear back to the rooms somehow. That somehow, was me.
Good plans. Great plans. We went to sleep confident that the next day was going to start well.
It didn't!
We got to the InterSport as planned, only to find that the first queue stretched nearly to the door. This first queue was to get to the computers that allowed you to print off your equipment voucher. From there, you joined the queue to get your boots fitted, which is when the reason for the length of the queues became obvious: there were only two guys fitting boots… For more than 100 people.
The next queue was to get the skis. This actually had four people working but four was far from enough. In total, it took 90 stressful minutes to get out ski equipment. Julie asked why it was taking so long and the ski fitter said, "It's half term…!"
We know it's half term, that's why we're here in Austria, skiing. Also, you know it's half term, the question is why there aren't any more staff. Julie asked a slightly more subtle version of this question and it seemed that there were only so many work stations, so only that many staff.
This was a huge difference to Bulgaria, in particular. In Bulgaria, there were always loads of staff helping you out. The equipment hiring process, while never fast, also never dragged on more than about half an hour. Even in France, there was better customer service than this, and the French take pride in torturing the British whenever they can.
Anyway, by the time we got out, the Ski Club GB tour was long gone. One slight consolation was that we were able to leave our shoes in the InterSport store, for just €2. And, after about an hour of assorted queuing, one of the members of staff handed out small bottles of water, for free. Which was a nice touch, and gratefully received, because we were overheating rapidly.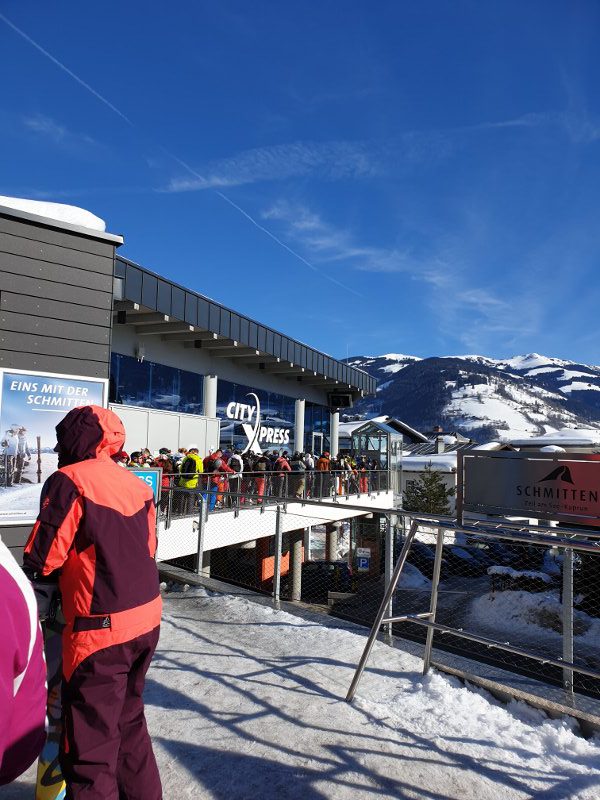 Stepping outside the store, we found that the queue to the CityXpress lift had actually wound its way down to meet us. That was another 20 minutes of the day, gone.
By the time we actually got off the gondola, and put our skis on for the first time, I think it's safe to say that none of us were feeling the holiday spirit.
Not that we could actually start skiing, at that point. The layout of the resort meant that we had to catch another two lifts to get to the top of the mountain. First the Hirschkogel Express, which was a four man chair lift. Then the Areitbahn III, which was another gondola. That took us to the Panorama Restaurant, which was at 1,900m.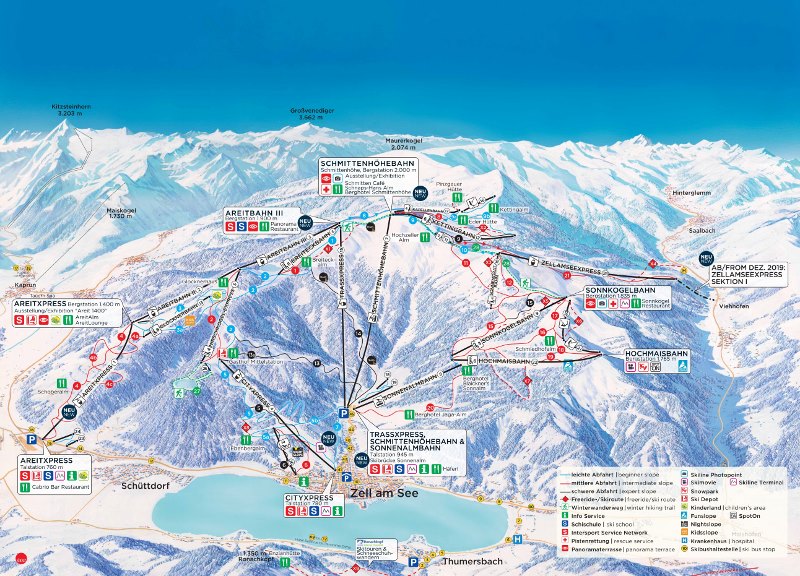 And it was heaving!
The Crystal Rep had explained that we should have a good, quiet week because the rest of Europe had had their half term the week before. What we were seeing was very far from quiet!
As it turned out, this is because it was the last Sunday of said European half term week, so we had the tail end of that. It was also, of course, a Sunday, which meant that it was full of day-trippers and weekend-trippers. Not that any of that occurred to us, at the time. Still, it was a nice surprise, the next day, when it was so much quieter and we worked out why.
But then, finally, at 11:37, we started skiing. And the day slowly got better. It took some time, because there were other obstacles to overcome, but, by the end of the day, we were all smiling again.
We followed the blue runs down, starting off on run 1. This turned into run 2 at the bottom of the Breiteckbahn chair lift and then run 5 at the top of the CityXpress. Run 5 went into the trees and became a series of switchbacks, before splitting into 5a and 5b. We took 5b, as it looked like it went to the base of the Schmittenhöhebahn, where we could catch a variety of lift options. As it turned out, 5b stopped at the point it intersected blue run 7, which was from the Schmittenhöhebahn, back to the bottom of the CityXpress.
As such, we had to shoulder our skis and hike up the side of the slope to get to the Schmittenhöhebahn and, hopefully, some food. Or, at least, a hot chocolate.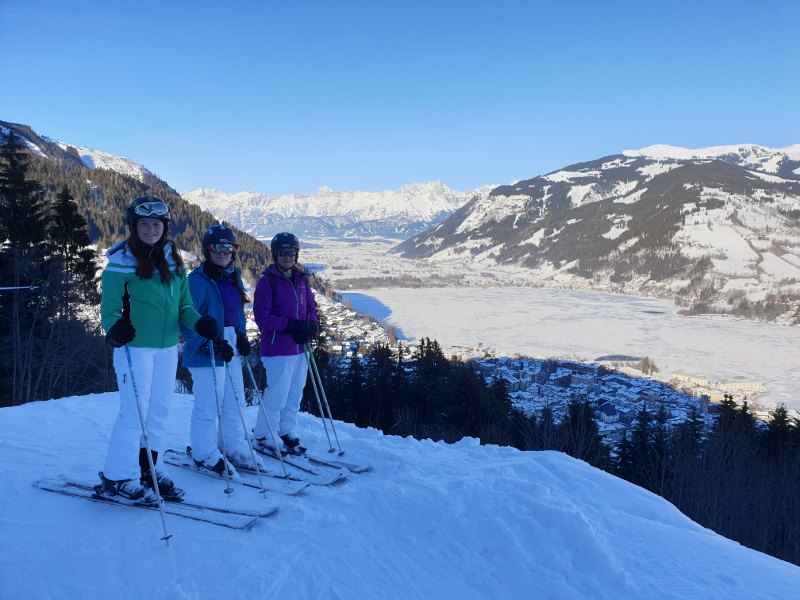 Looking at the map, it seemed we'd be spending a lot of time using the Schmittenhöhebahn. This, despite the fact that the only way to access it from where we'd started, without hiking, was by black runs. There was, however, another option. We could take the blue 8, from the Panorama Restaurant across to the Berghotel Schmittenhöhe, which, at 2,000 meters, was the highest point in the resort. From the Berghotel, it's possible to follow a series of red runs back down to the Schmittenhöhebahn. This route does, though, finish with just the one piste, red 20, so expect it to be congested.
Not that we actually made it there,  for reasons I will explain shortly.
But, anyway; back to Sunday at about 12:30, having hiked up 5b to the Schmittenhöhebahn and looking for somewhere to rest. There only seemed to be the one place to eat, and it was packed. After a fruitless period, trying to wait for a table, we binned it and decided to head back up the mountain to one of the restaurants up there.
We originally intended to take the Schmittenhöhebahn to try somewhere new but the queue was fairly long and there didn't seem to be many gondolas. Whereas, the TrassXpress, which would take us back to the Panorama Restaurant, had a much shorter queue and more gondolas, so that's what we took.
We decided to eat at the Panorama Restaurant but this, too, was packed. We eventually managed to find a table over by the live Oompah Band, which was… noisy. The restaurant was, like most of the bigger eateries, a self service place. You got a tray and worked your way around the various stations until you'd selected what you wanted in terms of food and drink, then you paid on the way out. While it was crowded and time consuming, the food was hot and the drinks were cold. You can't ask for much more than that.
From there, we skied back down the blue 1 and 2, and took the blue 3 down to the bottom of Areitbahn II. This was a nice run, and allowed us to catch the Areitbahn II, which became the Areitbahn III with no need to change, back to the Panorama Restaurant. Where we decided to book a ski lesson.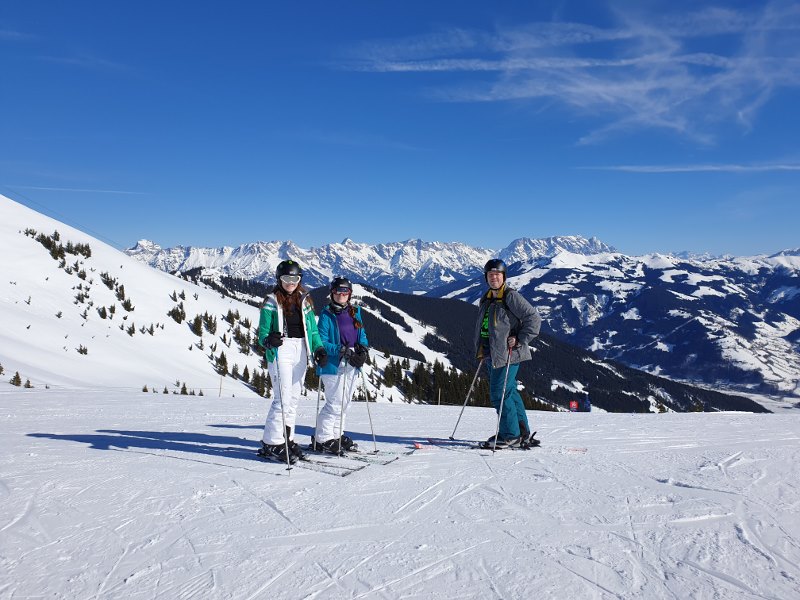 There was an InterSport shop attached to the Panorama Restaurant site, and it was here that we were able to book our lesson. We only wanted an hour long lesson, because we figured that any longer than that would kill us. The only options for single hour lessons were at 9am and 3pm. We took this to the girls and, surprise, surprise, they opted for the 3pm slot. The guy at the InterSport shop then made a call to see if anyone was available for that slot, the following day. Sophie was, so we booked. It cost €65 for one hour, for one person, and €10 for each additional person. So I forked over the €95 (£82/£108) and agreed that we'd meet Sophie there at 3pm the following day.
With that, we made our way back down the blue 1, 2 and 5. This time taking the 5a option. This was to get us to the bottom of the Ebenbergbahn chair lift, which was the one closest to the Klothilde, and where we intended to start each day. The only problem was that to get to the bottom of the Ebenbergbahn meant taking a red run. Red 6, to be precise. Which, of course was fine. We were all warmed up by now, and full of food. It was actually quite a nice run, although the last little bit was pretty steep.
By this stage, my left knee was playing up. Often, when I turned to my left, there was a sharp twang to the upper, outer corner of my kneecap. It was really, very sore. Especially when I hit a bump. I would later work out that this was Quadriceps Tendinitis. Something that I'd never heard of before and would have happily gone my whole life in complete ignorance of. Sadly, that was not to be.
I reckoned that I had just enough in me for one more run, so we went back up the Ebenbergbahn and skied the rest of 5a back to the bottom of the CityXpress. From there, we were able to collect our shoes and clump and hobble our way back to the guest house for well earned showers. And baths… because the girls' room had a bath. They sure loved that bath!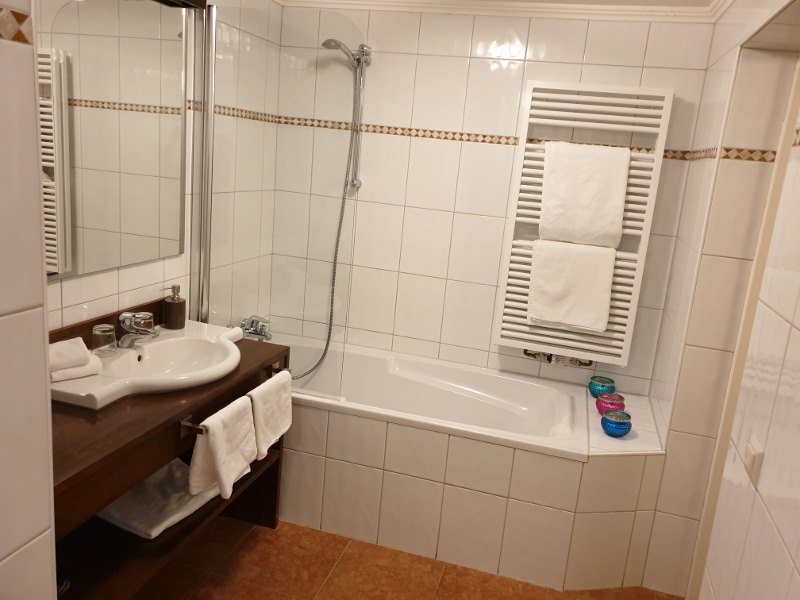 That night, our search for food took us in the opposite direction to the previous evening, to another very local place we had noticed earlier in the day. The restaurant attached to the AlpenParks Hotel and Apartments, known as the Park Restaurant. This is a trick that Julie and I picked up during our visit to Venice, hotel restaurants often serve good food at reasonable prices. The Park Restaurant certainly did. We liked it so much that we ended up eating three out of our seven evening meals there. Although, to be fair, some of that was due to mobility issues…
After a very enjoyable meal, we headed back to the Klothilde to make use of their very fine WiFi. We managed to persuade the TV in our bedroom to mirror our Samsung Galaxy Tab, which allowed us to watch Netflix on a decent screen. It probably helped that the TV was also a Samsung. But, when it comes to Après Ski, this is typically as exciting as it gets for the Lewis family. Party animals, we are not.
The following day, we were faced with a quandary. If we started skiing too early, we'd be shattered by the time we got to the lesson at 3pm. We resolved this by spending the morning wandering around Zell am See and ignoring the slopes completely. This was quite nice, because it allowed us to stroll down to the lake, where we discovered that there was a small unfrozen area. And this area was thick with water fowl. Coots, mainly, and also several mallard ducks. But also what we thought was probably a tufted duck and, best of all a grebe. I hadn't seen a grebe for years.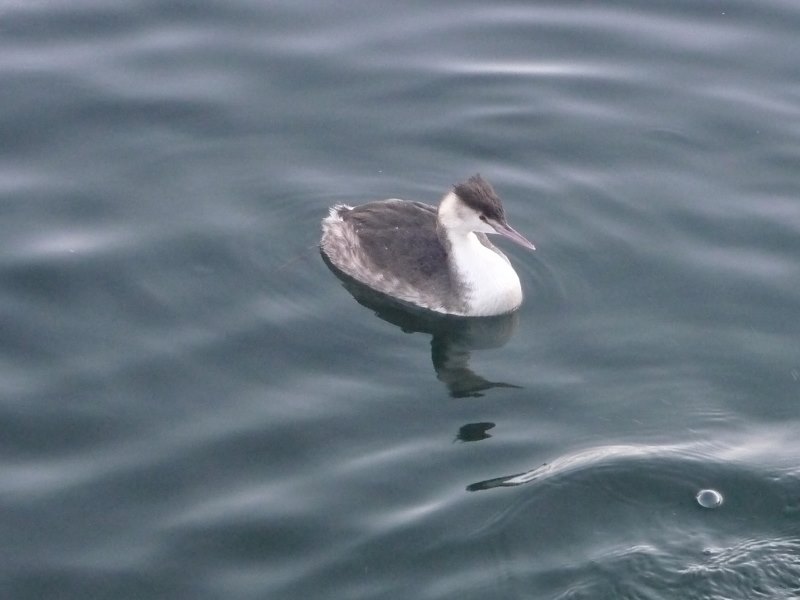 After we recovered from the duck related excitement, we found a lovely little bakery on Bahnhofstraße and grabbed some lunch in the way of pastries. Suitably fortified, we got changed and headed out. It didn't take long for me to realise that my knee was going to be too sore to join in the lesson but that didn't mean we couldn't have a couple of hours of fun before I left them. We even found a quietish spot to have a hot chocolate: Ebenbergalm, which was tucked away along the 5A blue route. Immediately we knew that this was going to be our place for the rest of the holiday.
And then, just after 2pm, I left them to head up to the Panorama Restaurant, while I headed back to the Klothilde. After I washed up, I made contact with the Crystal rep, who we had yet to see, and arranged to meet up so I could book up the Wednesday trip to Maria Alm. Then it was just a case of relaxing until the womenfolk got back.
At around 4:30 I got a call from Emma asking me to bring Julie's shoes to the bottom of the CityXpress because Julie'd had an accident and couldn't walk back in her ski boots. Julie came on the phone and said she was fine. You could tell from her voice that she wasn't fine. I grabbed the shoes and went to the CityXpress as fast as my twanging knee would let me. Julie was limping very badly on her left leg. And her helmet looked like this: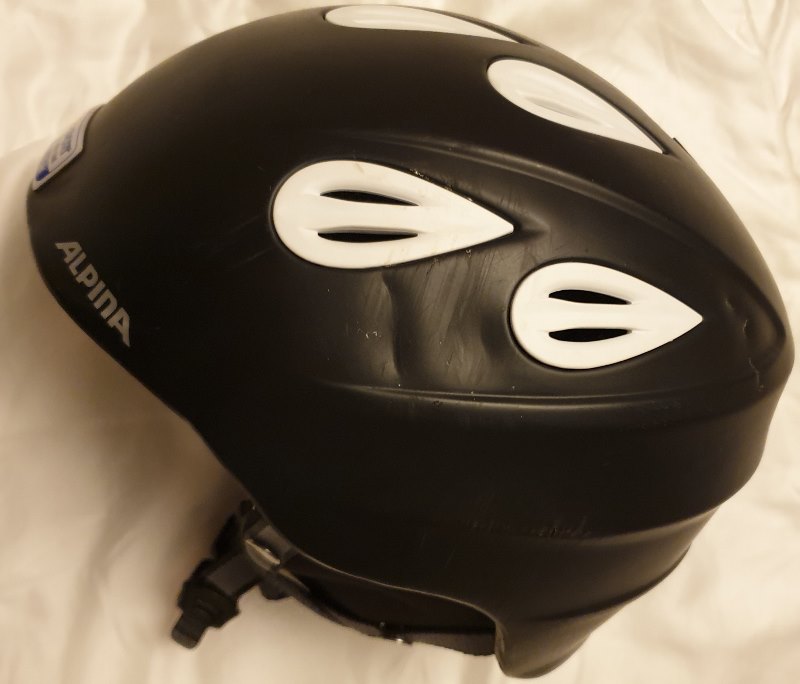 Sophia, the ski instructor, had done a fine job in improving all the ladies' carving technique but had finished the lesson on a black run. The improvements were so marked that Julie didn't realise they were actually on a black run until they were half way down it. And it was at this point that the run went from being wide and steep to narrow and steep. One thing that a lot of the runs in Zell am See have in common is that they have a pinch point. This was the pinch point on this black run. This was also the point that Julie completely missed her turn and flew over the edge of the run.
Down into the trees.
Sophia and Ceri saw the whole thing. Emma was looking away and only caught a flash of purple as her mum disappeared. All of them ran up the slope as best they could. Julie, meanwhile, had flown quite a long way.
What Julie remembers of it, is skiing straight off the edge of the piste, having completely misjudged when she needed to turn. She then just shut her eyes and hoped for the best. Julie heard scratching against her helmet, as she passed through the branches, and then an abrupt stop. She found herself wrapped around the base of a tree, with her left knee and helmet taking the brunt of the impact. Her left knee was also twisted awkwardly behind her. Sophia got down to Julie in an impressively fast time and Julie was quick to point out that she was okay.
And, incredibly, she was.
I mean, apart from a horrible array of bruises, a dented helmet and a lost pole.
But Sophia kept saying that it was the worst crash she'd ever seen and that she couldn't believe Julie was alright. She certainly disappeared pretty quickly after they'd skied to the bottom.
And that was the amazing thing; Julie was able to ski to the bottom. Admittedly, she had to keep her weight off her left ski as much as possible, and it was a pretty slow process. But she got down to the bottom, at which point the adrenaline started wearing off and the shock started kicking in.
Which is when I caught up with them all.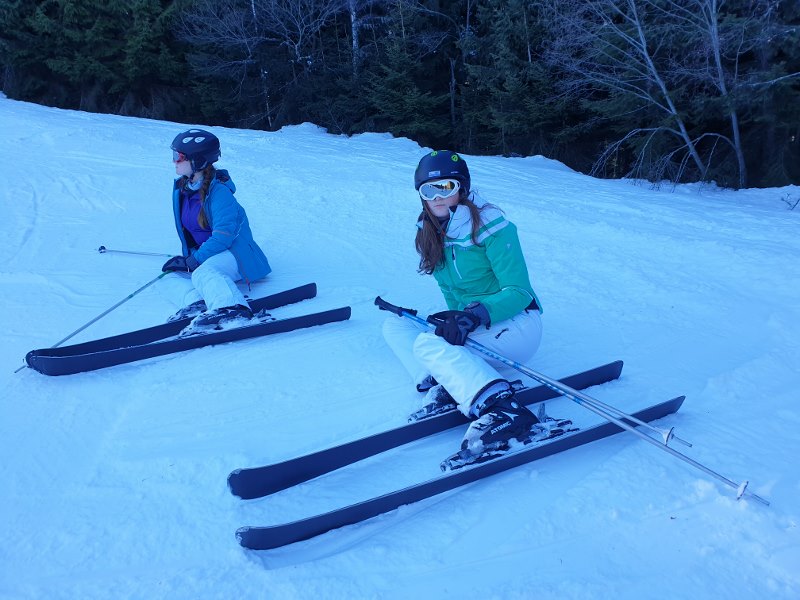 I can only imagine that they were on black run 13, because I know they came down blue 7 to get to the bottom. In which case, I think I saw the pinch point that Julie came off at, when we went up the Trassxpress the previous day. It scared me just looking at it…
I think it's fair to say that Julie was incredibly lucky to have come away with as little damage as she did. I shudder to think what would have happened if she hadn't been wearing her helmet. She could have broken any number of bones. She could have died. It's a sobering thought, really.
But she didn't get seriously injured and the show had to go on.
So we got Julie back to the hotel and made up an ice pack from a bunch of snow, a couple of plastic bags and a hand towel from the bathroom. We elevated her leg, put on the ice pack and got some Ibuprofen down her neck. And I quietly kept an eye on her in case she had some head and/or abdominal injury she didn't know about. Thankfully not. Fortunately, we'd both been combat medics in the Territorial Army, in a different life, so this was the sort of injury we could handle.
And handle it she did. Amazingly well.
That evening, we went out for our meal, going past the Park Restaurant, despite my protests that we could easily eat there again, and on to the Italian restaurant next door. The Restaurant Aydin. This, too, was a very fine restaurant. Tasty food in good portion sizes. Friendly serving staff and no long waits for the food. The price wasn't bad either. All in all, a very good meal. So much so, we ate here again too.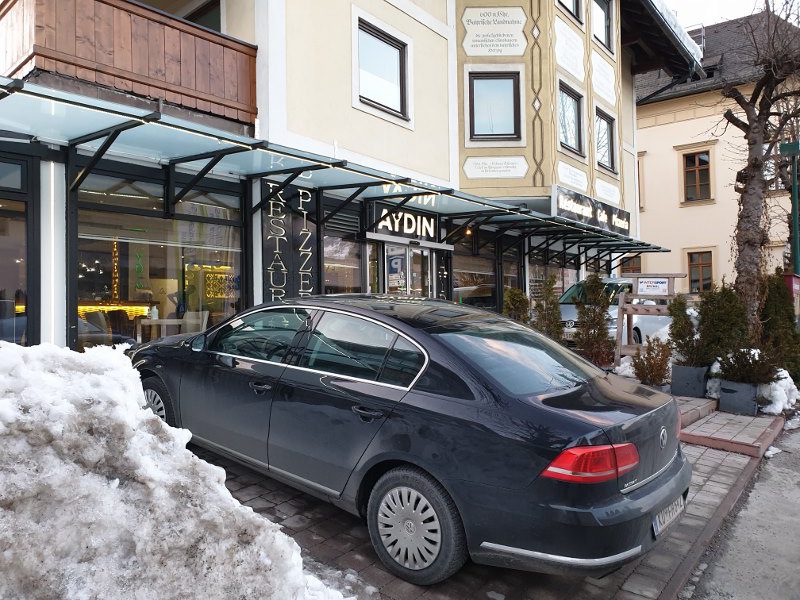 After the meal, it was back to the Klothilde to meet the Crystal rep. At this stage, we didn't know how Julie's leg was going to behave, so we booked four places on the Maria Alm trip. The cost of the trip was only €15 (£13/$17) each, which was for the bus hire. The trip was being run by Ski Club GB, who would be offering their services as local guides for free. Or, at least, as an effort to get you to sign up as Ski Club GB members. Which, incidentally, seems like a sensible thing to do, if you skiing in Austria on a regular basis, even if it is over half term. They are less active in France, though, so we'll hold back on signing up for the time being.
As the night drew on, it became clear that Julie wouldn't be skiing the next day. As my knee was still sore, we agreed to take the next day off from skiing and, instead, investigate the Hallenbad Sports Centre. This had a swimming pool and, far more importantly as far as Ceri was concerned, an ice rink, Ceri was going ice skating…
The Hallenbad is an amazing facility. It is built around an ice arena and a swimming pool/sauna. I imagine that there's an element of heat exchange going on here. Keeping the rink frozen is going to result in a lot of waste heat. How better to use this than to offer a sauna that goes up to 100° Fahrenheit? And, of course, to heat a swimming pool. The pool also has a 1m diving board and a 3m diving platform. Oh, and a 74m water slide.
Better still, to some extent, there is a deck area, where you can lay out in the warmth of all that heat. And, possibly best of all, there's a dining area, with a hatch through to the Bistro, where you can order drinks and meals… in your swimming costumes. There's actually a dedicated dining area for swimmers, just off the side of the pool.
The swimming set up is utter genius from start to finish.
Which was a shame, because we were there for the ice skating.
To be fair, though, this was also pretty damn good.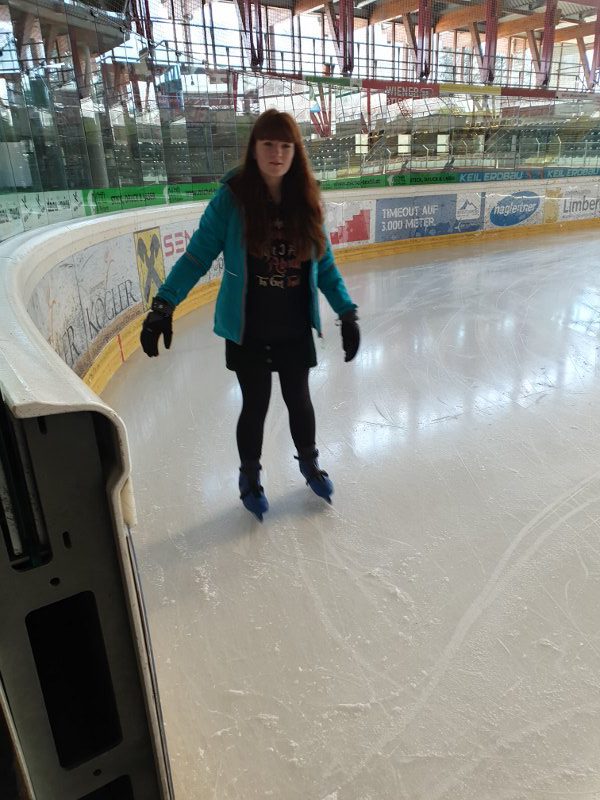 The ice rink, much like the pool, has no restriction on time. Well, other than when the rink is going to be used for something else, like the team ice hockey training. What I'm getting at is, the rink is open from 10:15am to 2:45pm each day. If you pay to go on the ice at 10:15am, you're perfectly welcome to stay there until 2:45pm. As for the costs:
Adults €7.70 (plus €4 skate hire)
Youth €4.90 (plus €3 skate hire) – Emma, at 17, counted as a Youth
Child €4.10  (plus €3 skate hire) – Ceri, at 15, counted as a Child
I'm going to go ahead and say that those are some reasonable prices.
The ice, itself, takes the form of a proper hockey rink, in a full on arena, which is the home to the EKZ Polar Bears, a team from the Alps Hockey League. It is also where the local school classes spend their sports and P.E. lessons. Not that we knew that, on our first visit.
On our arrival, there were four other people on the ice. After about half an hour, they all left and the girls had the whole rink to themselves. And sure, about half an hour later, another half dozen people turned up but, still, that was a unusual experience. And it was only the girls, because Julie's leg had swollen up to the point she was struggling to walk and my knee wouldn't have coped with a knock on the ice. So I watched as the girls skated. Cold, it was too; just watching. Make sure to wrap up warm if that's what you plan to do. It was colder in the arena than it was outside. Mind you, we had some lovely sunny days.
We went back to the arena on the Thursday and that was a completely different experience. The ice was jammed with hordes of screaming school kids. The girls didn't get much fun out of that because these kids were whizzing around the ice and throwing themselves to the floor, all over the place. This left the girls scared that they were inadvertently going to slice an Austrian school kid in half, so we didn't stay long. If you're tempted by the skating, I'd suggest asking the receptionist when the schools are using the rink, and avoid those times.
But, back to Tuesday. After the ice skating, we had a look around the town, a bit, before heading back to see how Julie was getting on. It's a nice place, too. A good number of shops including a few, but not an excessive amount, of souvenir shops. There are plenty of places to eat and drink, including many that offer specific Après Ski options. There are are a number of supermarkets but they're all clustered around the centre and north of the town.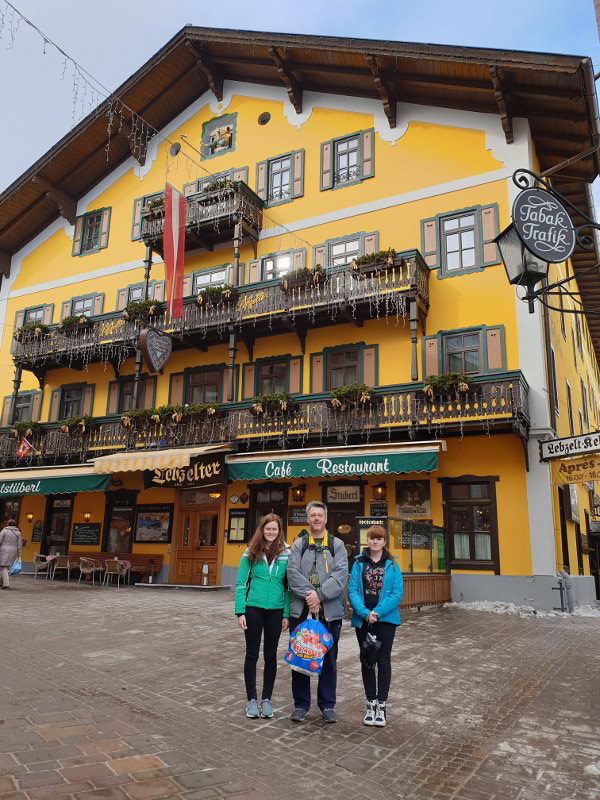 The main ones we used were:
Spar, on Brucker Bundesstraße – which was between our guest house and the CityXpress lift
Billa, on Kirchgasse – which is in the pedestrianised area, opposite the church
Billa, on Loferer Straße – which is part of the Jet petrol station and open late
You have to watch the timings, though, because the Spar is shut on Sundays and the main Billa only open from 2-6pm. They both also shut at 6pm on Saturdays. The Billa at the Jet petrol station, while much smaller, is open from 6am until 11pm every day. You've got to love petrol stations.
Come Wednesday, we were back at the Hallenbad. But, this time, it was at 9am and we were catching the bus to for the Maria Alm trip. We were also carrying all our ski gear. And by 'we', I mainly mean me! At least, when it came to the boots. It was only a journey of 700m but that was long enough. Thankfully, we were told that it was safe to leave things on the bus while we were skiing, so we got to wear normal shoes. Which is how I ended up carrying three pairs of ski boots…
The trip to Maria Alm was only about half an hour. The Ski Club GB rep used that time to reiterate how quiet the slopes would be, because Maria Alm isn't a 'resort' per se. So not many people tend to go there. Yeah, that turned out to be an utter lie. Maria Alm was significantly busier than Zell am See. At least, where we skied. The main selling point of the trip seemed to be the guided tours offered by the Ski Club GB reps.
These tours would be divided into three groups. The middle group was for people who could confidentially ski down red runs, while just looking around and taking in the scenery. That wasn't us. To be fair, we can do that on blue runs, so there will probably come a time that we can do that. But not yet. So we decided to bin the idea of a guided tour and do our own thing.
The guided tour, for those who can confidently ski down red runs, while taking in the scenery, is a very good idea. Maria Alm marks the right hand edge of a chain of runs that leads to Hochkönig, which is more than 10 miles away. And then you get to ski back again. And that's what some of the groups did. Skied there and back again before the bus returned for the 4pm pick up. It must have been an impressive trip.

But not for us.
We stayed in the area where the bus dropped us off. This was to take advantage of the long blue run that was waiting for us there. The next good area of blue runs was a couple of mountains along and to get to them would require a couple of big reds. My knee simply wasn't up for that, so we stayed where we were. And we had a great time. In the afternoon, we found a fun zone tucked off to the side of part of the blue run and had a couple of goes over that.
We finished the day with a trip back up to the top of the mountain and a full run down the blue. What we didn't know was how churned up the piste was by this stage. Because Maria Alm? Really not empty…! And you remember I mentioned how most of the runs had pinch points? This one was no exception.
And by 3pm, the pinch point looked like a mogul field. This meant that the beginner skiers were taking ages to get down. Which lead to the intermediate skiers, like us, all parking up to wait for the beginners to get through. We could make it through, at a reasonable pace, but only if there wasn't someone in the way. The advanced skiers, of course, just kept flying through everyone else, and scaring the crap out of all of us. I was glad to be through that for the last time.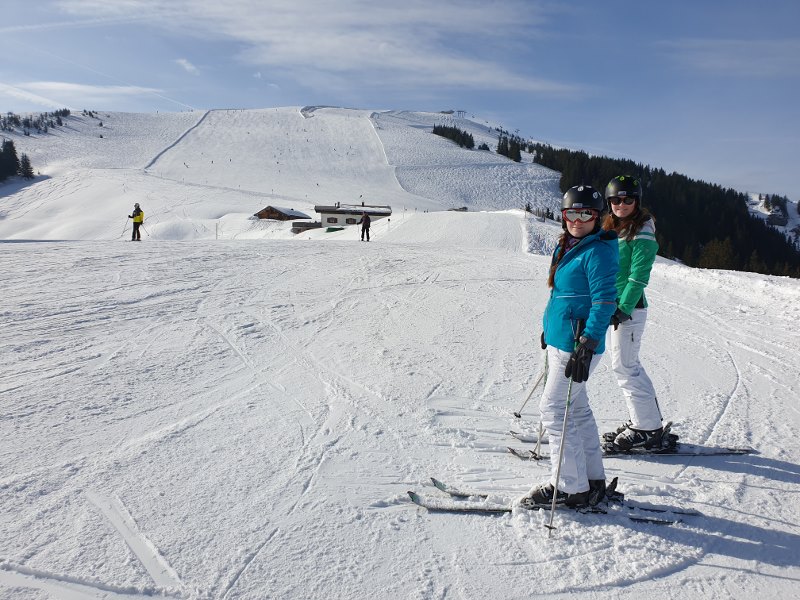 The rest of the ski down was nice and pleasant, except for the cumulative damage to my knee(s). We spent a lot of time skiing, that day, and it had taken it's toll in my quadriceps tendonitis, which had now spread to my right knee, in protest. And, so, the ski back to the bus was the last skiing any of us would do on that trip. While we were having a drink at the bottom of the lift, waiting for the bus, we heard our holiday song. Each holiday we have ends up being associated with one song in particular. This year, it was the one we heard while having that drink: Turbo!
[Julie was less than thrilled with this development, as she's not a fan of dance. We also heard,
Don't You (Forget About Me)
during our second meal in the Park Restaurant. If Julie asks, that's our holiday song… but it's Turbo really.]
In terms of why there was no more skiing, Julie's knee was swollen and sore. My knees were literally twanging as I walked down stairs. And the girls, having watched their mum get hurt, were not keen on the idea of skiing on their own. In a tamer resort, I'm sure they would have been out. But here, they just didn't feel happy with the idea.
At least this gave us the opportunity to get our ski equipment back, outside of the rush. And we weren't charged for the lost pole or the damaged helmet, which was nice. We'd been fairly sure that we'd bought a helmet.
Which just left the question of how to fill our remaining days. As I've mentioned, we went back to the ice rink on the Thursday. We were tempted by the pool, but Julie's knee couldn't take that. Plus, she was covered with bruises, by this stage, and didn't want the World seeing.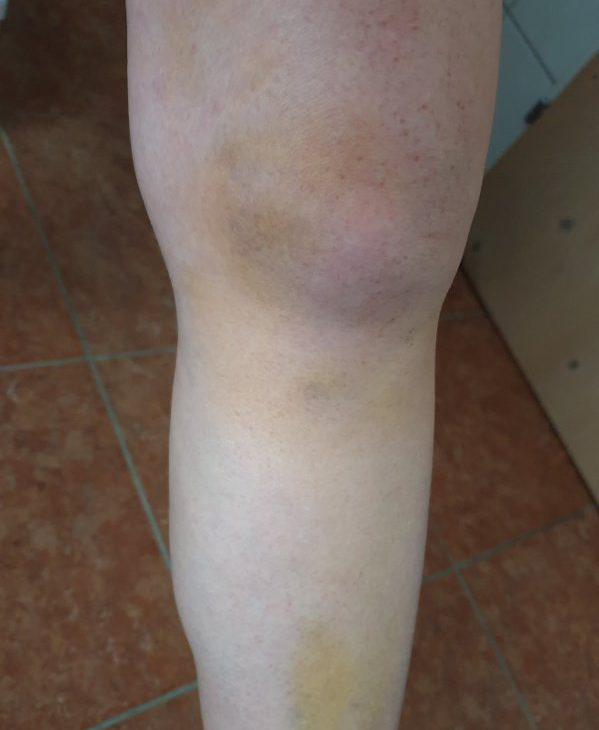 The girls had plenty to fill their time because they both had revision to do. Ceri's GCSE mock exams started the Monday she got back. Emma's A Level year one formal exams started the Tuesday she got back. Skiing at half term, in Austria or otherwise, is never easy when your kids have an exam season.
On the Friday, while the girls had their noses in their respective books, Julie and I caught the bus to Zell am See's sister resort; Kaprun.
This probably wasn't the best thing for either of our knees, but Julie was a little stir crazy by this stage. Besides, with the girls revising, they needed us out of their hair.
The bus to Kaprun, the 660, picked up from the us station close to the bottom of the CityXpress. The journey time was only about 20 minutes and we ended up being dropped off by the river, next to the tourist information office. We popped into the information office, being tourists and all, and asked what they recommended. We were told about a church, a museum and a castle. Well, a schloß, or a burg, to be precise. For those of you uncertain what a schloß or a burg is; imagine a building that wants to be a castle, when it's all grown up…
That's right, I went there. I'm saying that my local castle in Dunster looks down its nose at the Castle Kaprun.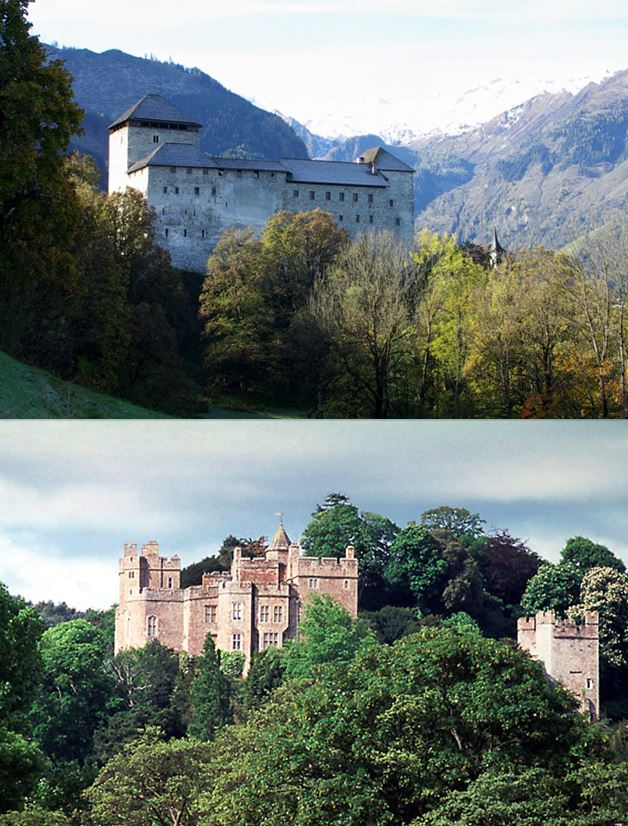 And, despite our respective knee problems, we had a good walk round Kaprun. The church was nice enough, although it was stuck at the top of a hill. At least the museum was right next door, although it didn't open until 1pm, which was too long a wait. So wandered down to the Kaprun Centre ski lift to have a look and found an amusement park there too. There was even some sort of roller-coaster heading off up the slope along side the gondola. That looked like it was going to get very cold, once it took off.
Ignoring the roller coaster, we headed off to find the castle, stopping for a hot chocolate along the way. The castle, too, was up a hill. A different hill, but a hill nonetheless. Still, we chuckled at the castle and headed back to catch the bus back to the Klothilde and make a start on the packing.
That night, we went back to the Park Restaurant for our third visit. We'd gone to the town centre, the previous evening, and had a meal at a random restaurant. The meal was nice but, to be honest, virtually everywhere offered the same menu. Which is why we ended up back at the Park Restaurant for the final night. If the options are the same wherever you go, you might as well stay close to home. Especially after a day with lots of walking.
Then it was just the usual struggle of making the girls collect all the stuff they'd abandoned in our room, taking it back to their room and then packing the damn stuff. After we'd thrown them, and their junk, out of our room, Julie and I packed up in the space of about 15 minutes and settled in for a relaxing evening. How long it took the girls to sort themselves out, I'll never have to know.
And then the Saturday arrived and the ever-disheartening prospect of the journey home. We'd logged on to the Crystal Ski app, a couple of days previously, and learned that our pick up time was 3:25pm. For a 6:45 flight. And, given that the coach journey would take at least 90 minutes, this seemed quite late in the day. The problem, though, was that we had to vacate the room by 11am…
Fortunately, the receptionist let us leave our suitcases in the Ski Room, which meant we didn't have to worry about them.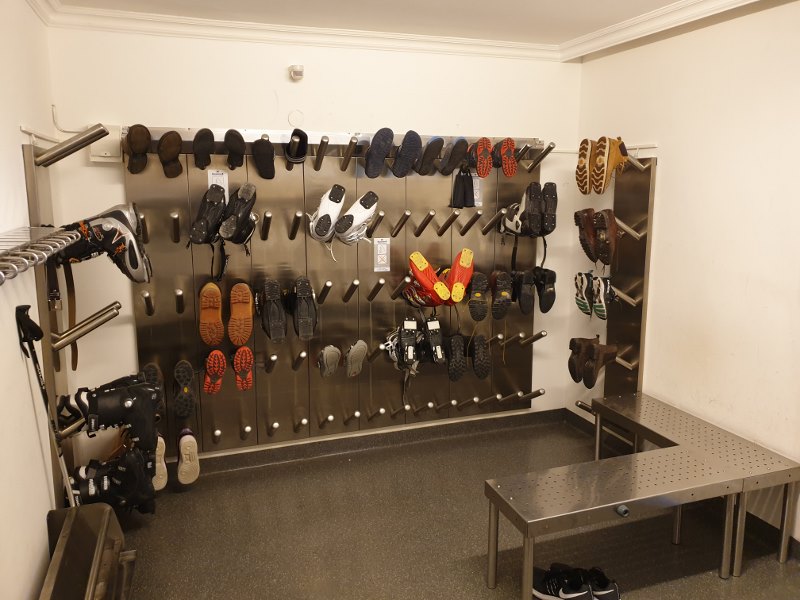 We just had our carry on luggage, four and a half hours to kill and no real plan of how to do so. The original thought had been to go for a walk around the lake. Not all the way round, just up to the Northern end, at Prielau, where there should have been some excellent photo opportunities, looking down the lake. As it was, neither Julie nor I felt our knees could cope with the trip, while carrying our backpack carry on luggage. So, what to do?!
The solution, at least to some extent, was the Tourist Information Office. This is well worth a visit, anyway, because it's very well resourced and the staff are extremely helpful. More importantly for us, on this day, was that it was also very spacious and warm. It also had a large seating area, which we were told was okay to occupy. So we did. In fact, I'm actually writing this bit in the Tourist Information Office.
The only real problem was that, being a Saturday, the Office was shut between midday and 2pm. But we filled that time with a slow walk down to the lake to say goodbye to the ducks and coots. Then a wander up to the leisure centre for a drink and a spot of lunch. Finally a walk back though town to explore the church and then pick up some snacks from the Billa Supermarket. Annnd, back to the Tourist Information Office for 2:10pm.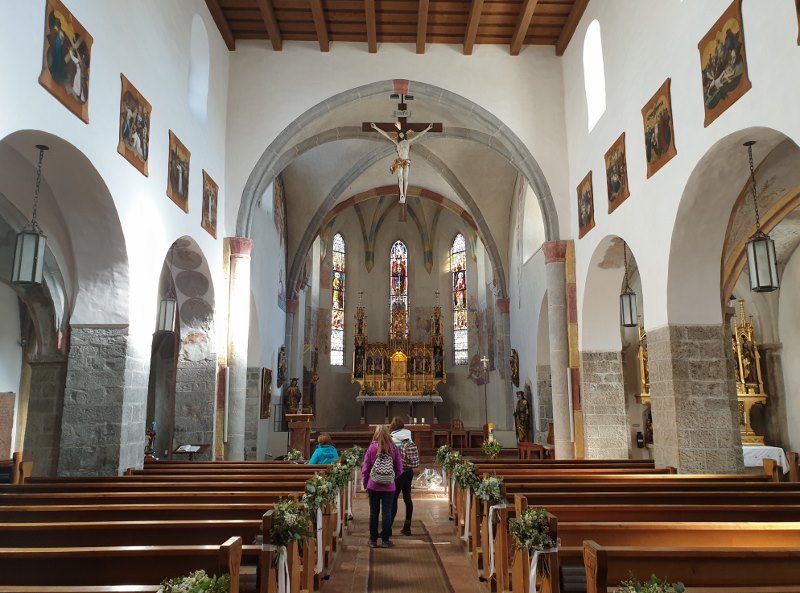 I'd been a little worried that the place would be full by the time we got back but, nope. It seems no one else has thought of making camp in here. Which is useful to know if we decide to come back to Zell am See in the future. Although it also makes me a little suspicious that I've completely failed to find a far more obvious place to wait…
Anyway, the journey home was, more or less, the opposite of the journey out. Where, on the way out, everything was smooth and simple; on the way back, it was bumpy and uncomfortable.
Firstly, the coaches were late in arriving for the pick up. Secondly, we were departing from Terminal 2. Terminal 2 is very small, only four gates. This meant we spent a lot of time jumping from queue to queue before finally making in into the departure area. At which point we found our flight was delayed. The delay was only 25 minutes, so hardly the end of the World. What was more problematic was that there were a dozen flights listed on the departure board and only the four departure gates. And by 'gates', I mean doors at the other end of the departure lounge. Each with not quite enough seating for one plane.
What I'm getting at is, that it was crowded. No, actually, it was CROWDED!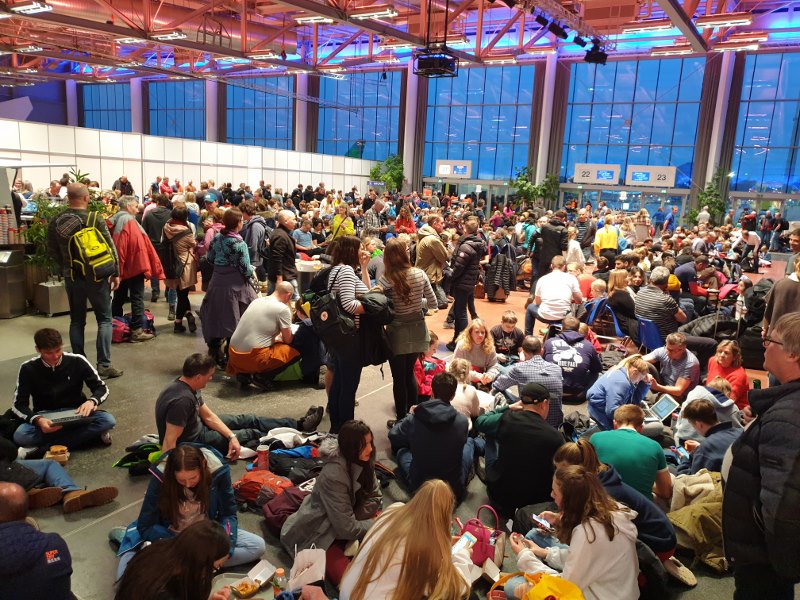 All the seats around the departure gates were taken. Additionally, the seats in the very few restaurant areas were taken. All the walls already had people leaning against them. In the end, we just had to find an unoccupied area of floor, that was hopefully not too much in the way, and sit there. It was less than ideal, given the lack of mobility in Julie's knee.
When we were finally called up to the departure gate, there was an I.T. issue that meant we couldn't board. As such, we spent another 20 minutes standing in a line that didn't move. The knock on effect of this, was that when we finally did all get on board, the captain announced that we'd missed out take-off slot and would have to apply for another.
In reality, it wasn't too bad. It was just the injuries to my and Julie's knees that made it uncomfortable. That said, Terminal 2 of Salzburg airport seems woefully undersized for the number of flights they're putting through it.
In Bristol, the knock-on effect of the flight delay, as ever, meant there was a delay in the luggage getting back to us. But Julie and the girls found some seats, so that was no problem. And Dad Taxis was ready and waiting, so we got home safe and sound.
On reflection of the trip, despite the fall and the injuries, we all agreed that it had been a good holiday.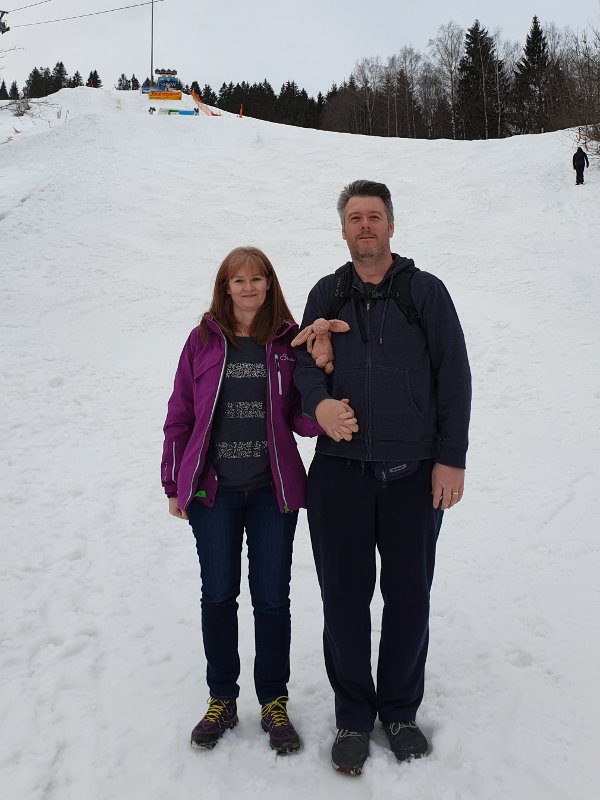 That isn't to say that we'll be going back again, because we won't. But only because Zell am See will be forever associated with Julie's death defying fall. Ceri, in particular, has no desire to ever see that part of the World again.
Zell am See, though, was a brilliant location. It felt like an established town that had organically become a resort over time. This meant that there was an excellent array of amenities for both locals and tourists, and is, very much, the sort of place I like.
The skiing was a little too advanced for us. There simply weren't enough blue runs for us to build up our confidence at the start of the holiday and the start of each day. We only ski one week a year so, although we improve each year, it's at a very slow rate. We also felt that some of the blues had a reddish tint. A little on the purple side, if you will. Even then, if there had been more of them, this would have been fine. But there weren't
In essence, if you're thinking about Zell am See, you need to be a confident intermediate skier. It really isn't suited to beginners. Had we not picked up any injuries, I think we'd have grown into the resort by the end of the week. As such, it's a good place to develop your intermediate skills. If you're already advanced, I'm not sure there's enough variety to keep you occupied.
So, a lovely place, great people and challenging slopes. If that's what you're after and you like the sound of Austria for your half term skiing, Zell am See is the place for you.