After the our highly enjoyable port day in Bruges, we spent the next day of our Baltic Cruise at sea. The day after that, though, day four of the holiday, we had another port day. This time we'd be visiting Copenhagen by Cruise ship.
Copenhagen was founded by the Vikings around a thousand years ago. What started life as a coastal village is now the capital city of Denmark and home to 750,000 people. Copenhagen remains, however, very much connected to the sea. This is why, when you're calling at Copenhagen, the cruise ship can actually dock in the city itself. Very close to the Little Mermaid statue, in fact.
Don't get me wrong, it's still a good three mile trip to Tivoli Gardens, at the other end of the city. But it does mean that you don't have to pay from transport around the city. You can just walk it.
If the ship docks between 8am and 9am and departs between 5pm and 6pm, you'll have a good eight hours to explore. This means that if you have a reasonable level of fitness, you can take in the sights on foot. Which is nice because, as ever, walking remains the most cost effective way to travel.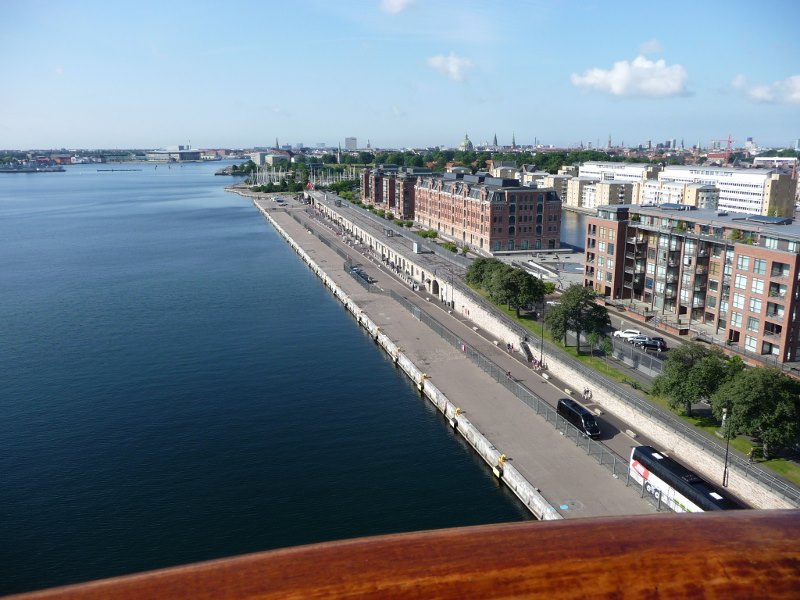 Despite the centrality of the docking location, there will still be plenty of excursions on offer. For those with mobility issues, excursions remain the most accessible way to see the local area. And for most people, but not all, getting to see the cities at which the ships dock is a vital part of the cruise experience. For this reason alone, it's important that cruise lines offer excursions.
But mobility issues isn't the only reason to consider excursions. They are also just so convenient. They allow you to see all the tourist hot-spots from the comfort of organised transport. The tours are usually accompanied by expert, local guides who will spoon feed you all the edited highlights of the sights you're visiting. You see and hear about all the best bits of each city, without having to spend hours walking. I understand the temptation.
It's just that excursions are so damn expensive….!
The excursions on offer in Copenhagen, from our cruise ship, included trips to see North Sealand, Frederiksborg Castle, Dragoer Fishing Village, Christiansborg Castle, Kronborg Castle (of Hamlet fame) and Tivoli Gardens. As well as this there were various tours of the city by both bus and canal and even a walking tour (with a bus back from the furthest point).
The walking tour was priced at $109.95 per adult and $89.95 per child. For the purposes of these prices, a child was classed as under 12. The trip was four hours long and would have cost us $439.80 (€390, £350) because the girls, at 14 and 15, were classed as adults. The other excursions ranged in price from $39.95 per adult (2 and a half hour duration) to $209.95 per adult (7 hour duration).
I just can't believe that it has to cost this much!
Besides, exercise is good for us…
To which end, we decided to forsake any excursion and walk in as far as we wanted and then see how we felt. If we got too tired, we'd simply catch a bus or a tram back to the ship.
On each port day, we were given a 'Port Guide' to help familiarise ourselves with where we were visiting. The back of the Port Guide typically has a map of the city.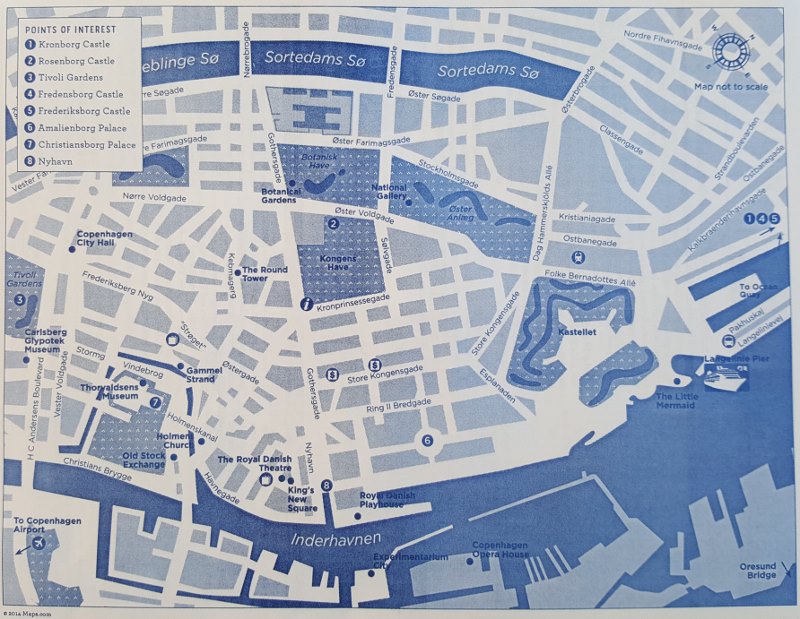 This is, undoubtedly, very useful. It is however, deliberately lacking in sufficient detail to really let you navigate the area. As such, in exploring Copenhagen from the cruise ship, I made heavy use of the Google Maps app on my phone. It's also worth noting that the Port Guides have a lot more to them than just the map. They're a very good source of information on the place you'll be visiting.
'Why', I hear you cry, 'don't you just Google the destination?'
Because, oh weary traveler, most of the time that the ship is sailing, you're out of reach of Mobile Data. This means that the only way to Google anything is through the ship WiFi. And if you think the excursions are expensive, wait until you see the price of the WiFi. Which brings me back to the Port Guides; they're worth a read.
When you exit your cruise ship onto the berth of Copenhagen, there will a line of local tour buses waiting for you. These will offer all the same excursions that the cruise line offered but at local rates. These rates, while lower than what you would have paid on board, may not be markedly cheaper. After all, these local companies will know what the cruise line is charging, and will seek to be as close to that as they can. There will also be very little variation in price between the various tour companies. If you're interested in these, it's better to look them up before you start your cruise.
If you choose not to travel with one of the tour buses, just keep walking along the quay side, towards the city. Along the quay, you'll find a great many small shops catering to your every tourist need. If, like us, you didn't know about this, you might be tempted to take the stairs to a more elevated path. Admittedly, this does give you a slightly better view of the dock area, but it does mean that you miss all the shops. In fact, you might not even discover the shops exist at all, until you walk past them on the way back to the ship…
Not that I'm bitter!
Just because we missed the chance to get a much more accurate map. And some nice, cold drinks for our expedition. I mean, who wants things like that anyway?!
If you do notice the shops, you'll be able to hire a Segway (assuming they still exist when you're reading this). In 2017, at least, Segway tours seemed to have been fully embraced by Copenhagen. So, if Segway is the way you like to travel, you've only got to walk about 100m before you can start doing so.
The other very popular way to tour around Copenhagen is by bike and there are many options to hire bikes around the city. And, of course, once you get to the more touristy areas, there are options to join and take bus tours. Equally, once you get to the watery tourist areas, like Nyhavn, you can book and take canal tours.
Whatever option you choose to travel, if the statue of The Little Mermaid is what you're after, you don't have far to go. It's worth knowing that the statue is based on the Hans Christian Anderson fairy tale, and not the Disney adaptation(s). If you're expecting the mermaid to have a tail, you're going to be disappointed…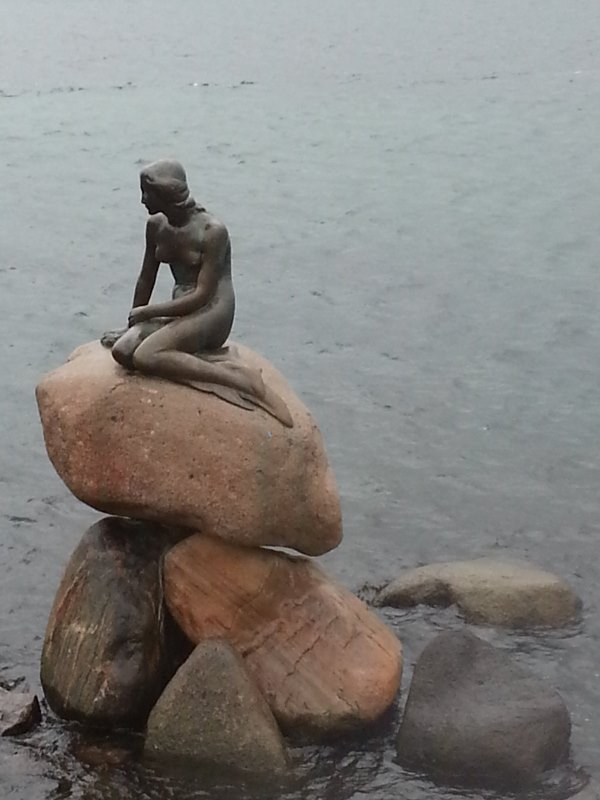 There's a very real chance you're going to be disappointed anyway. You see, the statue is only about four feet high (1.2m) and it's perched on a rock looking out to sea. There will also be upwards of a thousand other people trying to work out how to get a decent photo of the sodding thing. Good luck with that…
No need to despair though, if you want to see a statue of a more classic mermaid during your trip to Copenhagen by cruise ship, just keep walking. Simply keep the Inderhavnen waterway on your left and keep going until you reach the Black Diamond building. And if you look… just over there, on the corner of the quay… no the other corner…!
Boom!
A bronze cast of Anne Marie Carl-Nielsen's Havfrue (Mermaid) statue.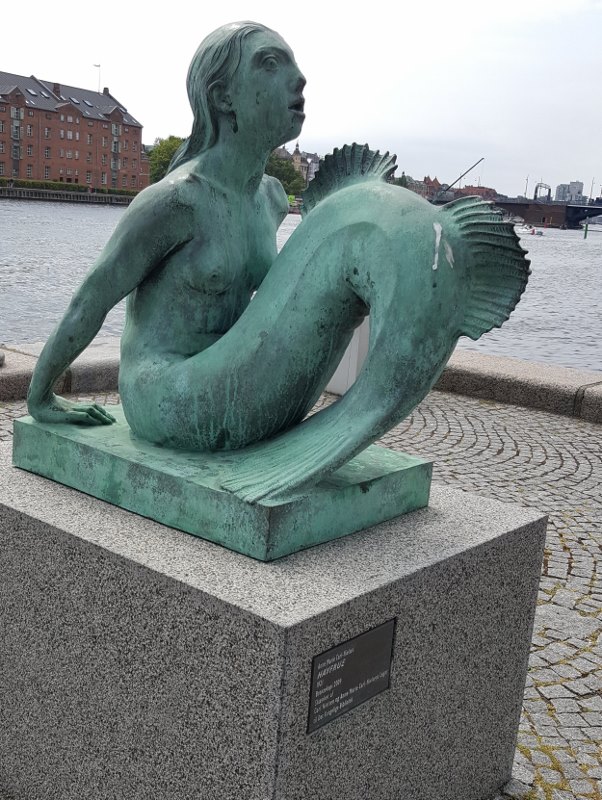 But back to the Little Mermaid statue. Assuming you've either got your perfect photo, or given up trying, what next? Well, the good news is that you're right next to the Kastellet, which is hugely impressive. And, talking of impressive, make sure you get to see the Gefion Fountain as you leave the Kastellet and head into the city. It's truly magnificent.
From the fountain to Trivoli Gardens is a 2 mile (3 kilometer walk). Bear in mind that you've already walked a mile (1.5km) by this stage, just to get from the cruise ship to this edge of Copenhagen. Remember, also, that once you get where you're going, you've got to walk the same distance again to get back to the ship.
If you're thinking of catching public transport for half of the journey, I'd recommend getting it on the way in, instead of on the way back. The reason for this is that all the buses and trains heading West will go through the Central Station, which is opposite Tivoli Gardens. This means that you can't go wrong. If you're going to catch public transport on the way back, there are a number of East-bound options. You really don't want to catch the wrong one. If you aren't back in time, the ship will leave without you.
Østerport Station is just to the North of Kastellet. From here you can catch both buses and trains into the Central Station. There are also plenty of Taxis on hand, as well as Ubers.
We did none of these things, we walked.
Our original plan was to skirt around the Kastellet and walk along the Oster Voldgade (road) or Oster Anlaeg (park) until we reached the National Gallery before dropping through Kongens Have (the Rosenborg Castle grounds) to reach the Tourist Information Centre on the corner of Kronprinsessegade and Gothersgade, where we could pick up a proper map and really start to plan.
This original plan was based on the map on the back of the Port Guide. I can't tell you whether this plan is actually feasible in the time, because we didn't do any of that!
By the time we'd reached the far part of the Kastellet on the junction of Esplanaden and Ring II Bredgade, we realised that the scale of the Port Guide had made us wildly optimistic of what we could actually comfortably achieve on foot, in the time allowed. So we binned the original plan, went into town along Ring II Bregade, did a lap around the island with Thoraldsens Museum and went back along Store Kongersgade.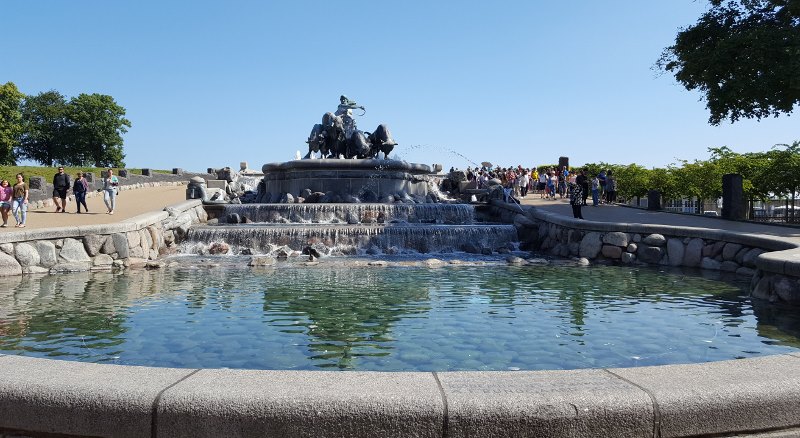 We didn't bother with Tivoli gardens but took in plenty of landmarks along the way, including Nyhavn. It was certainly good enough for us, involved about eight miles of walking, and took over five and a half hours.
Copenhagen is the Capital City of Denmark. This means that it is the most expensive place in one of the most expensive countries in the world; don't be expecting much in the way of bargains. Do, however, expect to find a wide range of famous and popular international and Danish shops. Standing at one point in the pedestrianised shopping zone, I could see Gucci, Disney and Victoria's Secret outlets. I'm not sure what else I might have spotted but one of the kids saw a candy floss cart and that was that!
If you're tempted by any of the shops, and want to pay cash, you need to remember that Denmark uses the Krone. That said, they also accept Euros, at an 'improvised' exchange rate. The candy floss, for example, cost €5 ($5.60, £4.50). For one!
Of course, virtually all of the shops will take card, meaning they will happily extract your pounds sterling, dollars, etc in electronic form. If you're unsure whether somewhere takes card, simply ask. Almost all Danes speak very good English and, as you'd expect from the inhabitants of the Happiest country on Earth, they are perfectly willing to do so.
One way to upset the Danish, though, is to step in front of them while they're cycling. They don't like that!
To the walking tourist, it can often seem that Copenhagen is designed more for cyclists than pedestrians. Outside of the main, pedestrianised shopping zone, most of the streets can be very confusing for walking tourists; there is always a cycle path. Always! If you can't see it, there's a good chance that you're already walking on it. There are a number of arrangements:
The edge of the road is dedicated to cyclists.
At the edge of the road is a kerb, the other side of which is another bit of road, which is dedicated to cyclists.
The path has a cobbled/paved part and a smooth/tarmac part, this latter is dedicated to cyclists.
The path has a dirt/gravel part and a smooth/paved part… your guess is as good as mine
Anyway, the point is that there are a lot of cyclists,. They largely ride big, heavy bikes and they like to go fast. Seriously, they really don't like it when you step in front of them. And if one of them runs into you, you really won't like it either! Watch out for cyclists.
Assuming that you don't get hit by a bike, there are a great many things to see during your visit to Copenhagen by cruise ship.
There is a wide range of architectural types. As you'd expect from a capital city, the places of worship are many and varied; some of these are well worth a visit. The same goes for statues, monuments and Government buildings. Basically, Copenhagen is a very wealthy city and you're not going to lack for sights to see and places to visit.
I would recommend that you try and fit a trip to Nyhavn into your itinerary if you can. Copenhagen is a city that has remained intrinsically linked to the sea. And nowhere is the wealth of the city, and its love for the sea, more on display than in Nyhavn. It's also got a really lovely atmosphere.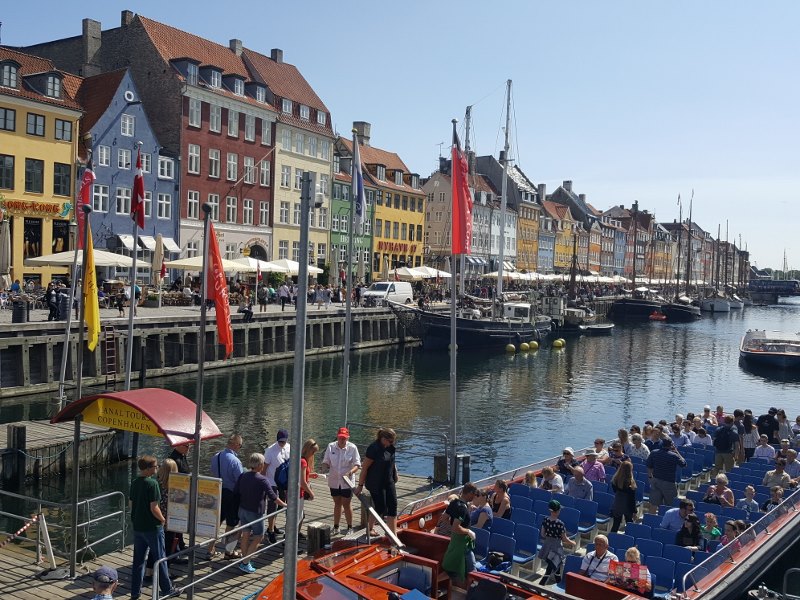 If you live in the UK then, when it comes to food and drink, you know that Denmark is best known for its beer and its Danish Pastries. In terms of beer, if you like Carlsberg, then you're going to be happy. In terms of Danish Pastries, if you're thinking about the things that are sold in English Supermarkets under that name, you're in for a surprise.
The Danish have an amazing baking culture but it goes far beyond flaky bread folded into interesting shapes. The French seem to have convinced the world that only they can do fiddly cakes (patisserie) but a visit to any decent cake shop in Copenhagen will have you questioning that. And, purely in the interest of fairness and science, I felt obliged to sample some of the available produce. Damn, it was good!
Our cruise ship docked in Copenhagen on a nice, warm day. This allowed us to walk the whole day without worrying about the weather. To be fair, though, I've visited Copenhagen before, in November 2013, by plane rather then cruise ship. As you'd expect, the weather in winter was a lot colder and wetter than July, but Copenhagen was just as lovely.
We all enjoyed our time in Copenhagen. There was plenty to see and do for both adults and teenagers. There were plenty of opportunities to sit and rest and plenty of places to buy drinks and snacks. I was even able to buy the Bluetooth keyboard that I used to type the original draft of this post.
Copenhagen is a lovely place, full of bustling life and cakes. What more can you ask for?!