At the end of the 2018-9 season, the greatest ever English football team was Manchester United. A title that they have been able to claim since the end of the 2015-6 season, when they took it from Liverpool. Liverpool being the English football team who had been holding the position of Greatest Ever, for the previous 38 seasons. Arsenal, as they have for a great many years, remain in third place.
Now for the usual disclaimer:
As a Bristol City fan, I have no particular concern as to who is currently calling themselves the greatest ever English football team. This is because we all know that, whoever it is, they're just keeping the position warm until the mighty, mighty Bristol City forever claim their place at the top. As such, you won't find the data or scoring system, below, twisted to suit a particular team's needs. It's just a case of adding up the points.
And, talking of points, the scoring system that I use is as follows:
Whatever system I adopt is always going to upset some people, so I've stuck with the KISS principle: Keep It Simple, Stupid.
There are eight possible competitions in which English teams can participate. I have arranged these in order of status and scored them from eight down to one. No points are awarded for being in certain leagues. No additional points are awarded for doubles and trebles. These extras are open for manipulation to get a favoured team to the top. My system is based on simplicity and is, I think, the better for it.
Which brings us to the chart of the current top 10 greatest ever English football teams: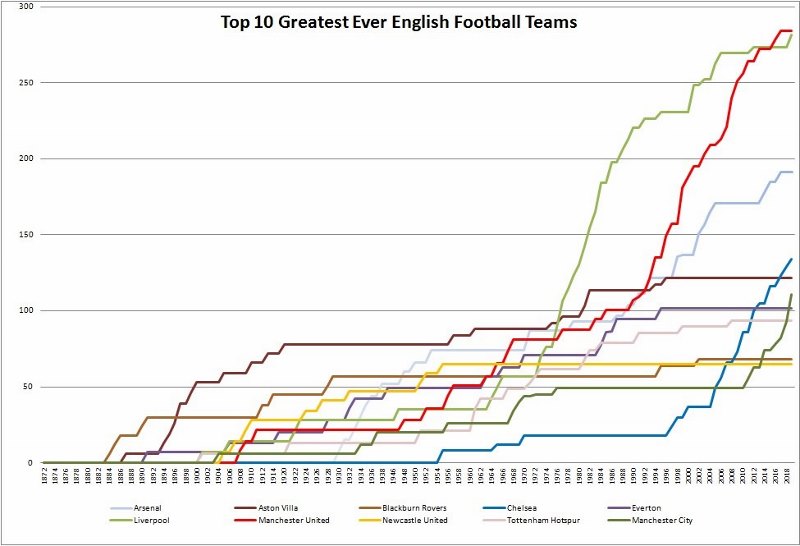 Although there has been no change at the top since last year's post, Man U fans have to be looking over their shoulders. The finals of both of the European cups were all English affairs, and Man U wasn't at either of them. Liverpool was! Liverpool claimed the biggest prize of all; they won the Champion's League for their 6th time, beating Tottenham Hotspur in the process. Chelsea, meanwhile, beat Arsenal to take the Europa League.
Congratulations to all concerned.
Outside of the European competitions, Manchester City won everything else. The domestic treble. Or quadruple, if you count the Community Shield. Whatever! All that really matters is that City had another great season.
However, despite finishing only 6th in the Premier League and losing their manager part way through the season, Man U remain on top of the pile with 284 points. As such, Man U remain the greatest ever English football team.
Liverpool jump from 273.5 to 281.5* points, rapidly closing in on the top spot. And, given that Liverpool has a shot at the coming Community Shield, Super Cup and World Club Cup, they have the chance to overhaul Man U before Christmas.
Despite their best efforts, Arsenal remain unmoved in third place on 191.5* points.
Chelsea's points total continues to climb, as they consolidate their hold on 4th place, moving up 5 points, to a total of 134.
Man City, though, are once again the biggest gainers, with a whopping 18 points this year. A total that actually manages to overshadow the 11 points they gained last year. And 11 points in a season is impressive. Anyway, this monster catch allowed City to not only pass Spurs, but Everton as well; rocketing them into 6th place. This leaves City on 111 points. Meanwhile, Aston Villa, only recently passed by Chelsea, remain in 5th place, on 121.5* points. The only real question is whether Villa will be overtaken by City this year, or next…
The bottom two of Blackburn Rovers (68 points) and Newcastle United (65 points) continue to prop up the table. This is a situation that seems unlikely to change for a great many years, as the teams below them show no signs of closing the gap. Moving forward, maybe a list of just the top 8 sides would make more sense…?
[*the reason for half points is that in times gone past, what is now called the Community Shield accepted draws as a result. When this happened, I allocated each team a half share of the one point on offer]
That said, Rovers does feature on the graph of the teams who have been able to call themselves the Greatest Ever, in English football.
Because, while Man U is currently the greatest ever English football team, this has not always been the case: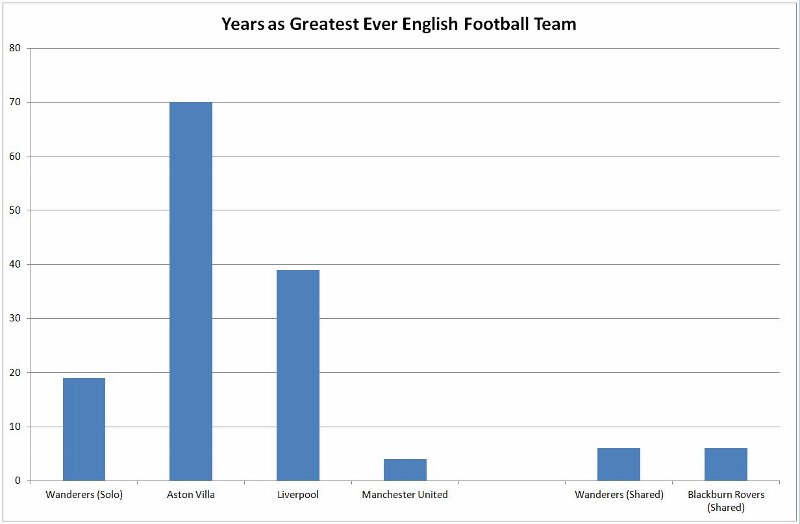 In fact. Man U, with four years at the top, are in real danger of becoming the team who has held the Greatest Ever title for the shortest duration. Liverpool, meanwhile, are in the running to become the first ever English football team to reclaim the crown of Greatest Ever. The 2019-20 season is shaping up to be a fairly historic season.
Man U have got to hope that the club legend that is Ole Gunnar Solskjær, will be as good a manger as he was a player. Certainly, The Special One didn't work out for them. If Ole hasn't got it in him, I can see Liverpool back on top at the end of the season. Liverpool would, however, still have an awful lot of work to do, to overhaul Villa's total of 70 seasons on top.
In terms of trophies won, however, Man U remains fairly untouchable for the time being.
Man U: 62
Liverpool: 57.5
Arsenal: 42.5.
No other team is out of the 20s, when it comes to trophies won.
And to anyone who claims that it's the number of trophies that makes the greatest ever English football team, I'll reiterate what I said last year:
"Trophies, like bank notes, have different values. Five £50 notes, for example, is worth more than twenty £10 notes… Points decide the greatest ever English football team, not trophies."
To some extent, it's out of Man U's hands as to who finishes top next year. Man U are in the Europa League, while Liverpool are in the Champions League, which means even if both teams win, Liverpool closes the gap by two points. Additionally, if Liverpool wins the Community Shield, the Super Cup and the World Club Cup, that's another six points under their belt. That's a total of eight points that Man U can't even compete for.
If Man U doesn't win a good double, I think their stint at the top is likely to be over. If this is the case, they'll have to show real character to reclaim the position.
It's all to play for…