After the hectic and crowded nature of last year's package holiday to the Dominican Republic, this year we decided to go the other way. When the girls were younger, we had some lovely one week villa holidays, usually in May. So, this year, we thought we'd try a variation on that theme and have a two week, two stop villa holiday in Croatia.
We'd been to Croatia before, back in 2015, when we did a two week package holiday at a hotel in Tučepi. And very nice, it was too. It's not often that we feel inspired to revisit a country but we felt that Croatia deserved another look. Prior to this, only Portugal had made the grade. But then, during the second visit, I was brutally hospitalised by mosquitoes, which kinda shifted Portugal on to our No Go list… But that's a tale for another time.
For me, this would be my third trip to the country, having already paid a visit to Zagreb when I did a European driving holiday with my brother, Simon. I really ought to do a post about that trip, at some point; it was an brilliant experience. What I'm basically saying is; Croatia is well worth a visit.
Which is why we were heading back…
Having decided on the villa holiday format, the first decision was where we wanted to stay. This, as always, was dictated by which airports in Croatia we could directly fly to from Bristol. This isn't to say that we wouldn't be willing to drive three hours to get to one of the big international airports. Of course we would. But why would we, when there are still so many places we want to go, which we can reach from the airport that is only 40 minutes away?
Besides, it's easier to retain the services of Dad Taxis if it's only a 90 minute round trip.
It turned out that you could get to three Croatian Airports from Bristol:
They all had their benefits. Split was where we'd flown to in 2015 and, so, was close to areas we already knew we liked. Dubrovnik was the furthest south, so likely to be the warmest. It was also close to Montenegro, where I'd never been, so I could pop over for a visit. Pula, on the other hand, was the closest and involved the least flying time.
In the end, the deciding factor was the proximity to Plitvice Lakes National Park.
During the 2015 trip, we'd visited Krka National Park and been blown away, and Plitvice was supposed to be even better. Besides, the 2Cellos recorded their I Will Wait (Mumford & Sons) music video there; making it virtually sacred ground, in my eyes.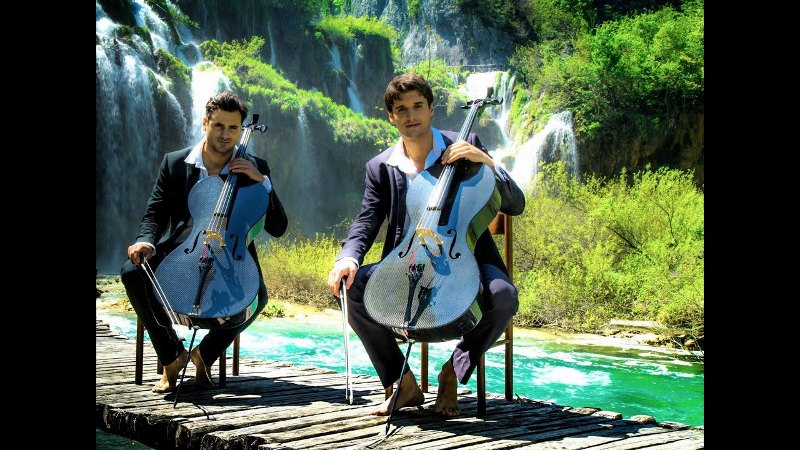 Which, as it turned out, was all a bit of a shame…
The only airport from which Plitvice was realistically within striking distance, was Pula. So, Pula is where we'd be flying to. And, as Pula is the regional capital of the Istria Peninsula, it was decided that this is where we'd have our villa holiday in Croatia.
So, we investigated Pula and decided that, despite it being a city that is dripping with history, it was unlikely to be able to fully hold the interest of all four of us for two full weeks. Additionally, it is a good three and a half hours from Plitvice. Which is when Julie struck upon the idea of a two stop villa holiday. We could spend the first week in Pula and then the second week in another villa, a couple of hours further south.
Thus the plan was hatched… our trip to Croatia would be a two stop villa holiday. The first stop would be in the outskirts of the city of Pula. The second stop would be in the foothills of the Velebit mountains, near Senj. Or, so we thought… More to come on that!
We booked the flights through Easyjet. This is actually a fairly easy process, once you get used to ignoring all the optional extras that keep being suggested for you. You also have to grit your teeth through some of the things you actually have to pay extra for. But I don't want to get bogged down in the practices of 'Low-Cost' airlines. Just know that there are worse culprits than Easyjet.
The Villas were booked through Booking.com. This, too, was a pretty smooth process, once we found the villas we were interested in.
For week 1, we went with the Villa Nicole, in Pula. It promised to be a couple of miles from the city centre, with a swimming pool, air conditioning and Wi-Fi. The owners were also said to speak English.
The villa for week 2 was identified as 'Holiday Home' in Senj-Sveti Juraj, Croatia. Property ID – CKV307. This villa, too, had a pool and Wi-Fi, although there was no talk of air conditioning. The owners of this villa also spoke English. Included in the description was the following:
This beautiful holiday home is situated 1000 metres above sea level, in the Velebit Nature Park. It is only a 15-minute walk from the sea.

https://www.novasol.co.uk/holidayhome/croatia/kvarner-bay/senj-kvarner-bay/holiday-home-senj-sveti-juraj-ckv307?adults=2&children=0&pets=0
In hindsight, it's obvious these two sentences are mutually exclusive. Nothing that is at an altitude of 1,000m is a 15 minute walk from the sea. Well, not unless a really big jump is involved. But it was proving quite difficult to find a suitable villa in this area of Croatia and the date of the holiday was looming closer. And this villa did look amazing! So, we just assumed that what it was saying was true and booked the villa.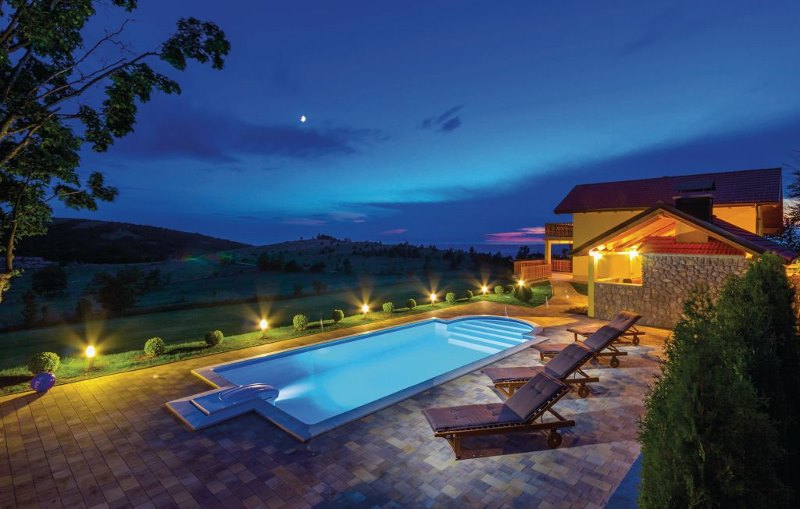 So, with a villa booked at each of the two stops, our villa holiday in Croatia was nearly sorted. We just needed something to get us around. We booked a car through RentalCars.com. This turned out to be a mistake. RentalCars.com is a sister company to Booking.com, both being part of Booking Holidays Inc. Rentalcars.com is simply a broker between the person hiring the car and the company renting the car. In this case Carwiz.
Carwiz, as it turns out, is a Croatian car rental company that was founded in 2017. Since then, it has expanded to 13 branches across Croatia.
Carwiz is well worth avoiding.
For a start, you can't rent a car unless you have a credit card. A debit card will not do. I actually had to sign up for a credit card for this, as I don't have one. I don't like them! That, alone, should have been warning enough. Their Fuel Policy was a money grab but if you don't take it, it's worse. The worst of the experience was saved for our return, so I'll get to that later.
As it was, we piled into the car and carefully drove the 15 minutes, or so, to the first villa. The owners were waiting for us and showed us around. It was perfect, even better than we thought from the photos. The owners explained everything we needed to know and even provided us with some food and drink to start our visit. They then talked us through the local attractions and left us to our own devices.
Our villa holiday in Croatia was off to a great start.
The villa was a lovely place; well designed, fresh and modern. The kitchen was fully equipped, allowing me to cook for half of the nights we were there. The fridge/freezer was big enough to accommodate all the goodies we wanted to put in it. There was a shower room (with a washing machine) and an en-suite shower room. I.T. wise, the Wi-Fi was really fast and the TV in full working order.
In terms of space, there was more than enough for the four of us, although the second bedroom was a little on the small side. This bedroom also didn't have dedicated air conditioning. The idea was, that the air conditioning in the living area, if left on long enough, would cool down everything, including the small bedroom. But that's not us. It seems wasteful to leave the air con on, 24/7. Besides, the main unit blew right across the sofa and Julie, at least, would have frozen to death if we'd tried that. The master bedroom, meanwhile, had it's own air con unit.
The outside was very well equipped. There was a dedicated seating area around the barbecue, which we didn't use. There were a couple of small sofas and a table and chairs for alfresco dining. We also didn't use the latter. Around the pool were sun loungers, which did get some pretty heavy use. As did the pool itself. All this was contained in a walled compound with an electric gate, controlled by a button remote.
The villa was everything we could have hoped for.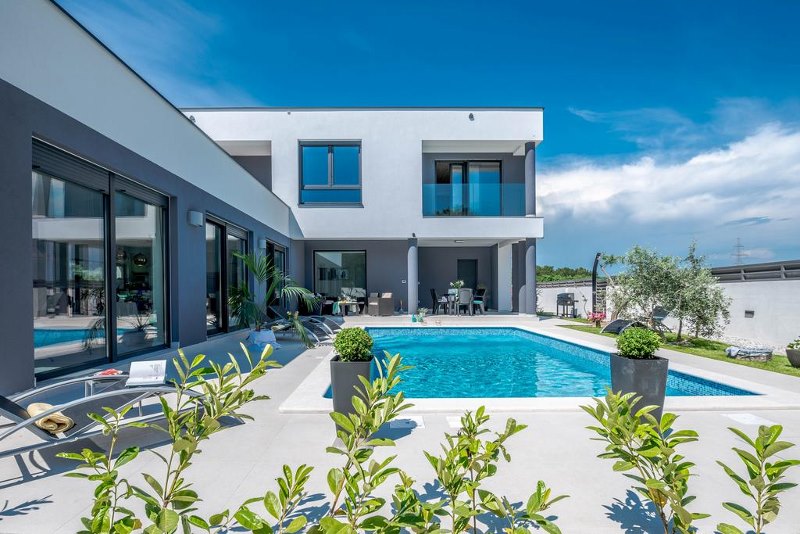 The position of the villa, in relation to Pula, was also pretty ideal. It is about a mile up one of the quieter spur roads that feed into the ring road around the city. This made getting to anywhere in, and around, Pula remarkably easy.
Just the other side of the roundabout, where our spur road crossed the ring road, was a huge Interspar supermarket and shopping complex. This made grocery shopping pleasantly convenient. There was also a corner store about a 5 minute walk up the spur road from the villa. Very useful for any little necessity you might realise you need. You know, like an extra ice cream…
Just a quick note on supermarket shopping in Croatia, which you'll need to know about if you're doing a villa holiday. In Spar supermarkets, you need to bag up your fresh produce, make a note of the product code and take it to the scales. Enter the product code in the scales and you will be printed a price label. This goes on the bag so it can be scanned at checkout. In the local supermarkets, like Plodine and Konzum, you don't have to do this; it'll be weighed and scanned be the till operator at checkout.
Just over the road from the villa was the Busoler Forest. This is a protected, natural history area, with paths cut through it and map-boards to show you where to go, and what to look out for. This forest also had an outdoor gym area, which Ceri and I made use of, in preparation for the Tough Mudder event we'd be doing in August.
Pula itself was an interesting place.
Although Pula receives a lot of tourists, it is an active, working city, with a lot of manufacturing and industry. As such, don't expect a cutesy, pretty place, solely dedicated to meeting the needs of foreign tourists. It is not that sort of city. Don't get me wrong, tourists are well catered for, but there is lot more to Pula than tourism.
One thing that Pula does have in abundance, is historic buildings. In particular, from the Roman period. Not least of which is the Arena, which is a virtually intact amphitheater. And while the Arena may only be two thirds the size of the Colosseum, in Rome, it's in much better condition. and is well worth a visit. Unless, for example, you happen to book your holiday during the Pula Film Festival, which kinda limits your access opportunities! Still, there are plenty of other historical treasures to visit, and the opening night fireworks were very impressive.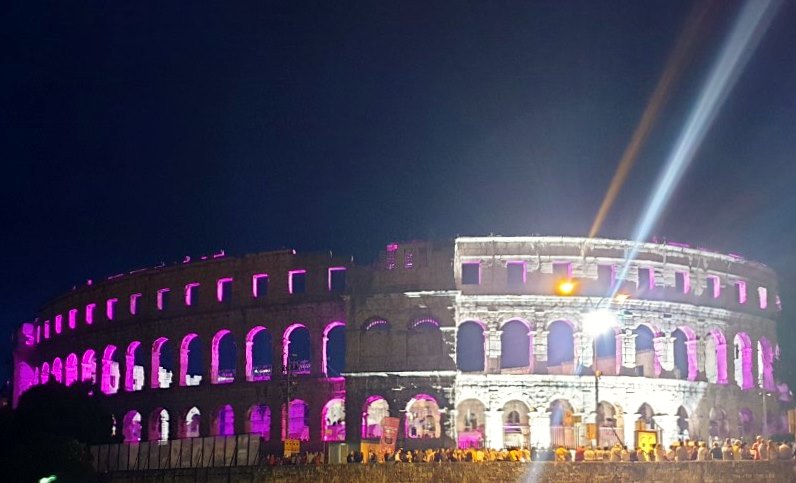 Pula is situated on the tip of the Istrian Peninsula, which means that you've got the coast and the sea on three different sides. There is very little in the way of sandy beaches but there are plenty of nooks, crannys and coves to explore. You certainly won't struggle to find somewhere to set up your towels, to get you into the sea. The sea itself is pretty warm and very clear. I did an awful lot of snorkeling in the sea around Pula.
And, in Pula itself, besides the Arena, there is plenty else to see:
Long story, short; if you want to go sightseeing, you'll need to allow a very long day.
Up and down the coasts, from Pula, are many interesting towns and villages to explore. Just to the north of Pula is the Brijuni Islands National Park, which is a heavily featured tourist destination. Boat trips to these islands can be found on offer, pretty well everywhere you go. Meanwhile, to the South East, you will find the Kašteja Forest Park, which is situated on a peninsula and accessible by car. There are certainly no shortage of places to explore around Pula.
Outside of the National Parks, there are plenty of other trips and excursions to try. You can find out about these from the multitude of booths that are set up along the harbour. Or from the tourist Information centre, which has plenty of leaflets for that sort of thing. We did some Kayak Rental (canoeing), which was very enjoyable. We booked it through TripAdviser and picked up the canoes from the Ocra Dive Centre, which was part of the Park Plaza Historia Resort. Money well spent!
The one criticism of the Park Plaza resort was in regards to the ice cream. All over Croatia, a scoop of ice cream is charged at between 7 and 10 Kuna. This works out at around £1 ($1.25/€1.20) a scoop. The ice cream is almost always very good. The only thing that really varies, from place to place, is the size of the scoop. At the upper end, the ice cream is, more or less, ladled on. At the Park Plaza, however, the scoop was a melon baller. This was, by far, the smallest portion of ice cream that we were served. Basically, if you're after ice cream, get it from wherever you're going after the Park Plaza.
We thoroughly enjoyed our stay in and around Pula. It was a really relaxing and highly enjoyable week. But. all too soon, that week was up and it was time to more on to villa number two. We packed the car up and checked the sat nav. The journey time was estimated as three hours, and that was fine. We had to leave Villa Nicole at 10am, and the second Villa wouldn't be ready until 4pm. We were certainly in no rush.
Which was just as well, as it turned out.
The standard of driving in Croatia is pretty good. Admittedly, no one uses their indicators, but, in that respect, it's just like being at home…!
Likewise, the roads are well surfaced and safe to drive on.
The terrain, however, is… challenging.
Outside of the north, Croatia is a long, thin country. This would be fine, except for the Velebit mountain range, which runs down the majority of the Croatian coastline. This leaves an incredibly narrow strip of flat coastline, upon which to build anything: villages, towns, farms, roads!
The upshot of this is that there is one main road running down the coast of Croatia, and everyone is on it. Certainly, all us tourists. To make matters even more interesting, part of this road is a toll road. This means that, at some point, you need stop and collect a ticket. You then need to stop again to pay it. Most countries deal with this by having an incredibly wide section of road, with loads of toll booths, thus keeping the delays as short as possible. Croatia simply doesn't have the width of flat land to achieve this, so they resolve it by having huge queues of traffic, waiting to get to a tiny number of booths.
If you're travelling the coast road, leave plenty of extra time!
Anyway, we broke up the journey with a visit to Trsat Castle in Rijeka. It was here that we tried Börek, which, we were told, was a traditional Croatian dish. Börek can be any one of a multitude of fillings, wrapped in filo to form a long tube, and then rolled into a circular shape and then cooked. I had a beef version. The girls had a cheese based alternative. Sweet options also existed. Basically, the Croatian version of the pie and/or the pasty. It was nice enough, without being particularly inspiring.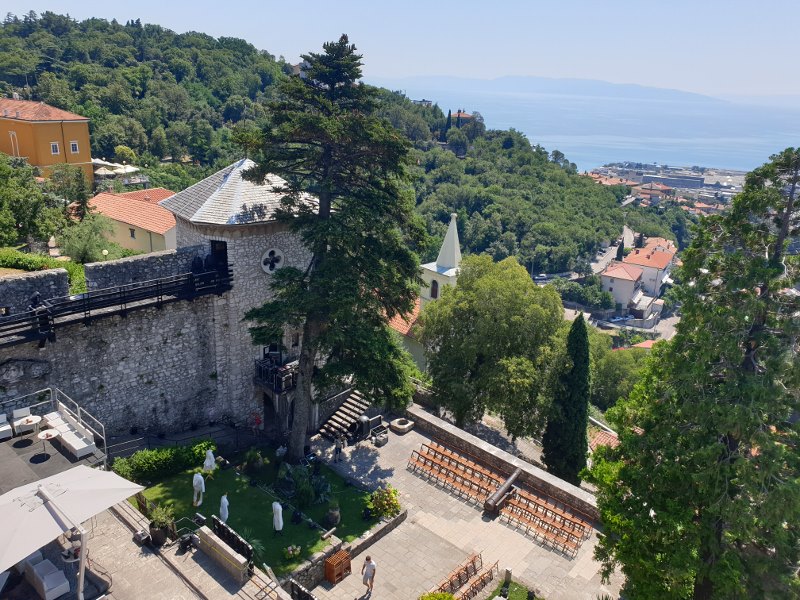 Other than Börek, the food that seemed most prevalent in Croatian shops and supermarkets was meats, in the form of Charcuterie. Certainly, this formed the basis of the food that was left for us by the owners of the first villa. And very tasty, it was too.
But, back to the castle at Rijeka…
Julie picked up a message from the owners of the second villa to say it was okay to arrive a bit earlier. So, we hit the road again. About an hour later, we turned off the coast road, at Sveti Juraj, and started looking around for where this villa might be. After all, it was only a 15 minute walk to the beach…
It wasn't a 15 minute walk to the beach!
It turned out to be a 25 minute drive to the beach. And most of that drive would be in one direction: down. That's because, most of the drive from the coast road to the villa was in a different direction: up!
What we should have focused on, in terms of the description, wasn't the '15 minutes from the beach' bit, it was the 'situated at 1,000 meters above sea level' bit. Because that's the bit that turned out to be true.
A quick side note… Generally speaking, for every 100m of altitude you gain, the temperature drops 1°C. At an altitude of 1,000m, the temperature is a whole 10°C lower than on the coast. And this, as it turned out, was why the second villa didn't mention anything about air conditioning; it didn't have any.
The second villa really took some finding! We eventually came across the hamlet of Oltari and the Sat Nav screamed that we needed to turn left. But the 'turning' on the left looked like a drive into someone's home. It certainly didn't justify the use of any word more expansive than 'track'. It was, however, the turning we were after. We followed this narrow strip of crumbling tarmac for a few miles, and up another 60m in altitude, until we were there: the absolute middle of nowhere…!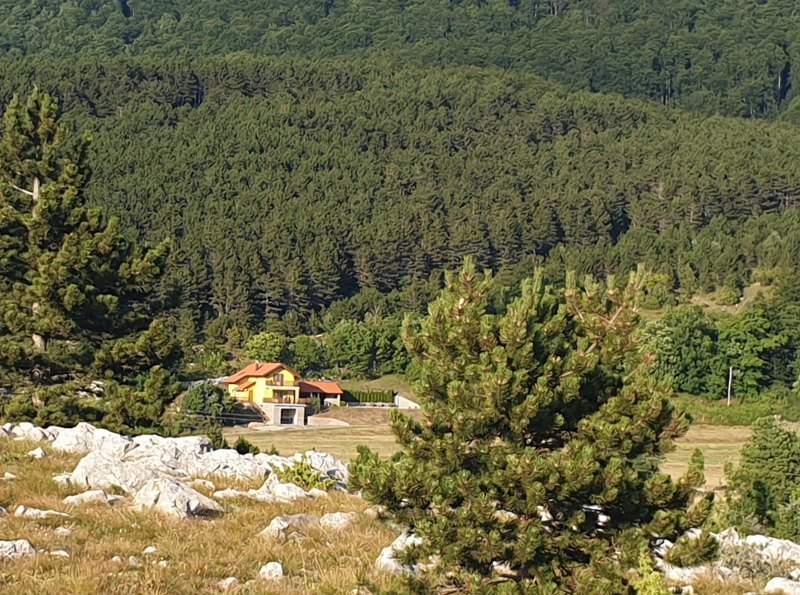 Otherwise known as the second villa of our holiday in Croatia.
To be fair, the villa certainly looked the part. There was a garage with a table tennis table set under the main building. The ground floor of the villa was an open plan living area and kitchen. The first floor had three bedrooms, meaning the girls took a room each. Once again, the kitchen had everything we needed. The shower room, as before, housed the washing machine, and there was a second toilet upstairs. The master bedroom also had a balcony. In terms of I.T., the Wi-Fi was slow and unreliable, making the TV pretty well redundant.
That was, until we worked out how to cast to the TV from my phone… Then we just found some decent Wi-Fi in Senj, the local town, and downloaded a bunch of stuff from Netflix. And this is what we watched of an evening, while keeping an ear out for rampaging bears. I'll explain more shortly.
First, back to the villa. Outside had a huge seating area around a really impressive barbecue. Beyond that was the pool, with an array of sun loungers, and a shower in the corner. Sadly, we never got to use the pool because, during the day, it was where all the local wasps came to hang out and chat about their lives. I've never seen so many wasps before!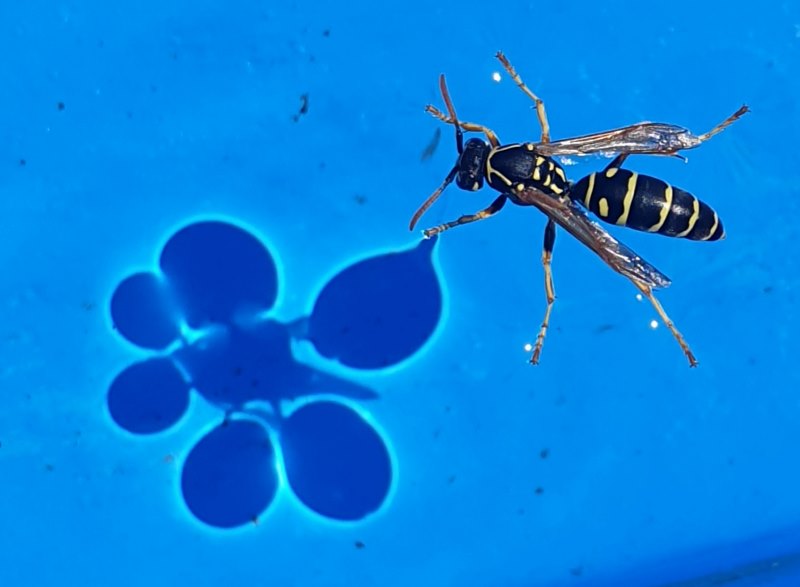 This had a real impact on the second week.
In all honesty, the villa was fine. With the exception of the slow Wi-Fi, we couldn't fault it. The first villa was, however, outstanding, making this one seem poor by comparison. It was the location that was the main problem. The drive up from the coast road was steep, narrow and full of hairpins (switchbacks), which made for an uncomfortable ride for the passengers. And then to find that the swimming pool was unusable was a real blow. One of the major attractions of a villa holiday, in Croatia or anywhere else, is you get your own pool!
It meant that we'd have to go out every day. And the only way to the coast was down that winding road. What didn't help in the slightest, was the realisation that the nearest corner shop was 20 minutes away, in Krasno. And the nearest supermarket was in Senj, which involved a 90 minute round trip. That first 24-36 hours in the second villa was a tough time. There was even talk of binning it in favour of a Bed and Breakfast, somewhere at sea level.
And then there was the small matter of the wildlife…
On the second evening, the girls and I went for a run. There was a three quarter mile (~1km) stretch of vaguely flat road, so we ran up and back. I dropped the girls off and went for a second lap. By the time I got back it was really quite dark and Julie and the girls were all calling for me to get inside. They'd heard a growling sound from the treeline behind the villa. Chucking, I went in and had a shower. While I was showering, I remembered that there are wild bears in the Alps…
When I got out, I checked and, yep; Croatia has wild bears. And wolves. And lynxes. The second week of our villa holiday in Croatia just got a whole lot more… interesting!
Still thinking nothing of it, I took to the internet and found a bear sanctuary in the village past Krasno, a place called Kuterevo. So I took us there the following day, by way of a surprise. It was me that got the surprise, though, when one of the bears roared and Julie immediately confirmed that this is what she'd heard. Anyway, irrational or not, the knowledge that there really were bears out there, kept us all tightly locked up inside the villa as soon as it got dark.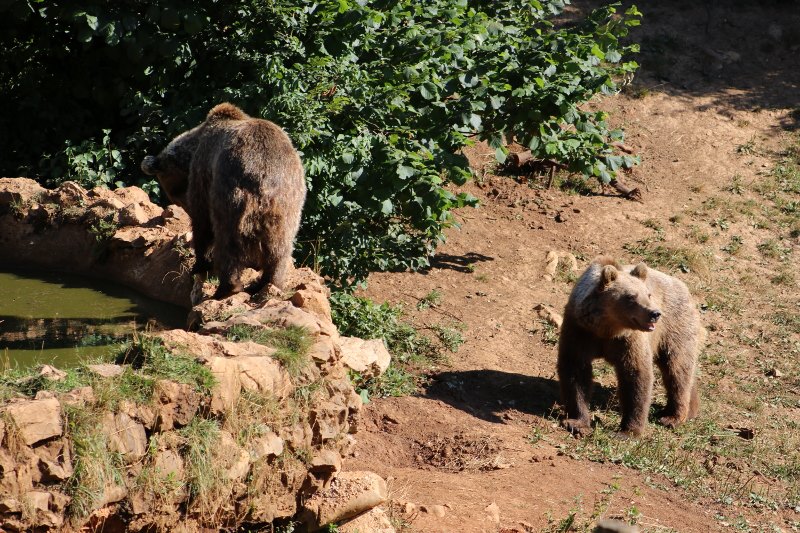 We didn't see a wild bear, though, but we did see plenty of other wildlife, mainly as we drove up and down the mountain, including:
Fox
Wild Boar
Hare
Goat
Mouse
Pine Martin
Roe Deer
The position of the villa is ideal if you want to hike in the mountains or explore the Northern Velebit National Park. It's less good if you want to go snorkeling and generally mess around in the sea. In theory, it is also a pretty good location to get at Plitvice lakes, which we very much planned to do. Sadly, it turned out that Plitvice had changed its visiting policy, a few weeks earlier, such that you had to buy your tickets in advance. Thankfully, we realised this before we set off. Even so, there were no tickets available until after we flew home. Luck wasn't really with us when it came to the second villa.
We did our best to make the most of it, though. As well as the day trip to the bear sanctuary, we had a few good trips, including:
A day at Sveti Juraj (St George), where we swam out to the nearby island and claimed it in the name of Lewis. A nice enough place, with a reasonable sized market, but the water was inexplicably cold.
A day at Senj, doing touristy things.
A day at the Zavratnica inlet and the village of Jablanac. It's a long, hot walk from the village to the inlet and you'll get charged 30 kuna each to get in, so 120 kuna (£15/$18/€16) for the four of us. There is a toilet block, at the head of the inlet but nothing else in the way of facilities. The water is clear but also quite cold. There is also a sunken WWII German ferry that you can snorkel over. We liked Zavratnica and, providing you take your own supplies, it's well worth a visit.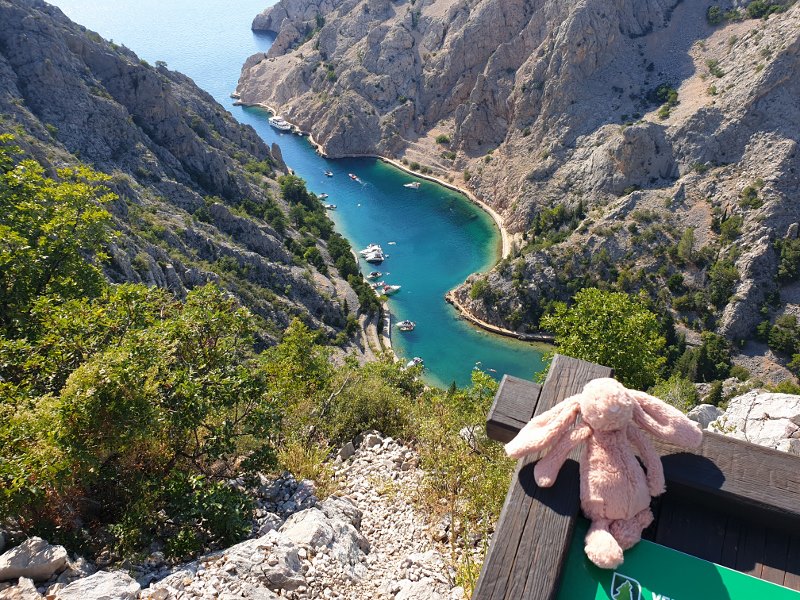 Overall though, through a combination of bad luck and poor judgement, the second week wasn't a patch on the first. And, while this didn't spoil our overall villa holiday experience, in Croatia, we were all ready to go home, when the time came. We left enough time to account for the inevitable delays at the toll booths, and had an uneventful journey.
Right up to the point we handed the car back. It was then that the 'scratches' were discovered in the paintwork to the rear of the passenger side of the car. Unfortunately, we were told, they were going to have to be recorded and we'd have to be charged. I didn't get it. The 'scratches' looked like the sort of scrapes you get when the car drags through heavy foliage; the sort that 'bruise' the paintwork. I didn't remember that happening. But, I suppose, it must have… At least we'd taken out the Rentalcars.com 'Full Protection' coverage.
It was at this point that Julie found the photos she'd taken of the car, before we set off. Sure the lighting was different, and there wasn't a photo of every panel, but there were marks in the same position as these 'scratches'. We were taken to the booth to argue our case. The marks from before, we were told, were mud. The marks that were there now, though, were scratches…!
We, of course, pointed out how ludicrous this was, but to no avail. By this stage, our flight time was drawing close and we had no choice but to sign whatever they put in front of us, so we could claim back whatever they decided to deduct from my credit card. I suggested that they just look up what they charged their last victims, to save time… They decided on a total of 3,932.08 Kuna (£490/$592/€532). Rentalcars.com is still processing my claim…!
Seriously, don't use Carwiz. And, if Rentalcars.com are going to include companies like Carwiz, steer clear of Rentalcars.com as well.
The experience with Carwiz left everyone tense and unhappy. A real sour note upon which to end our villa holiday in Croatia. Until, that is, our flight was delayed. For hours!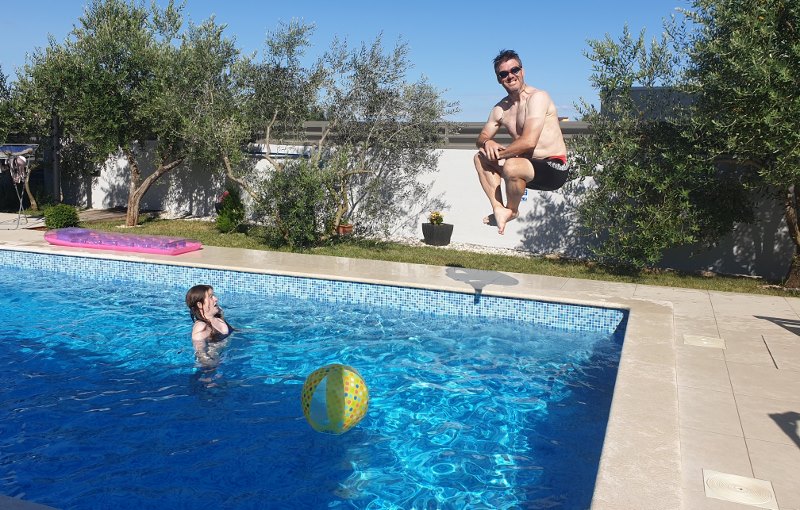 You'd think this would've made things worse. But it didn't. It was a welcome distraction from the Carwiz thing. And the airport looked after us pretty well. Gave us all food and drink. We eventually got away within the three hour compensation window and, once airborne, the flight crew gave us complimentary food and drink. The flight crew were amazing; they'd been going for a staggering number of hours, by the time we landed.
Overall, our two stop villa holiday in Croatia was a success. I'd certainly recommend the concept to anyone interested in this type of thing. Croatia is still relatively good value for money. The people are friendly and, in the touristy areas, most people speak English. That said, you'd be better off if you spoke German or Italian, as these are both more widely spoken. The driving is slow but steady and the drivers no worse than at home.
Basically, Croatia is a great place, and well worth a visit. It also has a lot of excellent villas to choose from, so take your time and make sure you pick the right ones for you…
For those expecting the follow up to the next port day after Copenhagen, of the Baltic Cruise, I'll talk about our visit to Stockholm at the end of August.