Well, that's never happened before! At no point in history has a team managed to get back the title of the Greatest English Football Club, once they've lost it, but 2020 has changed all that.
Because, in 2020, Liverpool has reclaimed the Greatest English Football Club crown from Manchester United. To be fair, the writing had been on the wall. Man U has been stagnant since 2017, when they won the Europa League. Mind you, Liverpool, too, had been static for a reasonable number of seasons. But they found their feet again in the 2018-9 season, and have done more than enough since then. Arsenal, as ever, remains in third place and continues to regularly win trophies, slowly edging their way up the table.
Right then, time for my usual disclaimer (which will be in italics if you want to skip it!):
As a Bristol City fan, I have no particular concern as to who calls themselves the Greatest English Football Club in 2020. This is because we all know that, whoever it is, they're just keeping the position warm until the mighty, mighty Bristol City forever claim their place at the top. As such, you won't find the data or scoring system, below, twisted to suit a particular team's needs. It's just a case of adding up the points.
And, talking of points, the scoring system that I use is as follows:
Whatever system I adopt is always going to upset some people, so I've stuck with the KISS principle: Keep It Simple, Stupid.
There are eight possible competitions in which English teams can participate. I have arranged these in order of status and scored them from eight down to one. No points are awarded for being in certain leagues. No additional points are awarded for doubles and trebles. These extras are open for manipulation to get a favoured team to the top. My system is based on simplicity and is, I think, the better for it.
Which brings us to the chart of the current top 10 greatest English football clubs: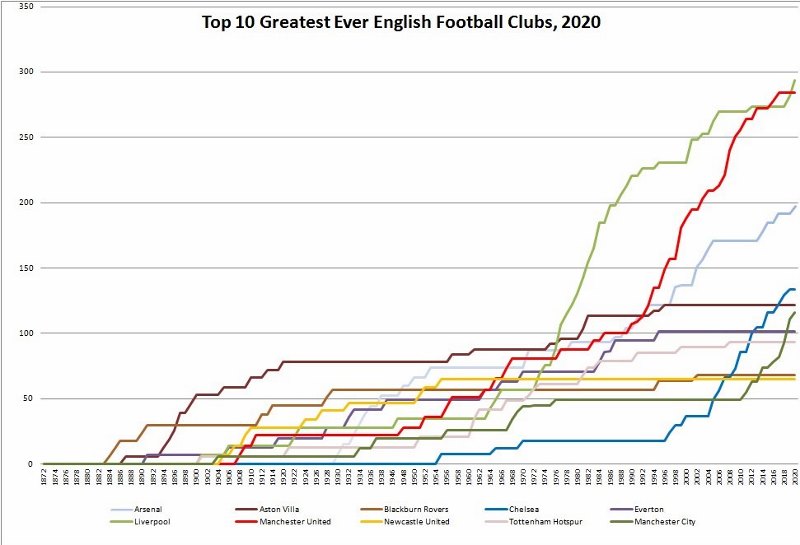 And there's the proof. The green of the Liverpool line has surpassed the red of the Man U line… Maybe I should change the colour of these lines?! I mean, both teams play in red, as does Bristol City, so it's a tricky one… Okay, starting next season, whichever team is top gets the red line.
Anyway, back to the chart… The Liverpool line has the sharpest climb of all the English clubs. Something that has slowed the ascent of Manchester City, who have been rising so rapidly for the last few years. Which is why, and taking into account the current form of Man U, Liverpool reclaiming the top spot is not much of a surprise. I mean, in last year's post I said that, "Man U fans have been looking over their shoulders".
Well, they're not having to do that any more…
In the 2019-20 season, Liverpool managed a haul of three trophies. This included two new titles:
World Club Cup winners, for the first time, and;
Premier League winners, for the first time!
Of the other trophies on offer in the 2019-20 season, they were shared by Arsenal and Man City. Arsenal took the bigger prize, with a record extending 14th win of the FA Cup. Man City, meanwhile, won their 6th Community Shield and took a joint record 8th League Cup, tied with Liverpool.
In terms of the actual points, Liverpool swept past Man U's total of 284, to finish the season with 293.5* points. An increase of 12 points, more than enough to confirm their position as the Greatest English Football Club in 2020.
As already mentioned, Man U did not manage to gain any additional points. For the third season in a row! Arsenal increased their total by 6 points, which gets them closer to Man U, but actually leaves them further behind Liverpool. Arsenal are, however, in absolutely no danger of losing their third place position for a long time to come…
Man City's points move them to 116 and just 5.5* points behind Aston Villa, in 5th. Meaning that if Man City can claim 6 points next season, they will move into fifth. Doing so will put them in striking distance of Chelsea who remain stuck on 134 points at the end of the 2019-20 season.
As ever, the bottom two remain Blackburn Rovers (68 points) and Newcastle United (65 points). Last year I mentioned that I might drop them out of the reporting and just look at the top 8 sides. Another option could be to exclude any team that has not scored any points in the previous 20 seasons. In that way, I could also remove Aston Villa and Everton. And, potentially, Tottenham Hotspur, if they don't win anything in the next couple of seasons. Doing this would allow me to solely focus on those teams that have increased their points totals in the previous 20 seasons…
The only problem with this idea is that both Chelsea and Man City went far longer than 20 seasons without winning anything. And look at them now! Either way, I'll definitely make a change to the graph in next year's post, if only to see what it looks like.
[*the reason for half points is that, in times gone past, what is now called the Community Shield accepted draws as a result. When this happened, I allocated each team a half share of the one point on offer]
Of course, even if I do remove Aston Villa from the top 10 graph, I certainly can't remove them from the next graph. Because, although Liverpool is the Greatest English Football Club for 2020, as we have just seen: this title does change hands. And the Club that has held the 'Greatest Ever' crown for the most number of seasons? Well, it's Aston Villa… By a large margin: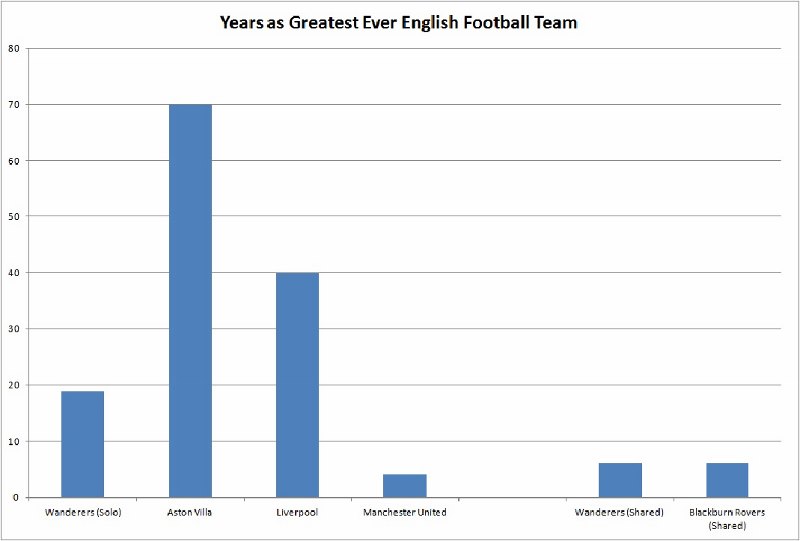 Does this mean that Aston Villa can claim to be the 'Greatest Ever'? No, because Liverpool now holds that again. Does it mean that Aston Villa can claim they've been classed as the 'Greatest Ever' for more seasons than anyone else? Yes, absolutely they can.
And what of Manchester United? Does this mean that they should be ashamed of the fact they can claim the fewest number of seasons as the 'Greatest Ever' on this chart? Of course not! Only 5 clubs in English football history have ever been able to call themselves the 'Greatest Ever'. And only 4 of those clubs, have done so individually. If you're on this chart at all, you're one of the all-time greats… But Man U is certainly not the 'Greatest Ever'. And there's a long way to go before they seem likely to put themselves in consideration again.
For Liverpool, meanwhile, can they keep up their momentum? Was the 2019 – 2020 season just a flash in the pan, or will Liverpool still be the Greatest English Football Club for a long time to come?
In all honesty, I can't see how it can be otherwise. The only club in a position to challenge Liverpool is Man U. But, unless Man U makes some significant changes over the summer, they don't have the personnel to win the major trophies. Which means that even if Liverpool's 2019-20 season was the end of something special, they'll remain the 'Greatest Ever' until Man U can get back to winning ways. And that looks like it might take a while.
That said, there is an area where Man U is still leading that pack, and that's in terms of the number of trophies won:
Man U: 62
Liverpool: 60.5
Arsenal: 43.5.
But even this area of bragging rights is under assault. All Liverpool have to do is win the Community shield and any other trophy, and they'll take the lead here, as well. Unless Man U wins something during the 2020-1 season. And I'm just not sure that they will. Either way: It. Is. On!
And, once again, I must reiterate that it cannot be the number of trophies that determines who ranks as the Greatest English Football Team. Because different trophies have different values. I'll revert back to my trusty currency analogy, but with a minor update:
Trophies, like bank notes, have different values. Five £20 notes, for example, is worth the same as twenty £5 notes… Likewise, five Champions League trophies are worth the same as (or considerably more than) twenty Community Shields.
So, looking at the 2020-1 season, what is needed?
Well, to start: both Liverpool and Man U are in the Champions League, and only one team can collect the points from that competition. Which means, that in terms of maximising points-scoring opportunities, it would make sense for one of the clubs to drop to the Europa League, during the first phase.
Overall, though, Liverpool are 9.5 points ahead. This means that Man U need to score 10 unanswered points to get back ahead of Liverpool. Once again, this means they need to win a good double. Realistically, Man U are not going to win the Champions League, so they are probably better off in the Europa League. It also seems very unlikely that Man U will win the Premier League. As such, Man U need the FA Cup and at least one of: the Europa League, and; the League Cup.
All Liverpool have to do is win something better than the Community Shield. It doesn't really matter what, just something. Anything! And they will remain the Greatest English Football Club beyond the 2020 season.