There are two places that cruise ships can dock in Helsinki, one ridiculously convenient and the other… less so. The dock in the city is right on top of the Uspenski Cathedral, Presidential Palace, Tourist Information Office, Old Market, etc. All of which means that you need to give very little consideration to how you're going to move around the city…
We docked at the other one!
What made this situation all the less desirable, was that the port day in Helsinki was our fifth port day in a row. This middle phase of our Princess cruise of the Baltic had gone: Stockholm; Tallinn; two days in St Petersburg, and now; Helsinki.
And, tired as we were, we really wanted to see Helsinki, because we'd already heard that it's a lovely place. Helsinki is, after all, the capital and largest city in Finland. Interestingly enough, Helsinki is situated almost directly north, across the Gulf of Finland, from Tallinn. The two cities are only 55 miles (90 km) away from each other. But, in terms of history, they're worlds apart.
In fact, Finland itself has only really existed for about 100 years. Until 1809, Finland was part of Sweden. It was then annexed by Russia for nearly 110 years. Finland only became the country that we know it as today, in 1918. And, such a mix of influences was bound to result in an exciting city.
Assuming, that is, that we could get to Helsinki from our cruise ship.
Our cruise ship docked in Helsinki at the Hernesaari terminal. This is about two miles from Uspenski Cathedral and, on the day we visited, there was occasional drizzle. The rest of the time it was raining like it meant it…
We still walked in, though. Oh, yes!
You can probably imagine my daughters' joy, at this decision. And my wife's joy, now I come to think of it… Still, I like the rain, and exercise is good for us.
Upon disembarkation, we immediately came across a Tourist Information hut. This hut had a sign inviting you to, 'Walk and Feel Helsinki'. I think my younger daughter managed to 'feel' Helsinki the best. She chose her footwear… unwisely… and was soon feeling the Helsinki rain all over her feet.
We did, however, pick up a 'Day in Helsinki' map from the Information hut. Unfortunately, though, this map was so stylised that it lacked enough detail to be of much use. It was also at this point that I discovered that there wasn't much in the way of mobile data in Helsinki. There certainly wasn't enough coverage to be able to reliably use the Google Maps app on my phone. That was with O2. Other service providers may offer better coverage.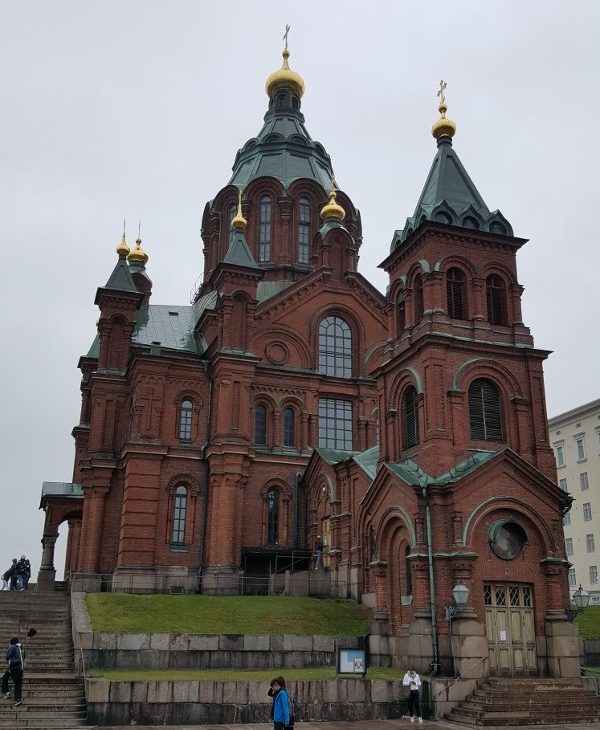 Fortunately, just the other side of the customs gate, was the stall for the 'Hop on Hop off' sightseeing bus. This service had 15 stops around the city and included free WiFi. All for an advertised price of: €20 (£18, $22) a day per adult, with; under 16s travelling free. I say 'advertised price' because the ticket prices shown on the map I picked up, didn't quite reflect this. Here, the prices for a 24 hour pass were:
Adult – €28 (£26, $31)
Child (6-15) – €14 (£13, $16)
Child (0-5) – FREE
Even these higher prices, however, are a lot cheaper that any of the cruise company excursions on offer. The cheapest of these cruise company excursions to Helsinki was: $74.95 (£61, €67) per adult, with over 12s being classed as adults. The excursion in question was, 'Helsinki Highlights and Time on Your Own'. An excursion that was virtually identical to using the Hop On Hop Off service, the only significant difference being the price. I'll use our family of four as an example. Our family being two adults and kids aged 14 and 15:
Cruise ship excursion – $299.80 (£244, €267)
Hop On Hop Off price, as listed on the map – $94 (£77, €84)
Hop On Hop Off price, as advertised – $45 (£37, €40)
Except that the cost of the Hop On Hop Off tickets could have been… nothing!
Because the Hop On Hop Off service is offered in several Baltic cities, and they're all linked. And, on offer in the Hop On Hop Off map, was:
1 FREE tour, after taking 3 tours. Save your 3 tickets and give them to the City Sightseeing Staff on the 4th destination to redeem your free tour.
Included in the list of cities where this offer applied were:
And, sure, this particular Baltic cruise didn't stop at Oslo, but others do. And taking a Hop On Hop Off tour in St Petersburg might not be practical, due to the visa restrictions. But if you opt to use the Hop On Hop Off tours in Copenhagen, Stockholm and Tallinn, then your Helsinki tour will be free. And using the Hop On Hop Off service is a good shout in both Copenhagen and Stockholm. It's less necessary in Tallinn, but still maybe something worth thinking about.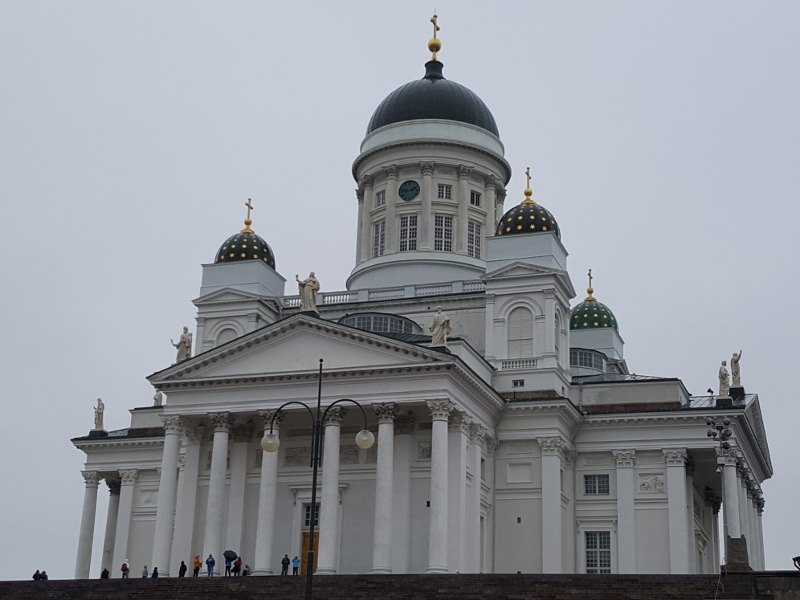 Next to the Hop on Hop Off bus stall was our cruise ship's 'Shuttle to Helsinki' service. This was also being offered at €20 per person. Past experience tells me that this will be €20, each way, although I might be wrong. It's certainly worth asking. Even so, if the Hop On Hop Off service is going for €20 per person, with kids going free, this is still a better option than the shuttle service.
Next to the shuttle was the inevitable taxi rank. And, while I didn't check the fares, given the price of everything else, I'd be surprised if it cost more than €20. In which case, particularly in the rain, sharing a taxi for €20 between four (or six if there's a six seater available) might be a very tempting prospect.
Not that any of this applied to us, because we were walking…!
And I did manage to get my hands on a Hop On Hop Off map of Helsinki. And, while this map was an improvement on the 'Day In Helsinki' effort, it still wasn't great for pedestrians. Not that you'd expect it to be, we're hardly the target audience. The main issue was that the bus route was marked by a thick red line. And this line obscured some of the road names. And that was the last thing you wanted…
Because, as it turned out, the road names were an adventure in their own right. Every road had two names, presumably one in Finnish and the other in Russian. Any given map, however, stuck to one language when naming the roads. Which language the map was using, isn't immediately apparent to English speakers. All of which made it difficult to reconcile the road names on the buildings with those in the map. I mean, which road name were you even supposed to be looking for?!
This information about the language may well have been on the maps, somewhere. If so, I certainly never found it. That said, I was more concerned with keeping the maps out of the rain, than identifying the language in use…
The street signs, themselves, were brilliant. Every corner was signed for both roads making the corner. Once you figured out where you were, and whether you should be looking at the top or the bottom sign, it was hard to lose your way.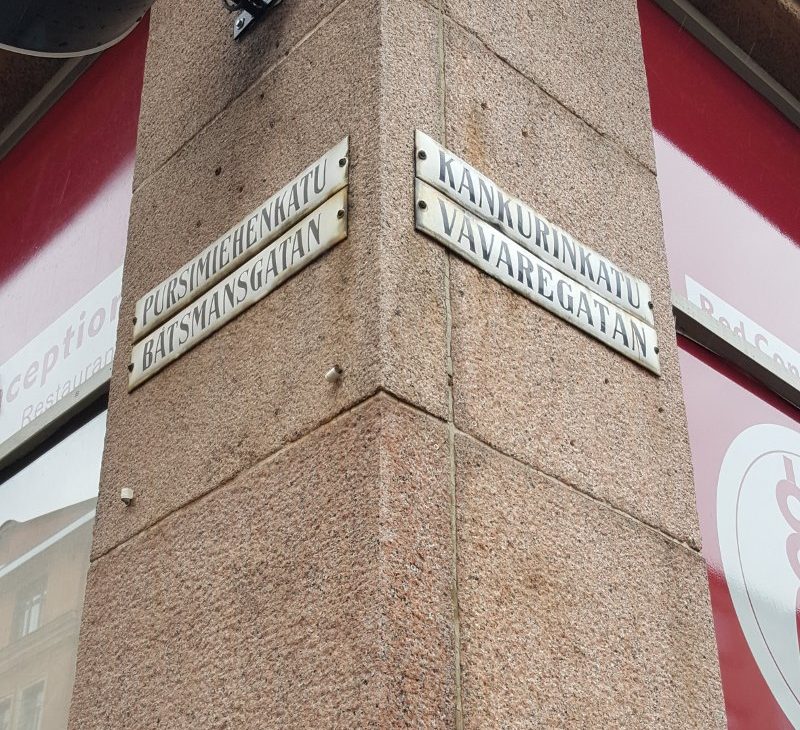 But, anyway, back to the start of our walk from the Cruise terminal into Helsinki…
To exit the port, simply follow the green line. This will point you up the quay, and in the direction of the city centre. Almost immediately, you'll come to a bus stop for the local number 14 bus. According to the schedule at the stop, these buses pass every 20 minutes, at 10, 30 and 50 minutes past the hour. I couldn't see the price but would assume a return to the city centre would only be a few Euros each.
We walked on…
At the end of the quay was a crossroads with a rack of city bikes. Depending on the map you're using, this particular rack is situated on the corner of:
Hylkeenpyytajank and Eiranranta, or;
Hietalahdebkatu Telakka and Tehtaankatu Fabriksgatan.
And that is why I won't be doing much in the way of referencing the road names, in the rest of the post!
Anyway, the sign by the bike rack gave you all the information you'd need to be able to use the bikes, in English. The daily price for using the bikes was just €5 each. And the map, on the sign, made it very clear that there were an awful lot of bike racks scattered throughout Helnsinki. But it was raining, so on we walked.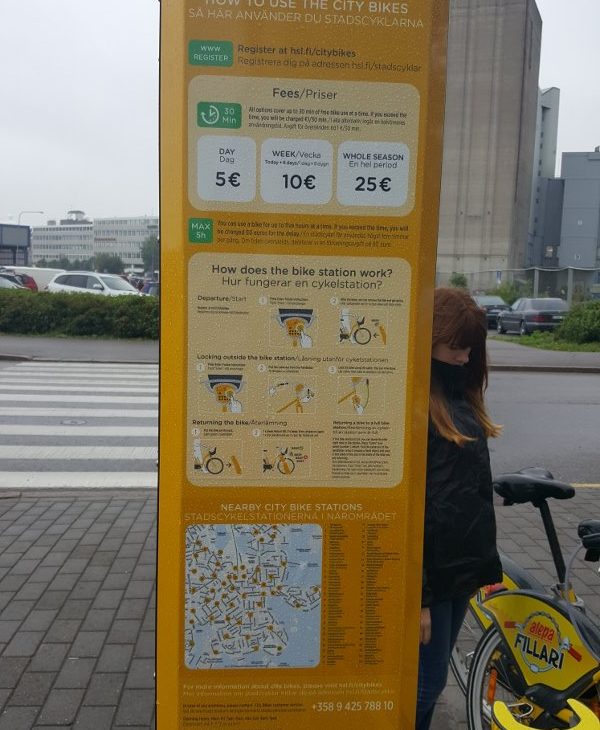 With regard to cyclists and cycling, there are a number of arrangements with cycle paths. Helsinki is a city with a lot of cobbled and paved streets. If you're walking on any form of nice, smooth tarmac, check for bike signs because you're almost certainly on a cycle path…
However, and presumably because of the rain, we didn't see that many cyclists at all. But we did notice that the locals certainly steered clear of the strips of tarmac. Which indicated that, in good weather, walking on these tarmac strips would result in death by cyclist.
If you're tempted to make use of the city bikes, you should be aware that Helsinki isn't the flattest of cities. And, while there's nothing too steep, you'll have to work quite hard on occasion.
Our walk into town took us through the back streets of the Eira and Ullanlinna districts. It was here that we stumbled across a church that didn't really seem to feature on any of the maps in our possession. I think it was probably Johanneksenkirkko? It's a shame that the church isn't more prominent on the maps. It's a lovely building and pretty well bang on the walking route from the cruise terminal to the centre of Helsinki. It deserves a visit.
From this church, we headed up and onto the Esplanadi Park, which seems to be the focus of the city centre. At one end of the Park is the main shopping area, including a huge shopping mall, in which you can find all the usual suspects that you'd expect of a capital city. At the other end is the Tourist Information Office and the Market Square, which leads, in turn, to Uspenski Cathedral.
We decided that it was time for a hot drink and stopped at Café Esplanad. It turns out that coffee shops in Helsinki are also the best place for baked goods. Because, while the supermarkets also sell fresh baked goods, I didn't see any dedicated bakeries, as you might expect to see in England. Half of the cakes on offer where the generic range based on French and American favourites. The other half were what might best be described as, 'Finnish Pastries', and were very nice indeed.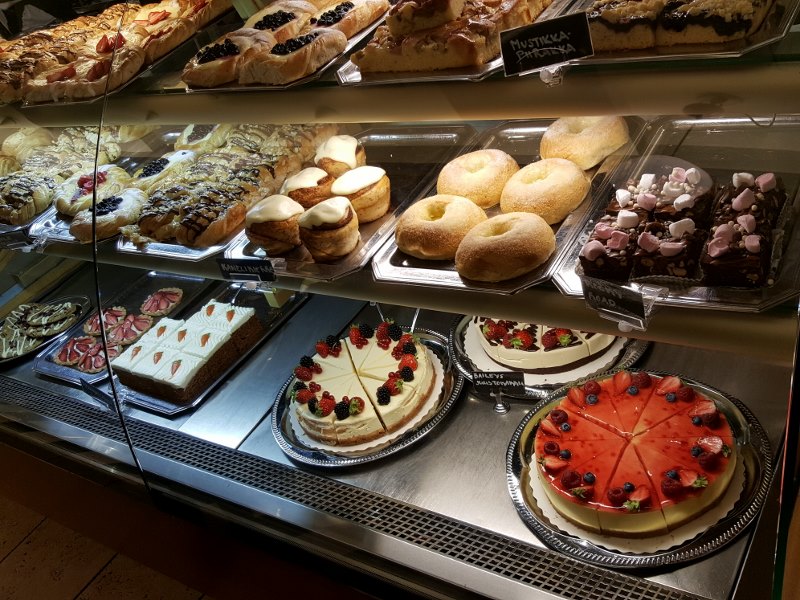 Suitably refueled and, by a happy coincidence, having missed the worst of the heavy rain, we worked our way up the shops to the Tourist Information Centre. Here, I was very happy to pick up two more maps: the 'Original' Welcome to Helsinki map, and; the 'City-Opas' Welcome to Helsinki map. Both of the new maps included a larger scale insert of the city centre. Overall, though, it was the City-Opas map that was the most detailed. And it was this that I relied on to get around for the rest of the day.
I'm looking, as I write this, at all four of these maps, five if you include the one provided on the back of the Cruise Line's Port Guide. And none of them are particularly focused on the sites and sights. Instead, they're mainly concerned with getting you into the local shops. But then it's the advertising from said shops that gets these maps printed in the first place. And for free! So what are you going to do?!
Well, what I'm going to do, is stop talking about maps. Look, I know that I have a problem with maps. My family has tried interventions, but nothing has helped… I'm working on it.
From the Tourist Information Office, we did some shopping in the largely excellent stalls of the Market Square. Then we headed in a circuit that took in both Uspenski and Helsinki cathedrals. We also checked out the President's Palace and any number of statues. There may even have been some more photo-bombing from Emma…
Helsinki is perfectly easy to enjoy as a pedestrian. That said, the abundance of public transport means that you need to take care crossing the roads. It's not only all the buses you need to consider, it's the trams…
Which is why there were plenty of traffic lights, all with clearly marked pedestrian crossings that allow ample time to cross. If the green 'cross' symbol is flashing, that means it'll change to red in a couple of seconds. It means that you don't have time to start crossing. If you've only just started crossing, and the green light starts flashing, either get a wiggle on, or turn back. Because there are a lot of buses and trams!
Despite the rain, we found Helsinki to be a friendly and engaging place. The style and buildings of the city clearly reflect both the Scandanavian and Russian influences that have dominated the history of Finland. Helsinki seems to reflect the best of both these worlds, and marry them together in harmony.
The emphasis of the shops and markets in Helsinki wasn't just on amber, as in so many of the other stops on the cruise. Sure, there is the amber of the Baltic, but there's also the Reindeer of the North. There was a huge number of things to buy either made from, or featuring, reindeer antler. Furthermore, on top of the amber and Reindeer antler, there were a lot of high quality silver options. Oh, and also an undertone of Christmas, meaning lots of opportunities to stock up for December.
In total, during our cruise trip to Helsinki, we walked around 8 miles (13 km). We spent about five hours doing so, meaning we never felt rushed or exhausted. Overall, we found Helsinki to be very well suited for tourists walking out from their cruise ship.
That said, however, Helsinki is actually a very large city and has attractions spread far and wide. As such, you may be tempted to chose to explore more of Helsinki than you can on foot. Which brings us to the excursions into Helsinki, on offer from the cruise company…
Actually, some of these cruise company excursions take you away from Helsinki. One of these alternate destinations is the town of Porvoo, which is 30 miles (50 km) from Helsinki. Porvoo is the second oldest city in Finland and has a timber cathedral. There were also trips to Savijarvi Farm, which is 25 miles (40 km) from Helsinki and, kinda, on the way to Porvoo. The farm breeds horses…
Other trips from the cruise ship, with specific focus on Helsinki, take in things like Temppeliaukio, the Rock Church. Temppeliaukio is, technically, within walking distance from the cruise terminal, at about 3 miles (4.5 km). But walking there and back would take up the bulk of your day. You could certainly cycle it on a nice day, though…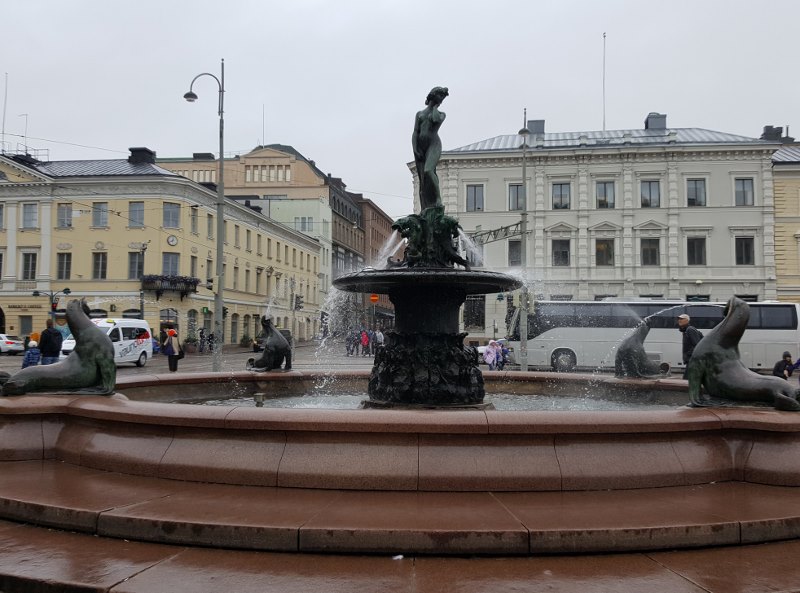 Anyway, the excursions:
Best of Helsinki & Porvoo – $179.95 per Adult and $129.95 per child
Savijarvi Farm, Porvoo and Temppeliaukio – $179.95 per Adult and $129.95 per child
Discovery Exclusive: Ultimate Helsinki – $219.95 per Adult and $169.95 per child
These cruise company excursions into, and around, Helsinki all ran for 7 hours. There were also plenty of shorter excursions that were cheaper in price. Basically, there are more options than just walking yourself around.
Some final bits and pieces from our cruise port day in Helsinki:
Finland is part of the Eurozone, so the Euro is the currency of the day. Helsinki, though, is not a cheap city, so expect to blow through quite a few of these Euros. We found the Finnish people to be very friendly and approachable. And, when they are parting you from your money, they will be doing so in impeccable English. In fact, the spoken English was so good, that I actually asked one of the guys in the Tourist Information Centre whether he was English. He wasn't…
But, seriously, this guy sounded more English than I do.
In conclusion, then, we all really enjoyed our cruise ship visit to Helsinki. The people were lovely and the places we visited were well worth doing so. So, despite the weather being miserable, and the fact that it was a bit of a hike, we still came away feeling really happy. If that isn't a good sign for a city, I don't know what is.