After exploring Tallinn the previous day, and Stockholm the day before that, on Saturday July 15th we arrived in St Petersburg for the start of a two-day visit. This meant that we began our cruise ship experience with St Petersburg already feeling pretty tired. And we'd be spending the Monday in Helsinki, so things wouldn't be getting any easier in the next couple of days.
St Petersburg is a port city, built on the mouth of the River Neva, at the easternmost point of the Baltic Sea. The actual port itself is situated on, Vasilyevsky Island, the largest island in the delta of the River Neva, but still within the boundaries of the city. This makes accessing St Petersburg by cruise ship, extremely convenient. The city itself is the fourth largest in Europe, with more than five million inhabitants. It's also considered to be the northern capital of Russia, meaning it has quite a few foreign consulates based there as well.
In reality, though, the fact that the cruise ship is able to dock so close to the center of St Petersburg is of little consequence, unless you're a Russian passport holder. Or you have a valid Russian Visa. Only then will you be permitted to disembark the cruise ship, and make your own way into St Petersburg.
Otherwise, the only way you're leaving that cruise ship into St Petersburg, is if you have a Russian guide. And the only reason you can do this, without a Russian visa, is that St Petersburg (and a few other places visited by cruise ships) have a 72 hour exemption for tourists. Providing you also have a Russian guide. If you do want to go it alone, visit here to see how to apply for a Russian visa.
I looked into getting Russian Visas, and making our own way around St Petersburg, as is our preference with port days on a cruise. But there was just too much involved. I also looked into the prospect of booking our own Russian guide, which would be through a local tour company, but this was fraught with issues. Firstly, it was very difficult to find any solid recommendations for any such company. Secondly, the prices they were charging was almost as much as the excursions on offer through the cruise company.
Which only left the excursions into St Petersburg that were being offered by the Princess Cruises. And these are never cheap! But, needs must, and all that…
If you are tempted to independently book your own excursions, you should first check your cruise company's policy on 'late arrivals at point of departure'. With Princess Cruises, the policy is that: if a cruise-organised excursion is running late, past the point of scheduled departure, the ship will wait. If, on the other hand, an independently organised excursion runs late, the ship will leave at the scheduled departure time. And, by all accounts, it really will leave without you!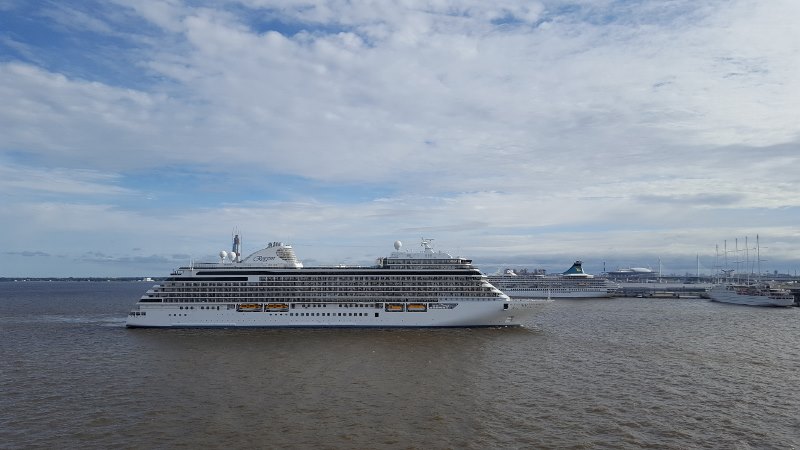 And it was this realistion that was the final nail in the coffin of my thoughts of skipping the cruise company excursions, to explore St Petersburg on our own. I simply can't imagine how difficult it would be to catch up with the cruise ship from Russia, without a visa. I didn't even want to try. So: Princess Cruises excursions it was.
Mind you, there were plenty of excursions to choose from. Particularly on day one. A large part of this variety was down to the fact that the cruise ship was staying in St Petersburg overnight. This allowed for evening excursions as well. As such, it was possible to do as many as five cruise ship excursions into St Petersburg during the stay:
Morning, afternoon and evening, on the Saturday
Morning and afternoon on the Sunday
We decided against that and limited ourselves to a single excursion each day. It's important to carefully plan the excursions you intend to do. Quite often the same excursion is on offer on both days, but the timings and price varies across the days.
We decided to do the Hermitage Museum & St Petersburg On Your Own excursion on the Saturday. It was a full day and gave us the freedom to spend a few hours doing our own thing in St Petersburg. We thought we'd do a full day on the Saturday and only an afternoon on the Sunday. That way we'd leave some energy and enthusiasm for Helsinki on the Monday.
This excursion cost us $109.95 (£87/€98) per adult and $79.95 (£63/€71) per child. The very same excursion on the Sunday was $10 cheaper a head. Mind you, the Sunday version started an hour earlier, at 8:30 am.
On the Sunday, we chose the St Petersburg River & Canal Cruise, which was $89.95 (£72/€80) per adult and $69.95 (£56/€62) per child. Again, had we done it on the Saturday, it would have been $10 a head cheaper. This time with identical timings. Sadly, the cheaper options didn't fit in with our plans to preserve our energy and enthusiasm. Basically, $80 (£64/€71) down the drain…! But, we thought, necessarily so.
As ever, there was a wide range in the prices of the excursions on offer. The cheapest trip was $59.95 per adult and was a half day coach tour around the city with various photo stops. The most expensive was $629.95 per adult for a two day Ultimate Saint Petersburg. This trip ran from 7 am to 5 pm and seemed to do everything, including a canal cruise and a trip to the Hermitage Museum. There was a Best of St Petersburg trip, in the same theme, for $499.95 and also a day trip to Moscow for $579.95.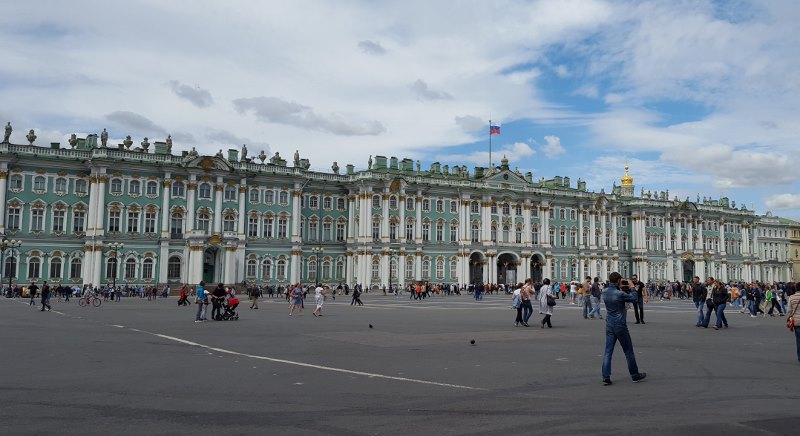 But we were happy with what we'd chosen. And they would be our first ever cruise company organised excursions, making them an interesting experience in its own right…
As we'd booked the excursions when we booked the cruise, we already had our tickets. It is, however, entirely possible to book excursions during the cruise. Every cruise we've been on has had a dedicated room for this very purpose. The specific details will be on the Tour Order Forms that you're given during the cruise. Simply fill in the form and take it to the tour office and they'll book you on your excursions.
Anyway, come Saturday morning, our tickets directed us to a meeting point in a bar on deck 7 at 9 am. Upon arrival, the tickets were checked and we each had a coloured, numbered sticker pressed on our clothes. Blue 23, in case you were wondering. We were then led through to the theatre, where we were told to sit, presumably as a way of holding us until everyone turned up. This must have happened quickly because, no sooner had we sat down, than we were off again.
From the theatre, we were taken through the ship security and scanned off-board. Then it was on to Russian border control. Here we were sorted into lines to have our passports checked. There were plenty of lines so this didn't take long. Briefly, on the other side of passport control, we found ourselves leaderless. Our ship guide hadn't come through customs, and all we could see was a mass of people with different stickers on their clothes, just milling around.
Fortunately, there was only one way we could go and everyone ended up heading that way. Which turned out to be towards the buses. The buses were wonderfully organised. Each was clearly labelled with a card showing a colour and a number. We found Blue 23 and were greeted by our guide. She welcomed us, took our tickets and ushered us on board.
The bus was modern, clean and spacious. It even had working seat belts! Not that we were told to put them on, but they actually worked if you wanted them… Once we were all on board, she started her commentary and, impressively, this commentary barely paused during the whole time we were with her. Her English was very good and she had a cheerful, helpful demeanor. She also had the patience of a saint, which I'll explain more about in due course.
After everyone was on board, our bus joined the masses of other buses leaving the cruise terminal towards St Petersburg. We were off!
The guide gave us each a radio receiver with an ear piece. The ear piece was designed to fit on the ear, without anything actually going in the ear. This turned out to be something that I was very glad of. You see, although each ear piece was presented to us in an individual plastic bag, I don't think it had been cleaned. Certainly, at the end of the day, we were simply told to replace them in the plastic bags. Something that would only have made cleaning them more difficult, if they were going to be cleaned…
Basically, take some wet wipes if you're going on one of these trips.
And the ear pieces were really important. It was through these that she communicated during the tour. And for me, an adult male, I found the ear piece to be well fitting and unobtrusive. My wife and both kids, however, struggled to keep them comfortably in place. That said, the earpiece jack looked like the normal kind, so it should be possible to plug in your own ear buds, if you have them.
Our first destination was the Hermitage Museum, where we would be given a tour. After which, we would be allowed to wander around St Petersburg on our own for three hours. Quite how this fits in with the, 'you must have a Russian guide with you at all times' concept, I'm not sure. We were given an emergency contact number to call, should we need to, and maybe that's how it works. Because we have a means of contact, we're still 'with' our guide… Anyway, who cares what the reasoning was? We'd get our wander, a prospect we were very happy with.
Driving to the Museum from the port, you initially travel through heavily built up residential areas. Incidentally, these residential areas are all you can see of St Petersburg from the cruise ship.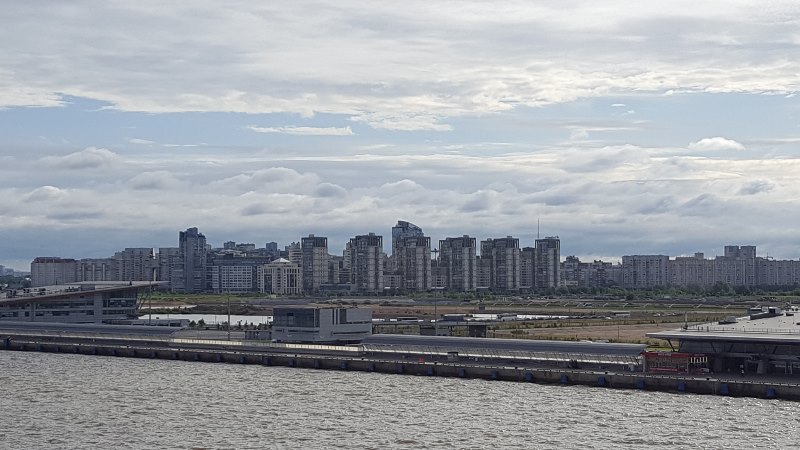 The number and density of these high rise apartments is staggering. It's such a contrast to the historic centre of the city that it's to hard to reconcile the two. One of the tour guides said that, while the official population of St Petersburg is five million people, it's actually significantly more due to immigration from the former republics. This is easy to believe because there were an awful lot more of these apartment blocks being put up around the port.
Apparently, the journey to the museum can be very time consuming. We, however, were lucky because we were going on a Saturday and the traffic was reasonable light. To my eyes, the traffic was far from light, and it took us about 25 minutes to cover the 6 miles (10 km). At the museum, the bus dropped us off outside the front and then had to leave, as it's a no-parking zone. We were then ushered to the back of the queue which we were told was refreshingly short, at just 10 minutes.
We'd been told to leave all large bags, backpacks and heavy coats on the bus. And, because everyone listened, we passed easily though the museum security checks. Had we not done so, the offending items would've been taken to a cloakroom, by security, to be picked up on the way out. This, I can assure you, is something you want to avoid. The queues to those cloakrooms, for those trying to leave, stretched a long way down both sides of the corridor. No thanks!
Once through the security, our guide gave us a meeting location and time, in case anyone got separated or wanted to do their own thing. She also pointed out the toilets to those who wanted to use them, always a useful thing to know. She then invited anyone who wanted to take the tour with her to go up the stairs and wait for her at the top.
It was at this point that I started taking in the magnificence of the place and… Wow! Magnificent is certainly the word. I've never seen any building more impressive that the Hermitage. A couple may be its equal but nothing better. It's hard to put into words, and photos don't really do it justice; it's like being inside Christmas!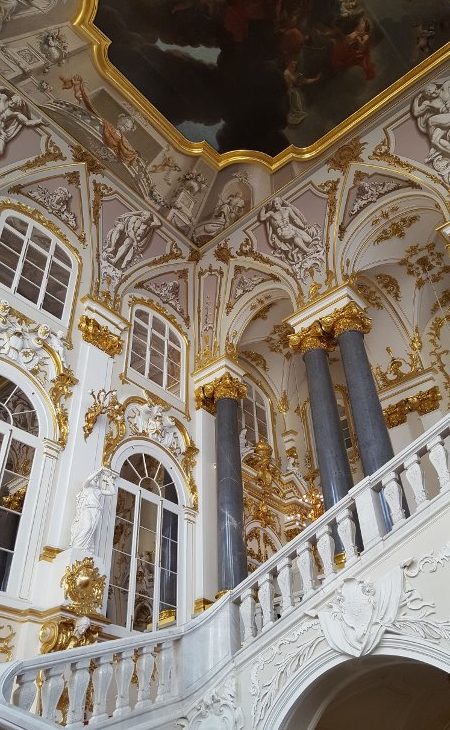 Talking of photos, there are lots of signs indicating that photos are not allowed. However, providing you keep the flash off, you're fine. There are also many signs that seem to be banning mobile phones, but there are also signs advertising WiFi, so… you decide. I certainly took photos on my phone, just like hundreds of other people, and no one seemed perturbed. And you really don't need WiFi. Given the contents of the Hermitage, the last thing you should be doing is phubbing the place.
So, the tour began, and the guide immediately started displaying her saint-like qualities. Our guide managed to herd the entire group of 25 people around the most popular tourist attraction in Russia, during its busiest time of the day, without losing any of us, her temper or her mind. Extraordinary!
And it was frustratingly busy, with guides leading other groups in every direction possible, often through our group. The tour was actually something of a route march. The Hermitage holds 3,000,000 exhibits across five (accessible) buildings, at least three floors and many hundreds of rooms. If you spent only three minutes appreciating each item, and worked at it on a full time basis, it would take you 78 years. We had 90 minutes!
The guide worked on the basis that everyone wanted to see the works of the Old Masters, like Rembrandt's The Return of the Prodigal Son. So that was the main focus of the visit. She led us through room after room, often as part of a queue, which were lined with works of art that we didn't have time to spare a glance at. She did, however, put each of us in the vicinity of all the major pieces. All the while sharing her detailed knowledge of the rooms we were passing through and the art we were looking at. She did an amazing job.
During that trip I learned two important things:
I don't have a future as an art critic
The rope barriers in front of the paintings are there for a reason
With regard to the first point, I couldn't really identify what made things like The Return of the Prodigal Son a better painting than everything else in the museum. I saw a lot of paintings that I thought were rubbish and a few that I thought were amazing. All of the Old Masters' work fell somewhere in between.
As to the second point, in front of some of the paintings were low ropes set a couple of feet back from the canvas. It was clear that they weren't there to physically prevent you getting at the painting. I assumed they were the equivalent of a mental prompt not to touch the paintings, which I wouldn't do anyway. As such, I dismissed the ropes from my mind. Mistake! Turns out that they mark the outer range of the sensors around each painting and if so much as a finger crosses the plane of the rope, a buzzer goes off.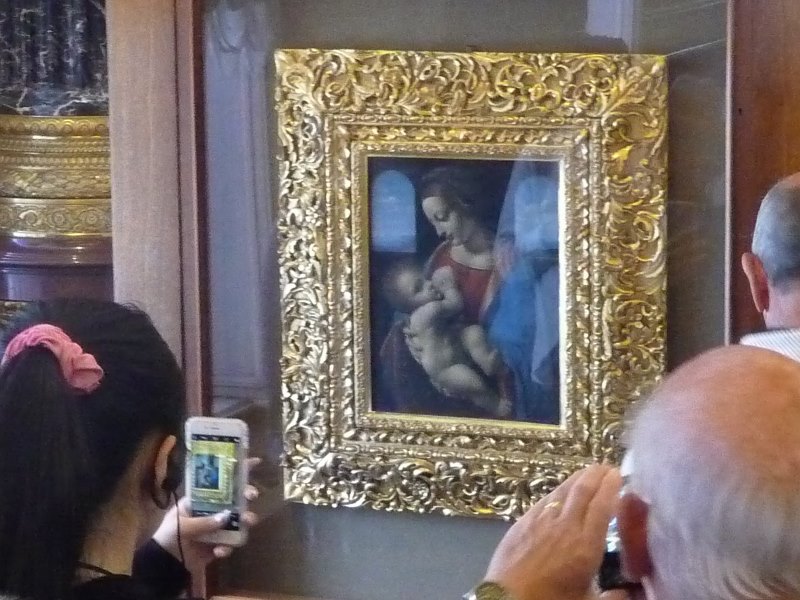 The problem is, if you've been hearing buzzers going off randomly for an hour, to the point you've zoned the sound out, it's easy not to associate the repeated buzzing with your own actions. Say, for example, when you're pointing out the parts of a painting you like to a daughter. Until, that is, an angry Russian in a green uniform comes and shouts at you for setting the buzzer off so many times. I'd seen a lot of people in green uniforms, by that point, and wondered what they were there for. Shouting at me, as it turned out!
Long story short, if you want to point at a painting, take a couple of steps away from it first.
And then we were done.
So we were ushered back to security and queued our way through, seemingly endless, cloakrooms of confiscated clothes and bags. The exit, at the end, consisted of one door that only allowed one person through at a time. I dread to think what would happen is there was a fire. Carnage seems inevitable! Once outside, we were back on the waiting bus and away.
I was hugely impressed by the Hermitage itself, and am very glad to have visited it, but the exhibits are too much. There were rooms and rooms of depictions of the nativity. There were rooms dedicated to Spanish Art and others to Dutch Art and, well, who knows what else?
The point I'm trying to make is that the Hermitage looks like someone said, "Right, I want an Art Museum; get me all the Art."
It would make far more sense to choose the best examples of each genre, artist and/or nationality and display it in such a way as it can be appreciated. What's left could then be shared among other museums and galleries in other cities and actually seen by people. There must have been hundreds, if not thousands of exhibits in the Hermitage that have not been looked upon for years. Not least, the paintings on the other side of the stands displaying the Old Masters!
For the second part of our trip, we were given a map and dropped off in front of the Onegin souvenir shop on Italianskaya ul, with instructions to be back in three hours. On the way there, our guide had recommended a restaurant on Nevskiy Prospect. She suggested it as a good place to eat as they took card and Euros. They did and the food was very good, but it was a also sit down meal that took a good 30 minutes and, as it turned out, virtually everywhere took Euros and cards.
Other, more seasoned, cruisers spurned the idea of a sit down meal and ate the local street food, allowing them to maximise their time exploring the city.
Lesson learned.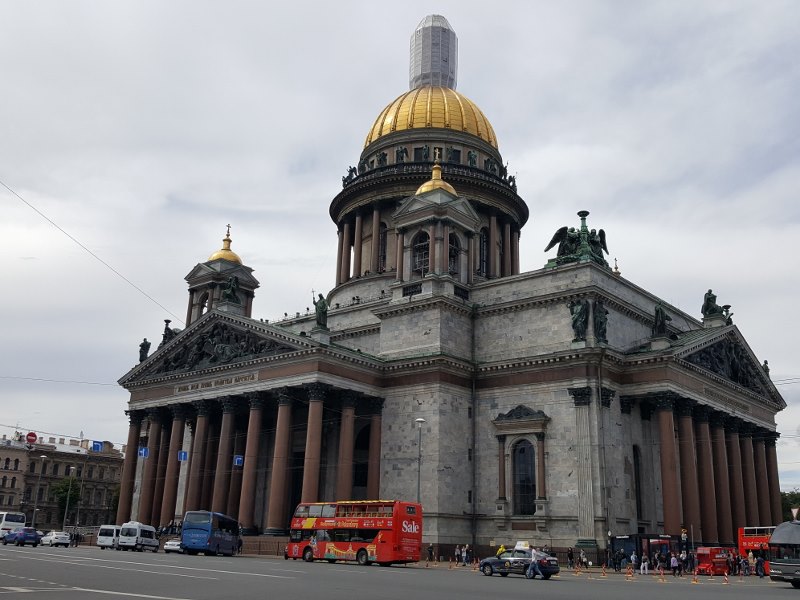 The centre of St Petersburg is a very impressive place, architecturally. Each building and palace, of which there are a lot, has it's own shade of pastel. It makes for a very impressive backdrop. The buildings, while very different in colour, are, superficially at least, reasonably uniform in height and design. The Palaces, however, seem to be competing with each other for prizes in things like:
Biggest
Tallest
Best Decorated
Most Ornate
Most Gold Leaf
I've never seen another city like it. The amount of gold beaten into the external fabric of the buildings is implausible. It's simply impossible to believe that what you're looking at is actually gold.
But then, a lot of the reason that St Petersburg looks the way it does, is that it was only founded 300 years ago, by Peter the Great. And his specific purpose for the city was to be better than any of the European cities. And, despite the massive amount of damage inflicted during the Second World War, St Petersburg seems to have achieved this. At least compared to the European cities that I've visited.
But, back to our excursion around the streets of St Petersburg…
In our remaining time, we walked a route that took in a good amount of Nevskiy Prospect, which is the main street of the city and is lined with big name shops from many countries. We then cut left to take in St Issac's Cathedral before swinging right again along Admiralteyskiy Prospect. From there we were able to take in the Admiralty, the back of the Hermitage and Dvortzovaya Square, all of which were mightily impressive. As were Emma's photo-bombing antics…
After this, we followed the Moyka Canal to the Cathedral of Christ's Resurrection, also known as the Church of the Saviour on Spilled Blood. This very much has a Sagrada Família feel to it and is well worth a visit. From the church, it was a mere five minute walk past the street stalls of the Griboedova Kanal back to the pick up point.
Unfortunately, because we spent so long in the restaurant, this journey was very much rushed with barely enough time for photos. St Petersburg is a big place with an awful lot to see. If you want more time to appreciate it, don't dine in a restaurant. All in all, though, a very successful, if somewhat tiring, day.
After Saturday's success, hopes were high for the Sunday trip of, St Petersburg River and Canal Cruise. However, this trip was as disappointing as the previous day's had been a success. The Saturday trip had cost $109.95 per adult and felt like money well spent. The Sunday trip was $89.95 per adult and felt like a rip off.
The main problem with the Sunday trip was that, while it was a 3½ hour excursion, the canal cruise only lasted 60 minutes. And all the cruise entailed was: motoring down Fontaika Canal; crossing the River Neva to look at the Aurora Cruiser, before; turning around and going back the way we came. The obvious problem with this was that the second half of the the cruise just involved looking at everything you passed in the first half, in reverse.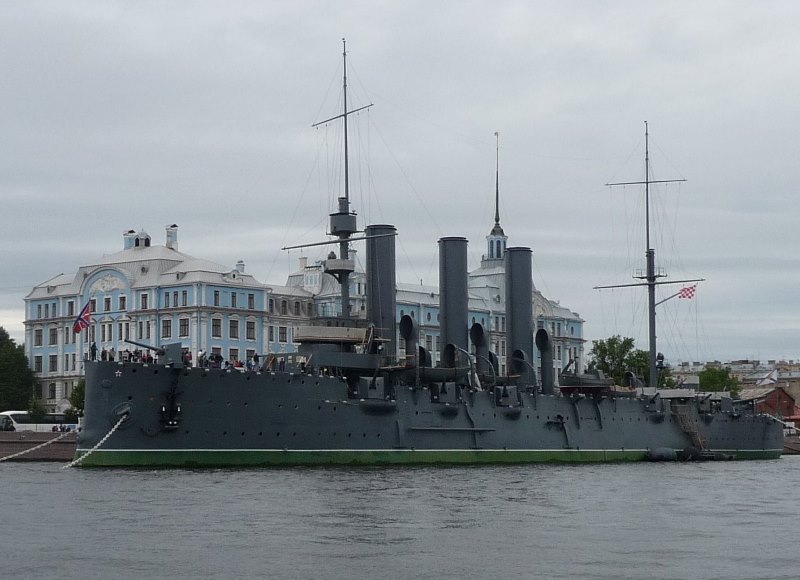 True there was a past its expiry date bar of chocolate and a plastic cup of champagne thrown in. But, in reality, these provisions couldn't quite offset the disappointment of being able to catch a fleeting glimpse of some of the amazing buildings lining the Neva, only to stay well clear of them. Seriously, half of these buildings are designed to be seen from the water, why offer a tour that simply ignores them?
Don't get me wrong, our canal cruise carefully fulfilled the text of the description. After all: we went on a river; we went on a canal, and; we went under bridges and saw buildings. The fact of the matter, though, is that an hour isn't long enough to do the circular trip that everyone seemed to be expecting. You'd need closer to two hours to make any sort of circuit and there was no option for such a trip in either day's excursions.
In all honesty, it might just have been that our experience wasn't a fair sample. For example, the excursion included a visit to the Church of the Savior on Spilled Blood. And, indeed, we did get taken there… for a ten minute photo stop. This visit could, indeed should, have been longer. But there seemed to be some confusion about the start of the cruise, it seemed there weren't enough barges. This resulted in us going to the church first and then being late for the actual cruise element.
Also included in the excursion itinerary was a visit to 'one of the souvenir stores'. Fair enough, I suppose, but it's never likely to be a highlight of an excursion. However, in our trip, we spent far, far longer at the souvenir shop than at the Church of the Savior on Spilled Blood. What an absolute waste of opportunity.
In fact, we spent so long at the souvenir shop, that we were late back to the cruise ship, delaying the departure time. Had we not been on a Princess Cruises excursion, the ship would have left St Petersburg without us…
Another thing that is worth noting is the way the purchases in the souvenir shop are recorded. Not that there were many purchases, because this place was expensive! Anyway, those who did buy things were asked to show the tour number/colour sticker on their chest at the point of purchase. This is a good indication that someone involved with the tour is getting a finder's fee. Presumably the person who chose that particular souvenir shop. So, either the owner of the tour company, or our guide for the day.
Not that it really matters who. It's just disappointing that so much emphasis seemed to be awarded to maximising this finder's fee. When you spend three times as much time in the tourist trap, compared to the tourist attraction, you know that something has gone wrong.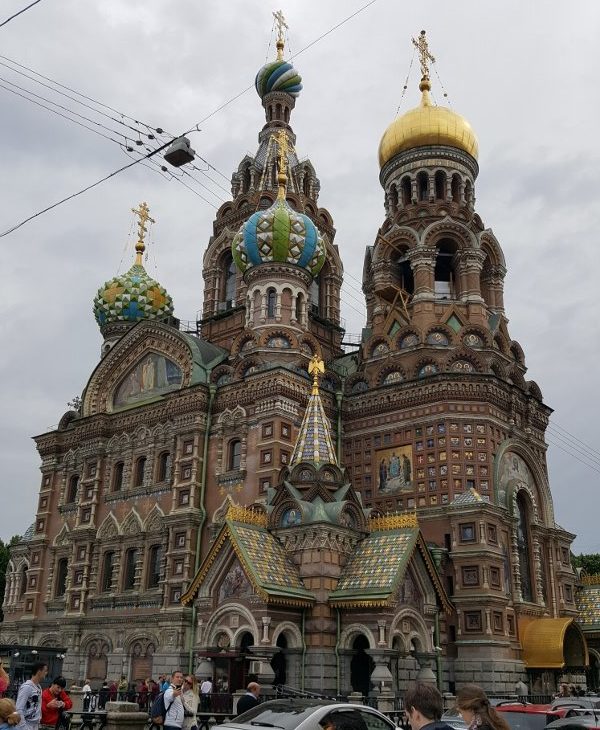 The Sunday excursion was not a good experience. I would certainly not recommend that particular trip to anyone.
So there it is: our first experience of cruise line organised excursions was a mixed bag. One very good experience and one very bad one. Not great odds, really…
Still, as I've explained, the only reason we booked them was because we had no choice. And, on the basis of this weekend, we have no intention of doing another cruise company excursion if we can help it.
Now, for anyone who plans to visit St Petersburg by cruise ship and make their own way, here's what we saw:
Getting from the port to the city didn't seem as easy as in the other cities we've visited. For example, I didn't see a bus stop for the local bus system. I've no doubt that one exists, if only to get the port staff to work, but I didn't spot it. There were, however, plenty of taxis standing by.
Once in the city, there are many forms of public transport, including buses, a trolleybus/tram system and a subway network. The subway has plenty of stations, including two on Vasilyevsky Island, although neither is particularly close to the port. It's difficult to say more as, on the 72 hour visa, we could not even pass through passport control without showing them a ticket for an organised trip. There was no real opportunity to use the local transport networks.
Besides public transport, another thing the city had a lot of was street hustlers. There were a great many people in costume inviting you to take pictures of them. Or to take pictures with them. Either of which would have resulted in a request for money. Whether this would have gone beyond a 'request' and into 'demand' territory I don't know because we didn't engage with them.
Not that this stopped them trying. For example, one guy stepped in front of my younger daughter, Ceri, because she'd noticed the doves he was holding. He immediately put one on her head and the other on her arm and offered that photos be taken. We had to decline the offer quite a number of times before he collected up the birds and we could head on our way. We never felt threatened by any of this, but please be aware that if you take a photo, they'll want payment.
On the brighter side of the news is that a great many of the staff in the tourist shops and restaurants spoke good English. We also didn't find any shop that didn't accept cards. Likewise, everywhere that we offered Euros, they were accepted, including a little ice cream stall outside one of the churches.
Most of the people we met were friendly and helpful. Although, when provoked, the staff in the Hermitage could get a little stroppy. Oh, and I didn't meet anyone who'd seen any of the passport control staff manage a smile. That said, the customs check back onto the ship was amazingly relaxed. On both days I was carrying my backpack and on both occasions I was ushered through the X-Ray machine with it still on my back. This set off the machine both times, and that seemed fine. I certainly wasn't wrestled to the floor at any point.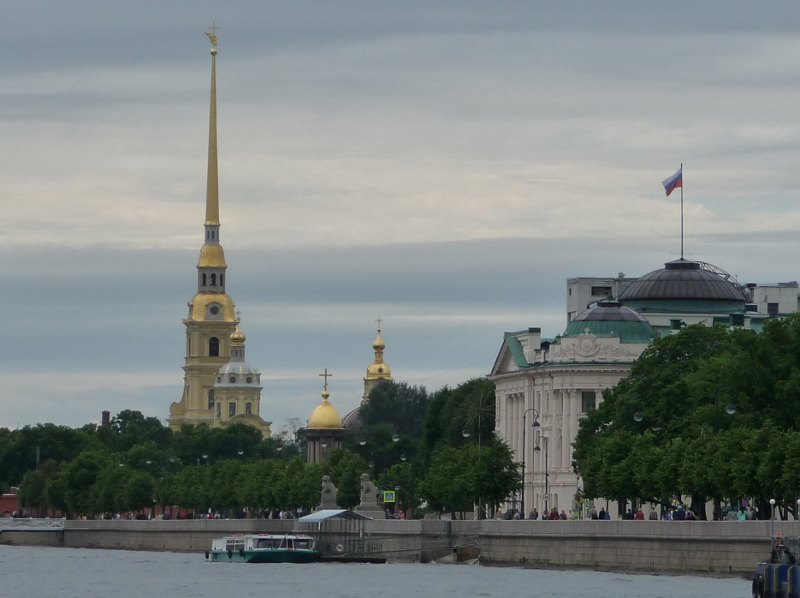 In summary of our visit to St Petersburg by cruise ship, then…
The history of the place is astonishing, resulting in some unique buildings and architecture. However, the shops built into these buildings are just like those of every other major city. All the typical shop and restaurant chains. Additionally, St Petersburg has all the bustle and atmosphere that you'd expect of a city of its size and importance…
But what the city seemed to lack was a distinctly Russian personality. Something that made it distinct from other big cities. Admittedly we were hampered by the movement restrictions, making it tricky to get off the beaten track to look for such things. And don't get me wrong, I'm glad we visited and enjoyed the experience. It's just that it felt so… Western!