So far, our Baltic cruise had followed the pattern of one day at port, followed by one day at sea, and repeat. In this way, we'd visited Bruges and Copenhagen and now we would cruise into Stockholm. But, here, the pattern changed, Stockholm marked the first of five successive port days. Following Stockholm we'd visit Tallinn and then St Petersburg, for two days, before finally moving on to Helsinki. It was going to be a busy few days…
The mayhem actually began with a leisurely morning cruise into Stockholm, the Capital city of Sweden…
But this leisurely approach, while necessary due to all the homes on the route, was not in our favour. One of the biggest impacts of back to back port days is that you don't get as long in each port. As such, despite arriving at the relatively late time of 9am, we had to be back on board no later than 4:30pm.
Stockholm is not just the biggest city in Sweden, but the biggest in all of Scandinavia. Consequently, it is no surprise that Stockholm is both the cultural and political centre of Sweden. It's been around for a good while, too. The area has been continuously settled since the Stone Age; around 8,000 years. The city of Stockholm, though, was founded a little more recently, in 1252 by Swedish statesman Birger Jarl.
Over time, Stockholm has grown and extended to cover a series of 14 islands. As a result of all the corresponding waterways, Stockholm is sometimes known as the 'Venice of the North'. At the time I hadn't been to Venice, but I have now, and wouldn't agree with this description. Not just for the stunning lack of gondolas, but also for the lack of a network of canals. To my mind, the best contender for the title of 'Venice of the North', would have to be Amsterdam. Still no gondolas, but you're certainly spoiled for canals.
Anyway, as I shall explain, Stockholm doesn't need to be compared to another great city, it very quickly becomes obvious that it's a great city in it's own right. As, for that matter, is Amsterdam.
Let me start by saying that Stockholm is ready for your visit by cruise ship. It's ready, waiting and excited to see you. The second you step off the ship and into the customs building, things are in place to make your visit to Stockholm by cruise ship as easy as possible. It's amazing.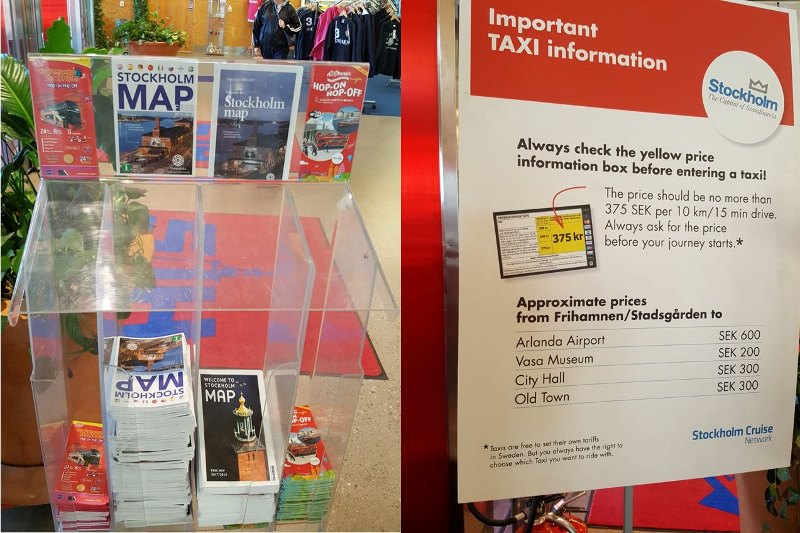 Before you get to that point, however, you should have been making the most of the scenery on the journey in.
To get to Stockholm, have have to cruise through more than 50 miles of channels between many hundreds of islands. This part of the journey, alone, would make the visit to Stockholm by cruise ship worthwhile. The views are astonishing, both in terms of nature and man's taming of the same. This process takes a number of hours, in both directions. And, time and weather permitting, I can guarantee that you'll see at least one thing you'll want to take a photo of.
The docks for the cruise ships are within the city but very much on the periphery of Stockholm. The Old Town of Gamla Stan is technically within walking distance, at about three miles away. Doing so, however, would involve a hike of a good hour in either direction. Depending on the length of your visit, you may not wish to devote this amount of time to walking. Of course, if you do choose to walk, you can plan your route to take in as many of the sights as possible.
But you may decide that an alternative means of transport would be preferable. We did. We took a bus into Gamla Stan and meandered our way back. But more of that in a bit.
First, just a quick word of warning, for before you set off on your Stockholm experience…
When you enter the customs building, you are unlikely to be stopped or asked for your passport. You should understand that this will not be the case on the way back. Upon your return, you will have to queue to have your ID checked. Depending on when you get back, this queue might be 20 minutes, or more. in length. If you're not careful, this might leave you right up against the time you need to be back on board. For UK citizens and members of the EU, photo ID like driving licenses are acceptable. For those outside Europe, you'll need your passport.
Okay, so let's look at a purely hypothetical scenario…
If, just as an example, you don't take your passports, and your kids aren't old enough to have photo ID, then, when you get to the front of the queue, you won't be allowed to board…
In which case, one of you will be made to run back to the ship and up, say, seven flights of stairs to your stateroom. You would then, presumably, have to frantically search for your kids' passports. And, assuming you find them, then run back down seven flights of stairs, before the final sprint back to the customs office.
You know, just as a completely random observation…
Make sure you take proper I.D. when you leave the ship!
Okay, so you've left the ship, with the right paperwork, and you're in the custom's building looking around.
The first thing we noticed was all the useful information, like the price you should expect taxis to charge, see photo above. I grabbed myself a city map. which was, as expected, considerably better than the one provided by the ship. We briefly considered getting a ticket for the Hop On Hop Off sightseeing buses, but decided against it. We preferred to stroll on, and look for other options.
When we exited the building we found ourselves following a blue line painted on the pavement, which pointed the way out of the port. Along this path were banners which read, "Welcome to Stockholm! For buses to the City Centre – follow the blue line". I mean, come on! How helpful are these people?!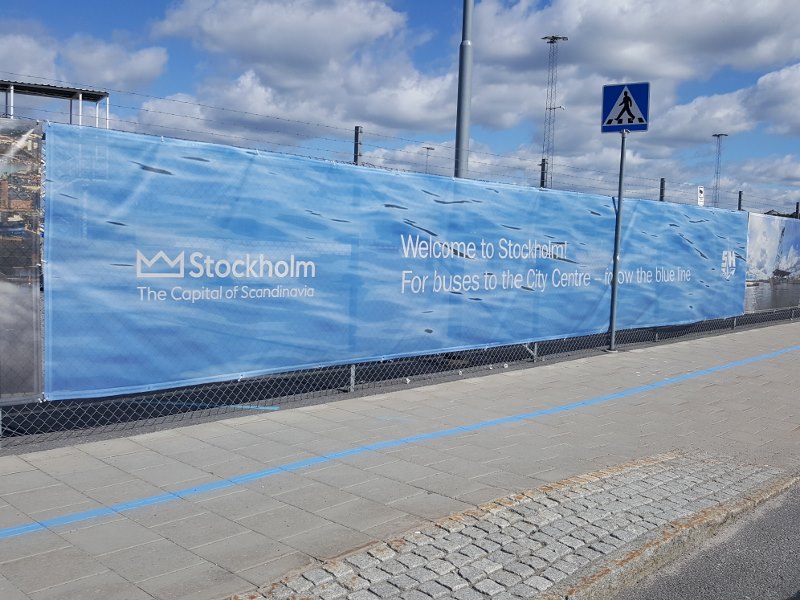 So we did follow the blue line and it led us to a ticket office for the bus stop just beyond. The office sold a variety of tickets and, even if the assistant selling the tickets hadn't had much English, there were English Language signs telling us everything we'd have needed to know. The recommended ticket was a 24 hour pass that allowed you to take as many bus trips as you wanted. It paid for itself after three journeys.
As we were only intending to make one bus trip, we got single tickets at 43 Krona (£3.62/$4.44/€4) per adult and 29 Krona (£2.44/$3/€2.70) per child. This was a total of something in the region of £13, at the time. And this is all we spent on travel during the day. The ticket booth also sold a 'Stockholm Pass' which included free admission to 60 museums and attractions, as well as unlimited use of the Hop on Hop Off service and even a canal tour. This Pass cost 595 Krona for an adult and half that for under 15s. This would have cost us £54 per adult and £27 per child, at the time.
This rate compared favourably to any of the excursions on offer by the cruise line. The cheapest excursion available was priced at $79.95 (£65/€72) per adult, of which there were a couple of choices:
The most expensive was $269.95 (£220/€243) per adult, which was:
Vasa museum and rib boat archipelago tour
Cheaper than excursions, or not, the Hop On Hop Off bus wasn't what we wanted.
We just wanted to catch a bus to the Old Town. To do so, we needed the number 76 bus, for which the bus stop was right by the ticket booth. From the same bus stop, you could also catch the number 1 bus into the modern city centre. The stop was also on the route of the Hop on Hop off buses. Basically, from this stop, you were sorted if you were after buses. We got on the next 76 bus and enjoyed the ride.
If, however, the cost of the buses sounds too expensive, or too mundane, then just keep following that blue line. After a while, it will turn a corner and disappear but, at that point, you will notice a number of blue arrows pointing you in the direction of the city centre. Simply follow the road round to the right and then turn left at the junction at the end of the road. Here you will find a rack of 'City Bikes'.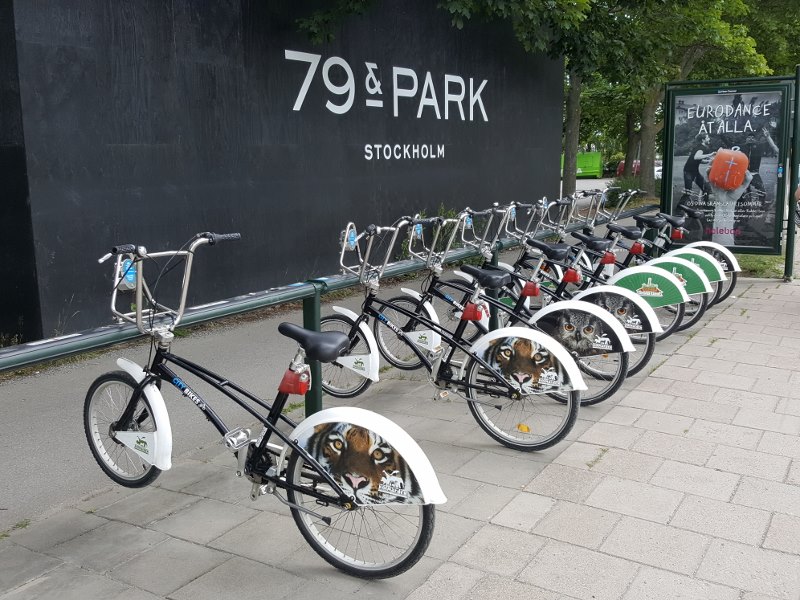 Should that rack be empty, turn right at the junction at the end of the road and, within 100 meters, you'll come across another rack. Should that one be empty too, follow the road between Fadelberget and Hakberget parks, along Linderangsvagen, and, after another couple of hundred meters, you'll find another bike rack.
If that one's also empty, you might have to accept that cycling is not in your future and just find a bus stop!
After a short and picturesque journey, we got off at Gamla Stan, the Old Town, and started to explore. It didn't take long for us to agree that Stockholm was a wonderful place.
As you'd expect from an old part of a city, there are many narrow roads, which had survived since the horse and cart was king. The streets on the outskirts of the island, which is what Gamla Stan is, are lined with shops serving the needs of tourists. So there are plenty of places to eat and drink and get ice creams. There are numerous places selling you tourist knick knacks and souvenirs. There are also plenty of shops, of all sizes, selling the local specialties of glassware, jewellery and amber.
As you tend towards the centre of the Old Town island, which is always up hill, the roads and open spaces get larger and the buildings more grand. This culminates at the north of Gamla Stan, with the Royal Palace. The Old Town also has a Tourist Information Centre. So, if you're still not sure what to do with the rest of your day, you can work it out here.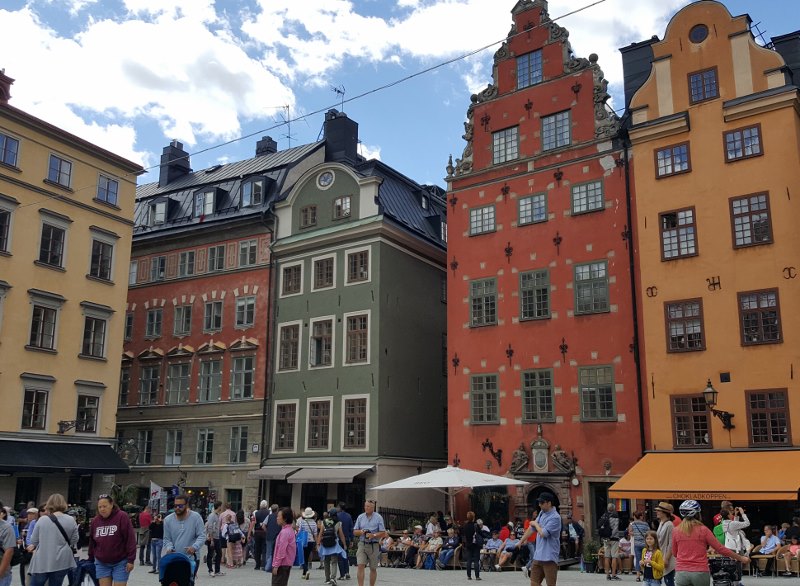 We didn't have that problem as we knew where we wanted to go next; the Ice Bar!
To get there we crossed over the small Riksplan island and turned left to follow the bank of the waterway. Walking this way offered many photo opportunities of a multitude of remarkable buildings, as befits a capital city that didn't get bombed during WWII. After a few hundred meters we turned right on to Vasag and followed this up. The Ice Bar was off a side road on the left of Vasag and if you're never been to one of these, as we hadn't, I'd highly recommend it.
Going into an Ice Bar, at -5C, when you're already cold due to the weather, might not seem the brightest idea But then I've never said I was the brightest person. My wife certainly hasn't…!
The entry fee for the four of us, including cheaper prices for the kids and a soft drink each, was 538 Krona (£45/$55/€50). I confess that this seemed a little steep to me, and I was all for binning the idea, but the other three were keen, so in we went.
We were each given a heavy poncho, complete with hood and gloves, and sent through a two door air lock, receipt in hand, to meet our fate…
Ice!
That was our fate. Great slabs of ice everywhere.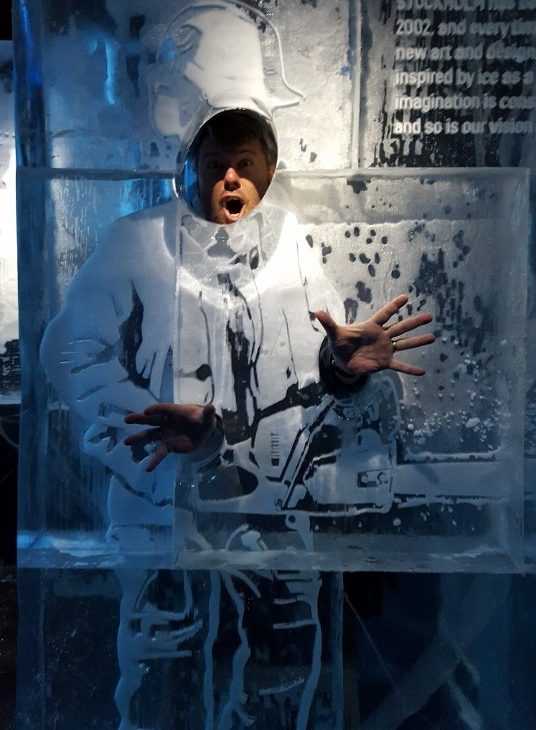 But, thanks to the ponchos, it was the warmest that Ceri had been all day.
Etched into the ice walls were facts, information and pictures explaining, among other things, where the ice had come from. There were things to do to keep you entertained while you queued at the bar. Then you chose your drink from the menu and out came the ice glasses. The drinks were mixed and you either grabbed a seat or milled around, marveling at how, ahem, cool the experience was.
Please be aware that dad jokes are universally accepted, no matter the country or temperature involved.
After you finish your drink, and assuming you didn't want another, the ice glasses were pushed down a chute at the end of the bar. Here they meet their doom. Or, perhaps, are simply released back into the wild…
After the Ice Bar, we were buzzing, but time had marched on. The shorter stops, of back to back port days, really do make a difference in how much you can do. As is was, we had two hours to make the hour trip back to the ship. So, we started walking. We chose a route back that closely followed the route of the Hop on Hop off buses. We figured that if the buses went that way, there must be something worth seeing.
There was. For a start, it took us past the Hotorget market place. We gave ourselves 15 minutes and did our best to pick up a couple of bargains. I'm not convinced we succeeded, but it was good fun anyway.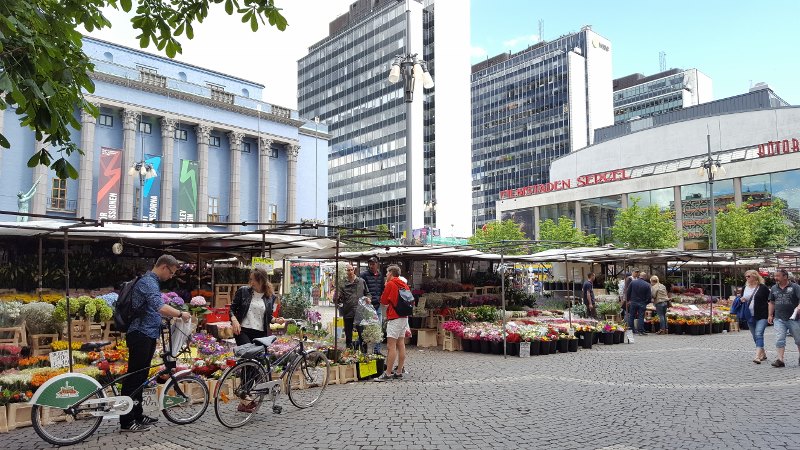 And then we had to push on again.
During the walk through Stockholm to our cruise ship, we passed so many 7 Elevens… So! Many!
Stockholm seems infested with them.
Of course, we also passed: museums; shopping centres, parks; architecturally magnificent buildings; etc,
But that was the point; we passed them all. We didn't get a chance to explore any of them. I don't think that just one day was anything like enough to get the best of Stockholm. It is a huge city and there is clearly so much that we didn't see, that we feel we need to come back.
And it would be a pleasure to do so.
From our first moment on land, it was clear that Stockholm looks after its tourists. All the people we met were nice, friendly people with a great grasp of English. This made it a wonderful experience for English speaking tourists like us. For the most part, the city is well designed for tourists on foot, There is, though, the perennial presence of cyclists and knowing how not to get in their way is rather important.
Stockholm has fewer cyclists than, say, Copenhagen, but does like to mix it up with its cycle paths. My advice is to always check the paths that you're walking on for pictures of bikes. Also. if a path seems particularly well laid, move to one side because you're almost certainly on a cycle path!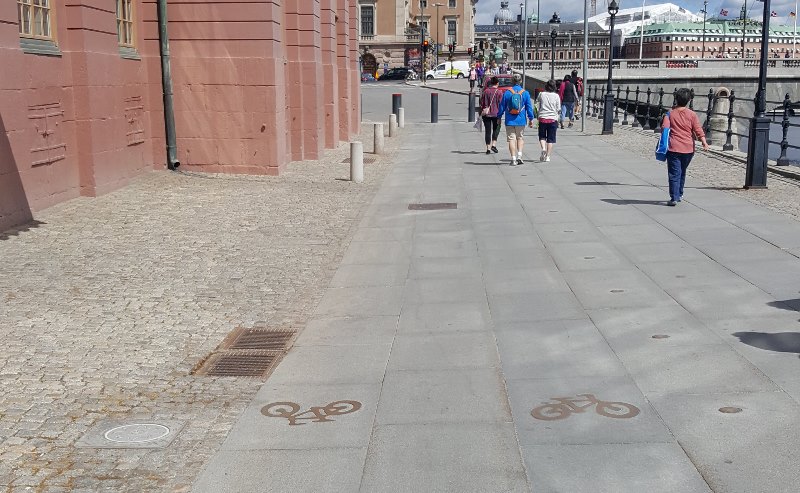 In terms of food, there didn't seem to be an obvious specialty.
There was the inevitable tendency towards sea food, which is well fitting for a city built on islands in the sea. In terms of bakeries, there were a few interesting looking delicacies. But there didn't seem to be an obvious culture, in the manner of French Patisseries, for example. I did try a Pyttipanna, which seemed to be a sausage hash and was very tasty, if somewhat salty. There were some very fine ice creams though, so my need for sugar was well tended to.
Simply put, Stockholm was wonderful.
Stockholm was also the first city that we've visited by cruise, where we felt that one day was simply not enough. That isn't to say that we didn't miss things in other cities, it's just that we know we missed so much in Stockholm that we wished we were staying longer.