I finished last year's post by saying, "All Liverpool have to do is win something better than the Community Shield. It doesn't really matter what, just something. Anything! And they will remain the Greatest English Football Club beyond the 2020 season." They didn't, though. Liverpool won exactly nothing…! Which left the door wide open for Manchester United to snatch back the title of the greatest English football club in 2021.
Not that this would be an easy task for Man U. They had 10 points to make up, which meant they'd need a reasonable double. Something like the Europa League and FA Cup, would have got the job done…
But Man U didn't win anything either!
What an anticlimax!
Oh well, on with the disclaimers (which will be in italics if you want to skip it!):
As a Bristol City fan, I have no particular concern as to who calls themselves the Greatest English Football Club in 2021. This is because we all know that whoever it is, they're just keeping the position warm until the mighty, mighty Bristol City forever claim their place at the top. As such, you won't find the data or scoring system, below, twisted to suit a particular team's needs. It's just a case of adding up the points.
And, talking of points, the scoring system that I use is as follows:
Whatever system I adopt is always going to upset some people, so I've stuck with the KISS principle: Keep It Simple, Stupid.
There are eight possible competitions in which English teams can participate. I have arranged these in order of status and scored them from eight down to one. No points are awarded for being in certain leagues. No additional points are awarded for doubles and trebles. These extras are open for manipulation to get a favoured team to the top. My system is based on simplicity and is, I think, the better for it.
This brings us to the chart of the 2021 top 10 greatest ever English football clubs. This year, however, I have included a guest club: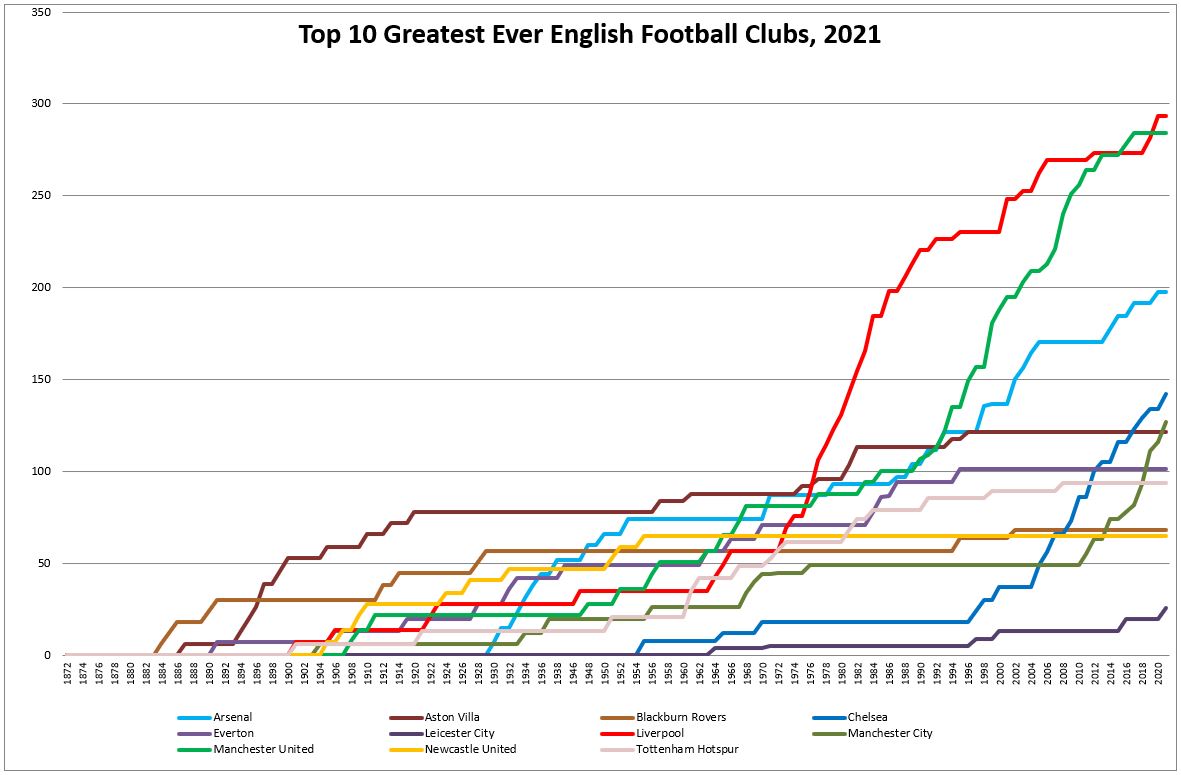 As promised Liverpool is now the red line, as befitting the greatest English football club for 2021.
Despite being on top, Liverpool's tally of 293.5* points remains unchanged. As does both Man U's second place score of 284 and Arsenal in third place with 197.5*.
And, talking of clubs with unchanging points totals, we have the usual suspects:
[*the reason for half points is that, in times gone past, what is now called the Community Shield accepted draws as a result. When this happened, I allocated each team a half share of the one point on offer]
In the last couple of years, I've talked about not including these teams. I mean, some of them haven't won anything in decades. One of them hasn't won anything in my lifetime…
Another hasn't won anything in my dad's lifetime!
Which is why I introduced Leicester City as a guest entry. Leicester has won two major trophies in the last few years. They won the Premier League in 2016 and then proved this wasn't a fluke by claiming 2021's FA Cup. This is far more than any other club outside of the Top 10 has achieved in recent times, yet it still leaves Leicester on just 26 points…
Way less than half of even Newcastle, in 10th place.
At this point, I should make clear that Leicester isn't in 11th position in the list of the greatest English football clubs. That place is occupied by Wolverhampton Wanderers, who have 55.5 points. Leicester actually sits in joint 21st place with Preston North End. The simple fact of the matter is that competitive football has been played for a loooooong time. And in that time, there have been quite a few clubs that have had their moment in the Sun. Which is definitely a good thing… It just makes it tricky to comfortably fit every club you want to, on the same chart.
So, I made another one: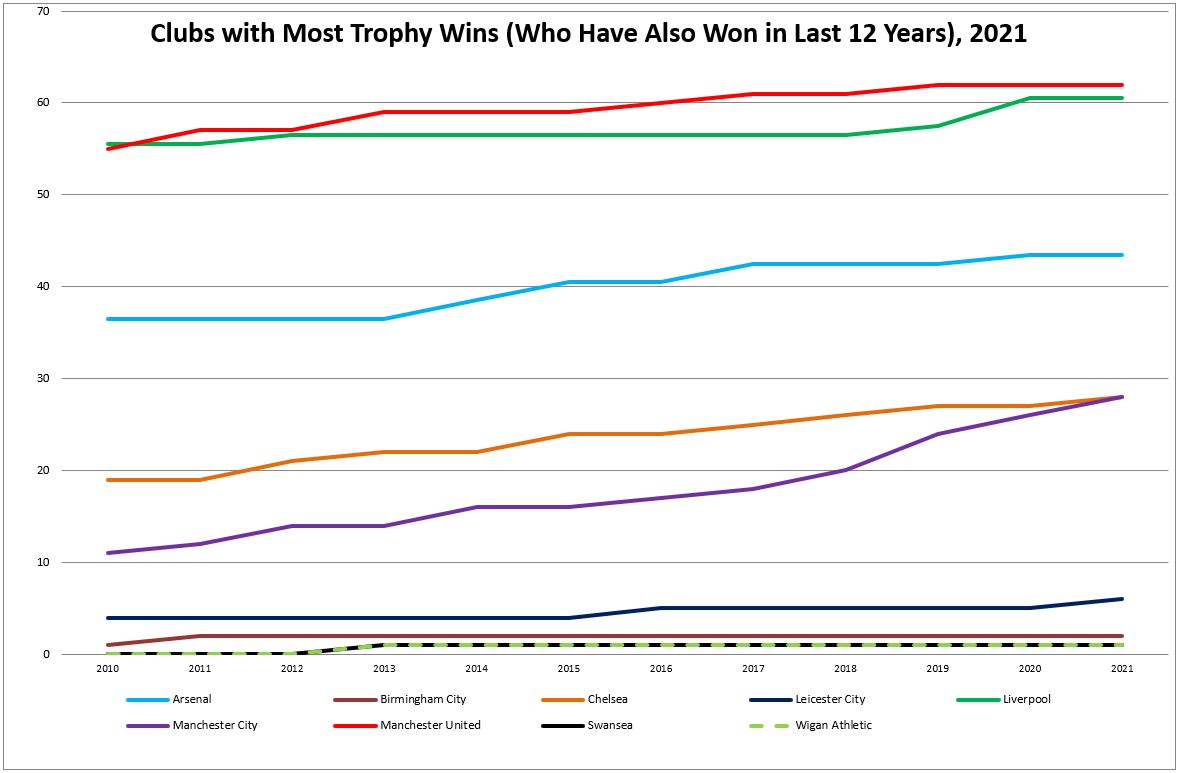 If you're wondering why this only goes back 12 years, I can assure you it isn't because I couldn't face redoing every year's spreadsheet back to 1872.
Nope!
No siree, definitely not that…
I just thought it'd be nice to have something that solely focusses on the clubs that are winning trophies with their current crop of players. Or, at least, some of their current crop of players. It's also a nice way to highlight the problem of introducing teams that have scored even fewer points than Leicester:
Wigan Athletic won 6 points in 2013, when they claimed the FA Cup
Additionally in 2013, Swansea City won the League Cup and helped themselves to 4 points
Birmingham City, meanwhile, also got 4 points when they won the League Cup in 2011
These totals would be tricky to represent on a chart that only has a scale up to 70. Imagine how difficult this would be to read on a chart that goes up to 350…
Still, it's nice to be able to showcase a wider variety of clubs. And if I make this trophies-based chart a regular feature, I can reduce the points-based chart to just the top 5 clubs. At least until another of the more points-heavy clubs starts winning again.
With Leicester taking the FA Cup, Man City mopped up the rest of the domestic points with a nice Premier League/League Cup double. Moving past Villa into 5th place on the table in the process, with a new total of 127 points. Which just about wraps up the 2020-21 season…
Oh, except for the small matter of Chelsea winning the Champions League!
In an all-England final!
The top three might not have got up to much, but Chelsea and Man City sure weren't hanging around. It's a long, long way for either of them to get to Arsenal in 3rd, but in another 20 years, who knows?!
So, where does all that leave us?
Well, 2021 sees Liverpool with another year under their belt as the greatest ever English football club: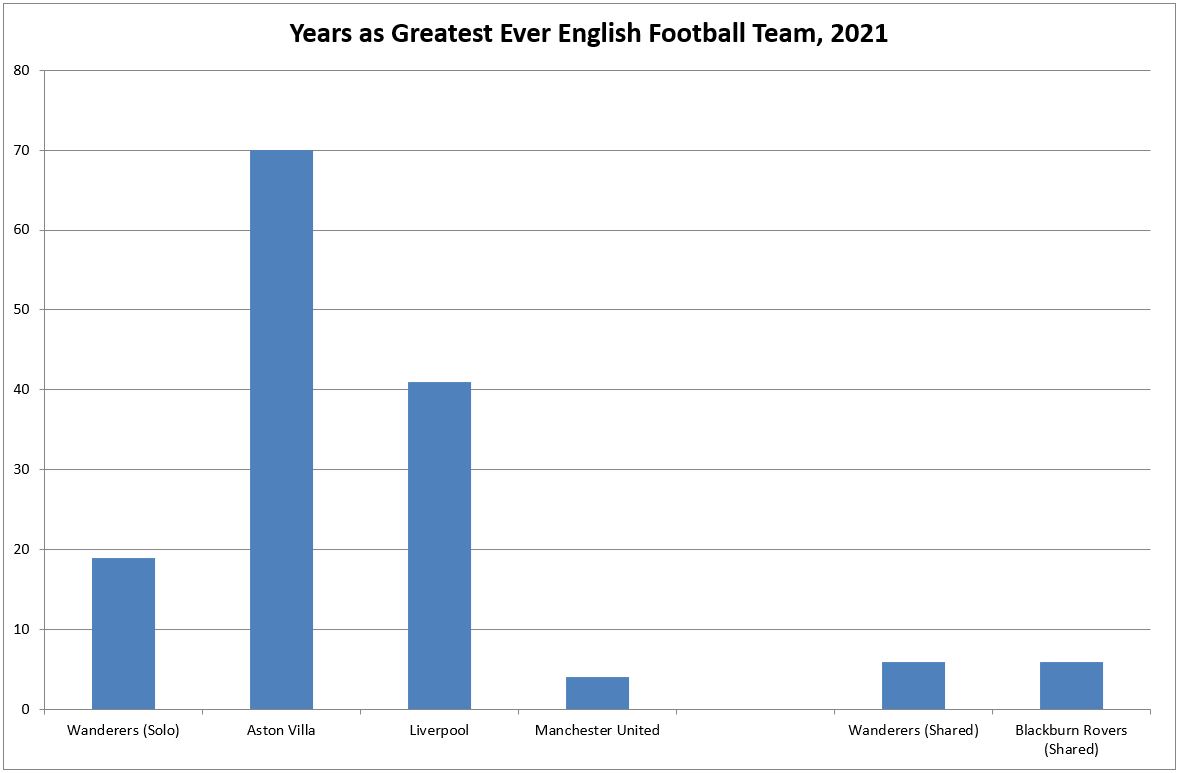 In doing so, Liverpool inches another step closer to Villa's runaway lead in this regard. Man U remains the club with the smallest number of years in which it can claim the title of greatest ever club.
Realistically speaking, to change this Man U has to massively outperform Liverpool in the summer transfer window. Even then, it is extremely unlikely that they will claim enough points to overhaul Liverpool in just the one season. This gives Liverpool the opportunity to respond in the 2022 transfer window, should they so choose.
I just hope that the top three clubs do something. And by, 'something' I don't mean waste everyone's time with things like the European Super League…
Maybe, you know, just focus on trying to win a sodding trophy or two! 
And if Liverpool do win two trophies, with Man U remaining winless, then Liverpool will claim the top spot of the Trophy Chart as well. Making Liverpool, after 2021, the uncontested greatest ever English football club. Not that the trophy count is a real reason to contest the claim of 'Greatest Ever'. After all, not all trophies are created equal, and the ones Liverpool have are a little more equal that those claimed by Man U. But fans are always going to big up their club, even if it doesn't always make sense. Just as they should.
So, there we have it. In 2021, Liverpool remained the greatest ever English football club.
The only team in a position to do anything about this is Man U. And the only way they can meaningly do something is to go big in the transfer window…
And win a good, unanswered double in the 2022 season.
Let's see if Man U and Liverpool are even willing to try this year!
Or just leave everything to Man City and Chelsea again…